On 12th July, the newly elected Andhra Pradesh government led by YS Jaganmohan Reddy presented its annual budget. In the budget presented by Buggana Rajendranath, Minister for Finance, the Reddy government allotted a huge amount of public money for Imams and Christian Pastors. The government allotted a total of 2,106 crore rupees for minority welfare schemes in the budget.
"The honorarium to Imams is proposed to be enhanced to Rs 10,000 per month and of Mouzzans to Rs. 5,000 per month. Similarly, it is proposed to provide Pastors with an honorarium Rs. 5,000 per month," said the finance minister of Andhra Pradesh in the budget speech.

The finance minister announced steps which can be construed as state intervention in Temple trusts while the Christian and Muslim religious organizations will be free to operate.  "For the political upliftment for BC, SC, ST and Minority communities, this Government is proposing to bring a Bill to provide 50% reservation in respect all nominated posts such as Temple Trust Boards, Marketyard Committees, Corporations, etc," said the finance minister.
Hindu religious sites have long been a victim of exploitation by political forces, from the invasion by radical Islamists to current day 'secular' governments. Different state governments have enforced laws through which they have assumed both financial and administrative control of Hindu religious sites. What started as a tool to suppress Indians and keep them under imperial rule by the British, these laws still exist and continue to exploit and degrade Hindu religious shrines.
Previously the Supreme Court said that the task of managing the affairs of the temples should be left over to the devotees as the court also cited continually degrading management situation of temples under control of various state governments. But neither the TDP nor YSRCP has taken steps to allow the devotees to manage the Temples despite the order from the apex court. The YSRCP has decided to strengthen its control over the Temple Trust by implementing the rules of state government in temple management.
It is notable that Y. S. Jaganmohan Reddy comes from a Christian family. His father, late Y. S. Rajasekhara Reddy who was two-term chief minister of the state under Congress party also embraced very similar minority appeasement. Rama Navami, major Hindu festival was removed from the state government approved holidays and holidays for Christians was increased.  As the administration of the Tirumala Temple was under state government since 1993, YSR appointed Christian people in the administration of the temple.
Jaganmohan Reddy had indicated the steps for minority appeasement even in the manifesto. In the manifesto conference of the party, Jaganmohan Reddy had stated that every pastor will get a house and the state would sponsor the marriage of Christian brides. As per an article by PGurus "there is a video posted on WhatsApp where your sister openly saying that you will be un-caged and will bring the message of Jesus."
The above 12-minute video by PGurus gives detailed information about the missionary activities under YSR and the problems with current Andhra administration.
It is well known that many Christian organizations run education and medical trusts, being a minority institution they do not have to pay taxes and make a lot of money. These institutions also have reserved seats for people from their communities, and even top colleges such as St Stephens College and Delhi University carry out this practice. Similarly, there are Madrasas and universities run by Muslims, and in their case, the government even provides funds to these institutions.
When simplified, this looks like the government is taking money from a Hindu religious institution and giving it to a Muslim or Christian institution. Swarajya magazine prepared the following chart on how government discriminates against Hindu religious institutions.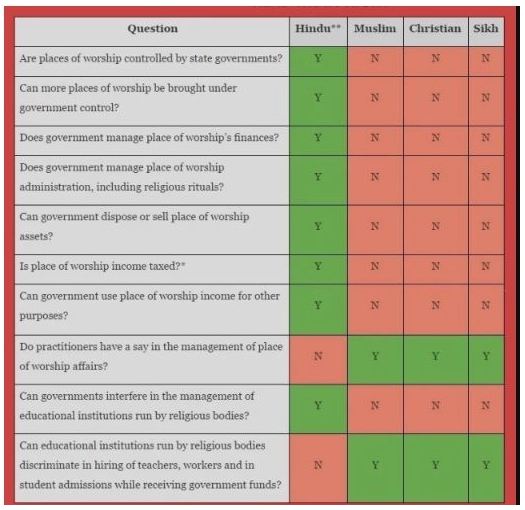 Hindu temples are facing an assault from "secular" state governments all across the country. These governments, under various Hindu Religious and Charitable Endowments (HRCE), Acts, control Hindu temples and religious institutions and violate the constitutional rights of Hindus. On the other hand, Muslim and Christian religious institutions are being funded by 'secular governments' like that of Jaganmohan Reddy for the simple objective of minority appeasement.