Former Andhra Pradesh chief minister and now the leader of opposition in the state assembly, N. Chandrababu Naidu was denied VIP treatment and had to undergo frisking at the Gannavaram Airport. He was also denied any VIP access to the aircraft and had to travel on the bus along with common passengers. Therefore, he was also not allowed to access a VIP vehicle to reach the aircraft from the Terminus.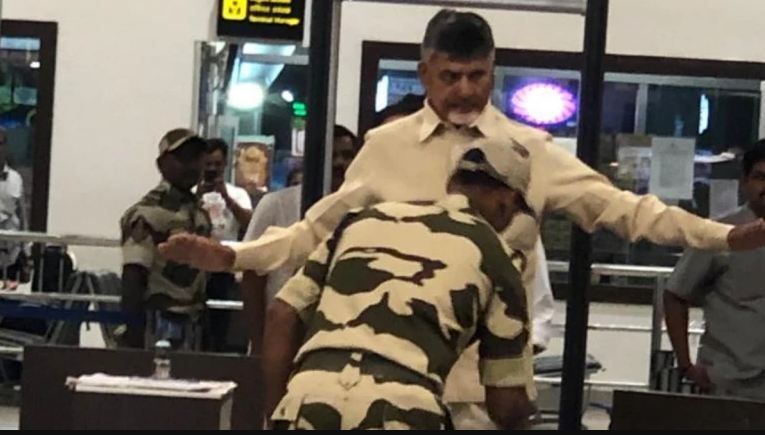 Naidu is a Z plus security protectee. He was given Z plus security after being attacked by Maoists at Alipiri in Tirupati in 2003. The TDP cried foul over this incident and blamed that the BJP and the YSR Congress party which stormed to power in Andhra Pradesh and toppled the Naidu government during the elections held earlier this year.
It must also be noted that Naidu has also been stripped off VIP treatment in traffic. The State Police has taken away the escort and pilot car privileges from the TDP chief after his party suffered a humiliating defeat during the 2019 Lok Sabha polls and Andhra Pradesh Assembly polls.
It must be noted that during the 2019 Lok Sabha elections held this year, the former Andhra Pradesh chief minister, N. Chandrababu Naidu probably turned out to be the biggest loser. Several tall political leaders have lost considerable ground. A few names being Rahul Gandhi from Amethi, Mallikarjun Kharge from Gulbarga, HD Deve Gowda from Hassan, Ashok Chavan from Nanded. However, Chandrababu Naidu turned out to be the biggest loser even as the BJP staged a landslide victory coming back for a second term.
Naidu has been absolutely decimated. Facing anti-incumbency in the state, Naidu faced humiliating defeat to Y.S. Jaganmohan Reddy's YSRCP in both state assembly polls and the general elections in the State. Naidu led TDP has been reduced to just 23 seats out of the total 175 Assembly constituencies in the state, compared to more than 100 seats in the last assembly elections. Even in the Lok Sabha Elections TDP lost huge political ground to the YSRCP, TDP is now reduced to just 3 Parliamentary Constituencies in the state out of the total 25 in the state.TDP, as a part of the NDA in the 2014 general elections, had emerged victorious on 15 seats.
From being one of the most popular leaders in Andhra Pradesh for decades to being reduced to a handful of seats, Naidu has faced an unbelievable downslide. In the run-up to the elections, Naidu was running around pretending to be the king-maker. Naidu had tried to stitch an alliance of the so-called third-front and had high hopes of leading this alliance in the centre or at least play a key role in the next government. And now having lost all VIP privileges as is evident from latest reports, it seems that Naidu's political journey has hit the rock bottom.