Ajay Shah, director and owner of Centre for Monitoring Indian Economy (CMIE) has been barred from associating with all SEBI recognized entities for 2 years in NSE co-location scam. CMIE is the organization which peddles the low investment and all-time high unemployment in the country. The claims were based on very small sample size and shady theories. Many credible economists across the political spectrum have busted the claims made by CMIE and pointed out the inaccuracies in CMIE data. However, CMIE has been able to popularize the low investment and unemployment claims, at least in mainstream media.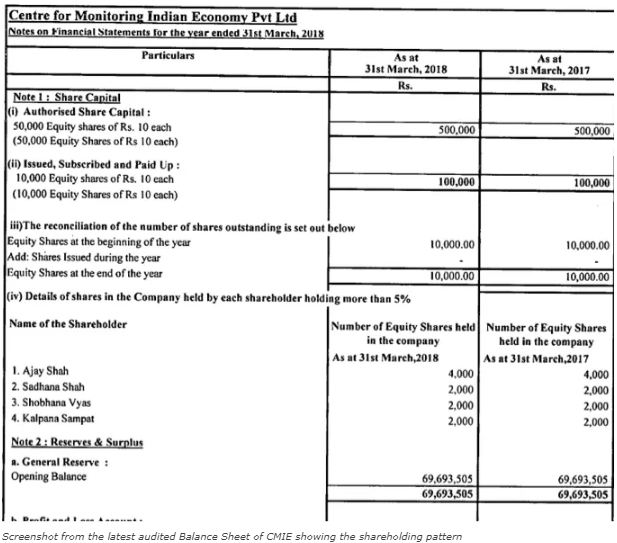 Ajay Shah has been president of CMIE from 1993 to 1996. He has worked with Finance Ministry on various positions under UPA government. P Chidambaram appointed him on working group of financial services, foreign investment and internal debt management. Shah collected trader data from National Stock Exchange (NSE) in the name of research activities and developed software. Later he sold this software to a few selected brokers who rigged NSE's algo-trading to get the market information earlier than others. It was called NSE-co location same and the Central Bureau of Investigation (CBI), the Securities and Exchange Board of India (SEBI) and the Income-tax Department (I-T department) are currently investigating NSE insiders like Ajay Shah who are primary suspects.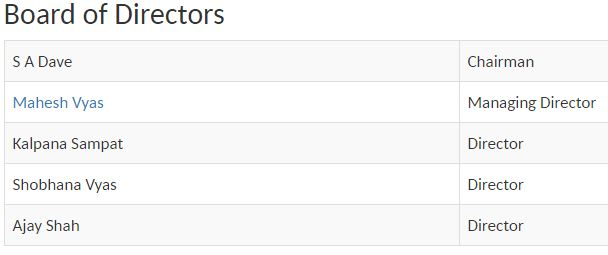 As per the SEBI order, "It was observed that these persons, with active support of NSE and its senior officials have misused the confidential and sensitive data provided by NSE for being used in the LIX project, to develop algorithmic trading software for sale in the securities market, thereby compromising the integrity of securities market." Infotech financials, the company which sold the software to brokers is run by Krishna Dagli and Sunita Thomas who happens to be the wife of Ajay Shah. While Shah and Lala have been barred from holding any position in SEBI registered organizations for two years, Infotech financials has been banned from providing any services to companies for two years.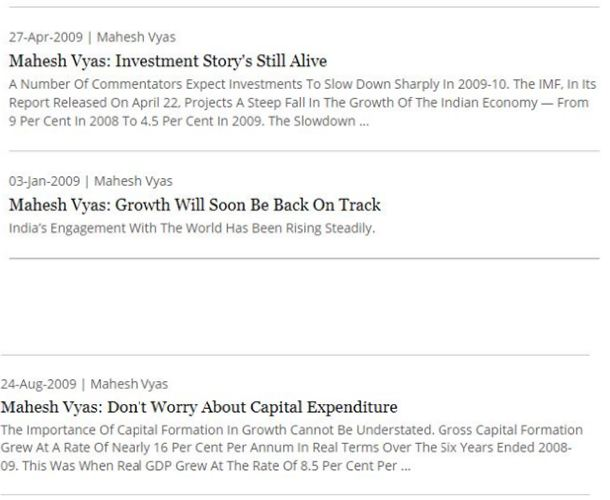 Mahesh Vyas, the current Managing Director and CEO of CMIE is brother in law of Ajay Shah. He helped the Congress party to formulate 2019 general election manifesto. The organization has been in news for the last two years for coming with astronomical figures on unemployment and bad health of Indian economy. Mahesh Vyas and CMIE have favored the Congress party and defended their policies for decades. Vyas has been a regular contributor to Business Standard, the English financial daily since 2009. He comes to rescue the Congress party whenever it is in trouble.
Back in early 2009, when the economic growth slowed down under UPA government, Mahesh Vyas wrote a story titled 'Growth Will Soon Be Back on Track'. A few months later when Congress party was facing 2009 general election and investment in the economy has slowed down, he wrote an article titled as 'Investment Story's Still Alive'. A few months later in August 2009, he wrote an article titled as 'Don't Worry About Capital Expenditure' when capital expenditure in economy was pushed very low given election year freebies by Congress party.
It is very clear that CMIE as an organization is independent and is aligned to Congress party. Its management has been involved in crony capitalistic activities and scams just like Congress party. Ajay Shah, the owner of CMIE and Mahesh Vyas, MD and CEO of the organization held an important position in Congress party and they peddle propaganda against Modi government through CMIE.