Poll violence in West Bengal is beyond control, with the TMC government is stooping lower and lower every day. Recently, Amit Shah's rally was marred by violence which included stone pelting and BJP activists being attacked by TMC goons. BJP chief Amit Shah's mega rally in Kolkata, that wowed residents with its scale and street-party air, ran into trouble. The violence started after BJP supporters saw some students from north Kolkata's Vidyasagar College, standing with "Go Back Amit Shah" posters. The Delhi Unit spokesperson for BJP, Tajinder Pal Singh Bagga, was detained without any charges by the Kolkata police. The TMC ruled government has left no stone unturned to cause harm to BJP, a midnight crackdown on BJP leaders resembles the time of "emergency" and is proof of the fact that the democratic framework of the state is in danger.
West Bengal government has been persistent in attacking the BJP government. TMC has constantly created obstacles in the campaigns and rallies that are hosted by the BJP. Just two hours before Amit Shah's road show in Kolkata, a large number of cut outs and flexes of Shah, Modi and north Kolkata's BJP candidate Rahul Sinha, were removed from a long stretch of Lenin Sarani.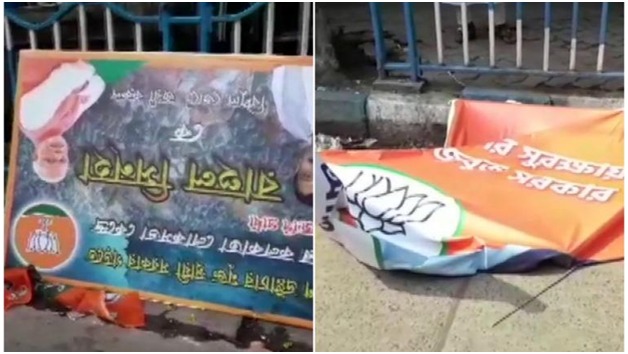 BJP leaders have been harassed time and again by the TMC ruled government. Bagga was arrested at 3 am and detained at the New Market Police station in Kolkata. BJP's IT head, Amit Malviya has alleged that including Tajinder Pal, many other BJP leaders have also been detained in a midnight crackdown which was ordered by the Bengal's CM. The continous attack on BJP supporters and leaders has been highly condemned by senior leaders of the party. BJP youth leader Priyanka Sharma was arrested for sharing a morphed picture of Bengals's CM, curtailing her fundamental right to free expression. Leaders from the BJP are being detained without any charges by the state police. BJP candidate Bharti Ghosh and her security guards were attacked twice by the TMC goons, when she visited the polling booth of her constituency Ghatal during the sixth phase of elections. During the road show of Amit Shah, BJP activists were attacked and vehicles were burnt down. Another incident from Barasat was reported where BJP leader Arvind Menon was attacked in West Bengal.  Other incidents have been reported like the attack on the convoy of BJP candidates Himanta Biswa and Dilip Ghosh were attacked in Khejuri while the West Bengal police stood as mute spectators.
BJP leader have been harassed time and again by the TMC rule government. BJP youth leader Priyanka Sharma was arrested for sharing a morphed picture of Bengals's CM, curtailing her fundamental right to free expression. Leaders from the BJP are being detained without any charges by the state police.
Mamata Banerjee ordered a midnight crack down on several BJP leaders in Kolkata, who were picked up in the middle of night, without due process of law being followed. Tajinder Bagga and several others are now in TMC's illegal detention. #SaveBengalSaveDemocracy #FreeTajinderBagga

— Chowkidar Amit Malviya (@amitmalviya) May 15, 2019
 Defence Minister Nirmala Sitharaman and Union Minister Mukhtar Abbas Naqvi met the Election Commission in New Delhi and slammed the Bengal government for carrying out dictatorship in Bengal.  Sitharaman said, "Only one phase is left, our demands specifically are that the Election Commission should ban the Chief Minister of West Bengal Mamata Banerjee from doing any campaign because in her speeches, she has been provocative, and based on what she says, for example the line is "inch inch ka badla lenge", and having said that line today we saw in Calcutta that TMC workers went on a rampage. Not stones, but rocks were thrown at our party president,"
Uttar Pradesh CM Yogi Adityanath, also said that West Bengal government is turning in to a barbaric regime and the government sponsors attacks on the supporters and leaders of BJP. He also mentioned that the West Bengal government should be removed and President Rule should be imposed in the state.  Union Minister, Piyush Goyal also condemned the violence and highlighted the point that Mamata Banerjee is now baffled by rising support for BJP in West Bengal.
It is true, that Mamata Banerjee now fears the increasing hold of BJP over the state of West Bengal. She had for a long time established a "Hitler rule" which is soon to end with BJP gaining strong grounds. She does not care about the ethics and the morals that should be upheld during the elections. She has censored art and culture in the state and curtailed fundamental rights of the individuals. Mamata Banerjee is scared of the fact that Bengal is gradually slipping away from her hold and by hook or by crook she wants this phenomenon to stop. She is not bothered about the Model code of Conduct or democratic principles, but only about retaining her power and harnessing it for personal benefits. Mamata Banerjee, despite receiving a befitting reply from the SC in Priyanka Sharma's case has no remorse or regret about the violence that TMC goons are unleashing on other party members.
The state police are handicapped while there was a request by the election duty personnel to deploy central forces in West Bengal. The Election Commission, has been approached time and again to take strict action against the "gunda raj" that is prevalent in West Bengal.  Mamata Banerjee is turning West Bengal into Lalu Prasad's Bihar, which was termed "jungle raj". It has become imperative for the EC to come down heavy on the West Bengal government and penalise TMC for carrying violence during the polls.