Arnab Goswami has been threatened by the National Broadcasting Standard Authority. The NBSA has said that they will shut down Republic TV. Arnab, who recently bought back the stake of his media venture; is also the managing director and the editor-in-chief of Republic Media Network. The company which was started by him as his first media venture finally turned into a media house completely owned by the editor. The NBSA is an independent body set up by the NBA (News Broadcasters Association), which claims that it will lobby in the Ministry of Information and Broadcasting to get the channel closed and its license revoked.
The NBSA is issuing these threats because of an incident that took place at the rally of the Dalit leader Jignesh Mevani on the 9th of January, 2018.  According to Republic TV, while one of its female journalists Shivani Gupta was reporting the rally of MLA Jignesh Mevani, she was harassed by unidentified men and A. Singh who were supporters of the MLA. These men along with Singh surrounded the reporter and started harassing her by making unwelcome gestures and sexually coloured remarks and shouted intimidating slogans against the reporter.
Later, A Singh and his partner Pratishtha Singh moved to NBSA with a complaint against Republic TV and Arnab Goswami for calling Mr. Singh a  "vulgar thug", "pervert", "goon", and "sexist "on the show aired by Repulic TV. While NBSA gave a clean chit to A Singh, it asked a formal apology from Arnab Goswami. The managing director of Republic TV took a firm stand for his colleague and denied the order of apology by NBSA. 
The NBSA had originally passed an order on August 30, 2018, asking Goswami to air an apology to Singh. It said that he would have to run a full screen apology on 7 September 2018. It also said that if Republic TV failed to display this apology on the 7th, they would have to run a rather longer message on the 14th.   
Arnab Goswami talking to My nation said, "I have not received any such letter so far, but the Lutyens' media must know that I will never apologise to a harasser even if he has the backing of the Congress or of the Lutyens' media. I will be horrified if anyone expects editors to apologise to lumpen elements who harass and molest journalists. No one in his right mind would expect an apology. In fact, I will exercise my fundamental rights and legal rights to fight this tooth and nail. I will say it again: a bunch of vulgar perverts attacked Shivani." As a managing director of the company, Goswami has taken a righteous stand to defend his female colleague. He is not ready to be subdued by the Lutyen's media which favours the nepotistic and unfair regimes in political arena.  Arnab has filed a review petition with the NBSA as well as an FIR with the police against Mr. Singh.
It is important to note that the vice chairperson of NBSA is NDTV's K. V. L. Narayan Rao.  The feud between NDTV and Arnab Goswami over the version of Gujarat riot coverage is well known in the media industry. Arnab, a former NDTV journalist was responsible for the most successful show that helped NDTV receive huge viewership. As we all know that there is no love lost between NDTV and Arnab Goswami, the latter might face more problems from NBSA.        
While attacks on journalists are reported with great vigour in the media, a discriminatory behaviour is seen towards those who belong to the Republic Tv. The responsible authorities like Editors guild which very recently stood for the Meghalaya Journalist case, have nothing to say on the harassment of a female journalist from Republic Tv, similarly no support has been provided by the NBA. The reasons are obvious. A media venture by the most dynamic anchor and journalist of the nation is bound to receive envious comments and retaliation by giant media houses like NDTV.  According to the Broadcast Audience Research Council (BARC), Republic Tv, bagged rank 1 in the public reach and viewership both in 2017 as well as 2019. As we can see in the two charts, powerful media houses like Times Now have been pushed to 3rd position, while NDTV fails to secure its space in the tally in 2019, but was on 3rd position in 2017 tally.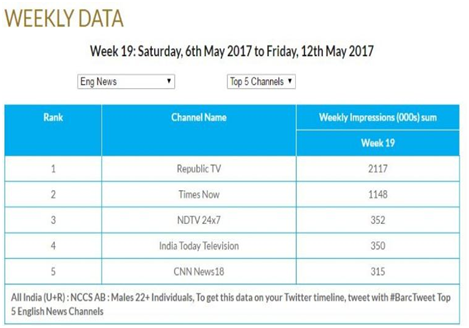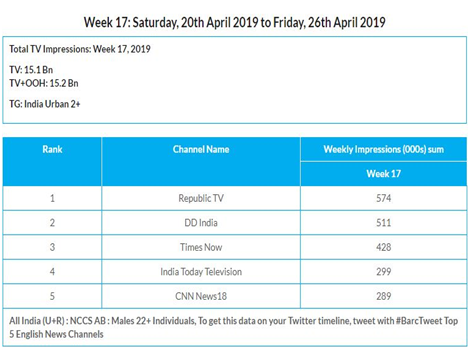 It finally explains why these media houses are ganging up against Arnab Goswami, who once held the credit of increasing the viewership of NDTV and Times Now as well.