In the recent address to the nation from the iconic Ramlila Maidan at New Delhi, PM Narendra Modi cracked down hard on the Nehru Gandhi dynasty. Targeting the dynasty for misusing the nation's assets, Narendra Modi asserted that ex PM Rajiv Gandhi misused Indian naval vessels like INS Viraat for his private excursions at Lakshadweep.
To quote the PM's address, "Congress' naamdaar family had misused the pride of the country, INS Viraat, like its personal taxi. They had insulted it. This incident is of that time when Rajiv Gandhi was the Prime Minister of the country and they had gone out on vacation for 10 days. During that time, INS Viraat was stationed to guard the maritime boundaries, but it was sent to bring the Gandhi family who was going on vacation. After that, INS Viraat had stopped at a special island with their entire family. It was there for 10 days. Among those who were holidaying with Rajiv Gandhi were his in-laws."
Already rattled and aghast by PM Modi's unapologetic attacks on the blatant corruption sponsored by Rajiv during his tenure, the Congress was shell shocked by the current jibe taken at their beloved master. In their bid to defend him, the sycophants further confirmed to the allegation, as they tried to justify such blatant misuse of the national assets.
Congress leaders like Anand Sharma and Sanjay Nirupam made personal attacks against him, with the former going to the extent of saying 'PM Modi has no personal family to take them on such vacations'. On the other hand, Sanjay Nirupam, along with other Congress leaders, tried to target PM Modi for his foreign trips.
However, their web of lies was brutally exposed by some of the actual witnesses themselves. Retired Commander V K Jaitley, one of the naval officers posted on the ship, confirmed to the allegations leveled by PM Modi. In a detailed conversation with the press, including Republic TV, he confirmed that the then PM Rajiv Gandhi misused naval vessels for his own excursions. 
He mentioned, "It is very easy for a person at that level to convert any trip into an official program. It is nothing very big. They (Gandhis) did it in the past, many others have done so, except I think present dispensation is an exception, that too only the higher authorities, people in lower levels must be doing it even now, arranging an official trip is very easy."
Commander VK Jaitley also didn't mince his words in bashing Congress sycophants. On hearing about Congress leaders justifying the misuse of the naval vessels, he said, "Some people feel that they have the right to misuse the resources of the country for their family, it's wrong, very wrong. Converting a vacation into an official trip is very wrong. Resources should be used for what they were meant. It is very easy for a Prime Minister to declare any visit anywhere as official."
Another crew member from INS Viraat confirmed the allegations, as he posted the following:-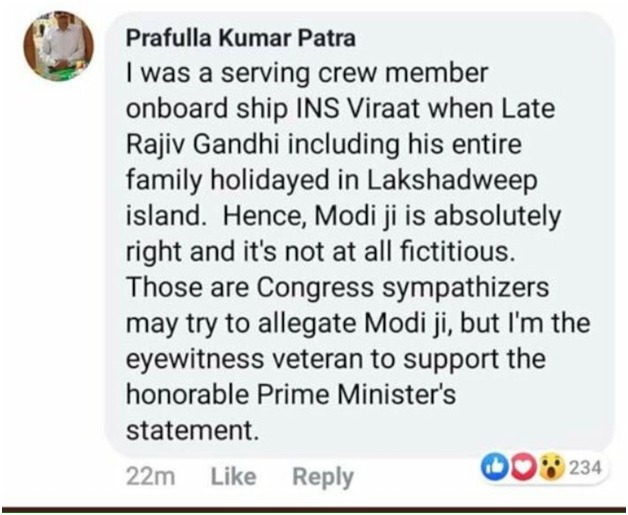 However, this was not all. In a conversation with defence analyst and author Shiv Aroor, acclaimed journalist Anita Pratap, one of the first journalists to reveal the same, dropped the bomb by revealing that none of the media outlets covered this misuse despite knowing about the same. To quote her, "I'm really shocked that this blast from the past has become so controversial now, much more than it was in 1988. This of course created some amount of controversy. But as is common with such cases, the buzz died down because the media goes on to another story. You know how tight lipped naval sources are in any country. But it was never contradicted at that time."
Yes, there was misuse, I don't think I would have reported it if I didn't think it was improper, senior journalist Anita Pratap tells me on the INS Viraat / Gandhis Lakhadweep vacation story she scooped for @IndiaToday Magazine 31 years ago. pic.twitter.com/OBYKB3Yr1W

— Shiv Aroor (@ShivAroor) May 9, 2019
To be honest, PM Modi has taken a huge risk by going all out against the Nehru Gandhi dynasty with such bold allegations, backed by irrefutable proof, unlike the laughable campaign of Rahul Gandhi on the Rafale deal. With two phases of the general elections still left, PM Modi wishes to make sure that despite the best of the efforts of the left liberal intelligentsia, Congress or its wily allies do not get even a small chance to strike back. We must appreciate PM Modi for having the courage to call out the Congress and their top brass for what they actually are: shameless hypocrites who're ready to sell the nation for their selfish interests.