Anthro.ai, a platform which claims to use Artificial Intelligence to predict electoral outcomes and poll analysis, has claimed that BJP will be able to win only 15-25 seats out of 80 in the state of Uttar Pradesh while SP-BSP-RLD gathbandhan will win somewhere between 40 to 55 seats. "We expect the SP-BSP-RLD gathbandhan to win between 40 and 55 seats, likely closer to 55 than 40. We expect the BJP to win between 15 and 25 seats. There is a slim possibility that they will win 30, but we think that's unlikely now and expect them to trend closer to the lower end of this range. The Congress is likely to win 5-9 seats," wrote Narendra Nag, co-founder of Anthro.ai. Nag has regularly published pieces in the National Herald, a Congress party mouthpiece.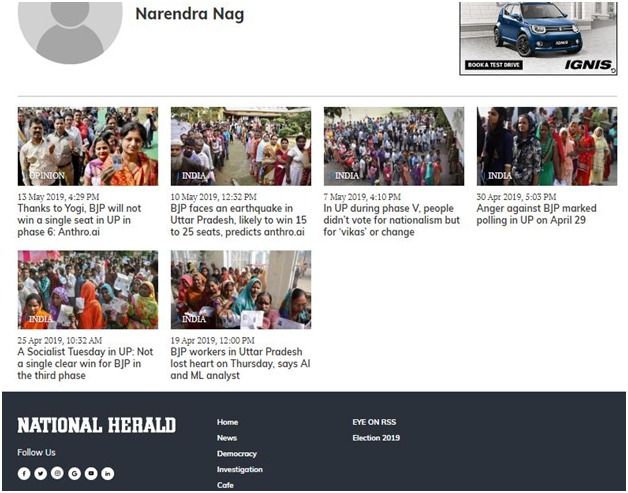 The exit polls by Anthro.ai make as much 'sense' as any other previously taken poll about elections in India. The 'exit' and 'opinion' polls never worked in Indian elections due to a number of reasons. The first and foremost reason which is true for pollsters in India, as well as other countries, is that the 'political ideology' of the pollsters forces him/her to produce biased analysis resulting in misleading outcomes. Most of the pollsters in India belong to the left-liberal spectrum of political ideology. This ideological partisanship hinders any prospects for objective analysis of numbers, the prerequisite for any credible prediction. As a result, at a time when BJP, a right-of-center political party, is dominating the political landscape in India, this particular 'confirmation bias' has become the 'Achilles heels' of Indian pollsters. The ideologically colored perspective of the pollsters had led them to believe that the 'lower castes' will not vote for BJP.
However, this theory proved squarely wrong in the 2014 general election and subsequent assembly elections. The so-called 'lower castes' including scheduled castes, voted heavily for BJP even in the state of Uttar Pradesh where caste-wise political leanings are most visible. Muslims have been traditionally considered anti-BJP but in 2014 they voted for PM Modi on the 'development plank'.
Sanjay Kumar president of Lokniti-CSDS, one of the most prestigious and oldest organizations in the field of psephology, wrote an article in Mint before the 2014 General election and claimed 'There is no Modi wave'. As the results would demonstrate, he was had misread the writing on the wall.
Another factor which severely limits the accuracy of opinion polls is the nature of Indian voters. At times, voters are unwilling to reveal their voting choices due to socio-political realities. For example, voter in West Bengal who voted for BJP will never reveal his choice to anyone because the threat of violent reprisal is very real. Additionally, and much more commonly, Indian voters are wary of revealing their voting choices to pollsters. In contrast to the concept of 'registered Republicans and registered Democrats' clearly distinguishing party affiliations and hence voting choices, Indian voters are much more discerning about open proclamation of their affiliation and voting choices. As such, voters might and often do, provide completely misleading reports of their choices to the pollsters thus adversely influencing the accuracy of the predictions. This is a glaring lacuna that Indian pollsters have either not noticed or have chosen to ignore. 
So, despite all the claims of using 'Artificial Intelligence' and primary data, any pollster could not weed out the 'primary' factors of the personal ideology of pollster and the misleading answers by voters. Therefore, most of the pollsters are often wrong about Indian elections. Anthro.ai, in its short career span, has made many wrong predictions.
In the very first phase of 2019 elections, Anthro.ai tweeted, "As polls come to a close for the first phase of elections in #UttarPradesh it's clear that turnout this time is lower than 2014. That's a very bad sign for the BJP." However, by the end of the day, voting percentage was more in many constituencies compared to that in 2014. Similarly, the Anthro.ai underestimated the prospective voter turnout in other phases and constituencies. On the Etawah seat, Anthro.ai predicted that the voter turnout will be reduced to 50.57 percent compared to 55.03 percent in the 2014 general election. But the voter turnout was 58.46 percent which is 3 percent more than the previous election and 8 percent more than the organization's estimate. Any good pollster who claims to use modern technology cannot afford 8 percent margin of error. It shows that the analysis is nothing more than the previous 'failed' attempts to predict the electoral outcomes.
We're predicting turnout in UP based on the first three sets of turnout numbers published today. Let's see how close we are.#DataExperiments #IndianElections2019 pic.twitter.com/eq3dNYWsft

— anthroai (@anthroai) April 29, 2019
The article by Nag reads less like a sound, objective analysis based on numbers and resembles more of a rant against BJP. It is replete with lines like, "The Narendra Modi government has centralised power like no one since Indira Gandhi," which has nothing to do with the subject of the article. Not once in the entire article, Nag tries to substantiate the data. The remaining of the article is replete with statements and opinions without any factual basis or even tangential correlation to the field of psephology. One such shining example is, "The stray cows that are roaming rural UP added insult to injury".
Essentially, the electoral prediction is 'ideological propaganda' by Modi baiters in the name of using Artificial Intelligence to predict voter turnout and electoral outcomes. Another 'USP' that Anthro.ai boasts about repeatedly is the elusive 'Big Data'. What sort of 'Big Data' they are referring or what sort of implication that does it have on the poll prediction reeking of partisanship, is never specified. Much like 'Blockchain', the 'Big Data' has become a much-abused concept often flashed around by organizations with little of substance to offer. In Anthro.ai's analysis, the sole motive of using words like 'Big Data' and 'Artificial intelligence' seems to be, 'if you can't convince them, confuse them'.
The people associated with Anthro.ai are ideologically polarized against BJP and this is the biggest problem for an objective analysis. In 2016 US presidential election, almost every pollster got the results wrong despite the availability of high-quality data and much better technology. The reason behind this was that most of these pollsters were from left-liberal establishment and showed clear bias against Donald Trump. The same principle applies with organizations like Anthro.ai which are run by people of left-liberal establishment and therefore more likely to predict the victory of left-wing parties rather than right leaning ones.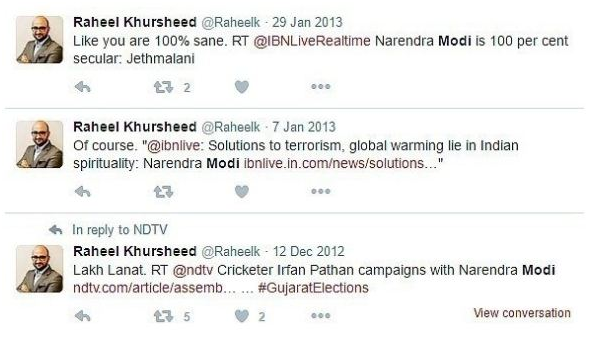 Anthro.ai was founded by Raheel Khurshid, former head of News partnerships & Govt/Civic Tech product development at Twitter INSEA (India, South EastAsia). Raheel Khurshid led Twitter INSEA from January 2014 and July 2018 and later founded Anthro.ai to venture in psephology. Khurshid was appointed to Twitter India despite being openly anti- Hindu, anti- BJP and anti- Modi. His Tweets before 2014 show that he was not fit to lead the news division of Twitter India given his biases against a particular religion, party, and leader. However, given the liberal bias of Twitter (recently its CEO Jack Dorsey had landed in controversy by holding 'Smash Brahminical Patriarchy' placard). The anti-women and anti-Hindu stance of Khurshid could be deciphered from his following statement, "For ur Navraatras: Durex Upwaas, Saboodana Flavor. Let festive season begin! (sic.)", said Khursid about the Hindu festival of Navraatras.