The gruesome terror attack on the CRPF convoy in Pulwama has been condemned worldwide. Media and governments all over the world are extending condolences and seeking justice for the martyrs. But there are a few who hold a different view as far as the identity of the perpetrators is concerned.
Indian media, in particular, Scroll and India Today tried to 'humanise' the story of Adil Ahmed Dar, the terrorist responsible for the death of 44 CRPF jawans in Pulwama. The story is based on the delusions that Dar's father holds. Following this, the Pakistani media termed this Dar as a 'freedom fighter'. The Nation, a leading Pakistani newspaper published an article in the wake of this incident titled "Freedom Fighter Launches Attack, 44 of occupying force killed in IOK."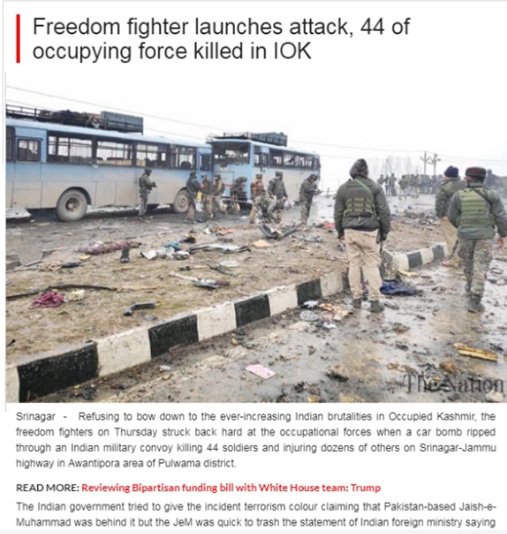 Bashir Manzar, a journalist based in Kashmir, also stated that the attack on CRPF in Pulwama will boost the morale of the 'freedom fighters'. When the entire world is denouncing the attack, the Pakistani media is expressing a bizarre view. This reporting of the incident by the Pakistani media highlights the mentality of the Pakistani state which is now being recognized worldwide. White House Press Secretary Sarah Sanders extending US' support to India and asking Pakistan to stop giving safe haven to terrorists said, "The United States calls on Pakistan to end immediately the support and safe haven provided to all terrorist groups operating on its soil, whose only goal is to sow chaos, violence, and terror in the region." This makes it clear that Pakistan has been exposed as the country responsible for abetting terrorism before the international community while India has the backing of the international community.
Pakistan as always has denied any link with the terrorist attack in Pulwama. A report in the same newspaper has quoted a spokesperson of Jaish-e-Mohammad claiming that Jaish-e-Mohammed had no role in the attack. It also added that Indian foreign ministry was trying to take away the credit from the valiant Kashmir youth and shifting the blame on Pakistan. The fact that this gruesome act is being described as "valiant" is disturbing.
Moreover, to add to the troubles of Pakistan, Jaish-e-Mohammed has already claimed responsibility for the attack. Dar was indoctrinated by JeM during his visits to Pakistan. It has come to light that Dar had made several visits to Pakistan in the last one year. He had also been in constant touch with his Pakistani handlers. Moreover, Jaish-e-Mohammed has adopted a new strategy to recruit Kashmiri youths to carry out suicide attacks in India.
Even after Jaish-e-Mohammed took the responsibility of the attack, some sections of Indian media and 'intellectuals' like Prashant Bhushan followed by Pakistan media are either 'humanising' the terrorist or blaming the army for the attack in Pulwama and have now reached to a new limit by calling him a 'freedom fighter' or a 'brainwashed youth'.