They say that cricket is a religion for many Indians, and nothing is truer than that. Cricketers in India are adulated a lot by the masses, to the extent that some of them are even regarded as holy deities. As such, anybody who criticizes them in a rude fashion is often roasted by the fans, who wouldn't take a word against their cricket idols. Unfortunately, actor Naseeruddin Shah learnt this the hard way.
Recently, Naseeruddin Shah posted a short but terse criticism of Virat Kohli on Facebook, which went as follows:-
For those unaware, Virat Kohli is the current captain of the Indian cricket team, who is well known for his aggressive attitude, both in terms of language as well as his own game. He has often been under the scanner for his unapologetic attitude against the opposition players, paying back in the same coin if need be.
Of late, his aggressive response to a controversial dismissal in the 2nd test on the Australian tour evoked mixed reactions. While most of the fans backed him, a few criticized his approach, which backfired rather badly, as in the case of Harsha Bhogle, surprisingly schooled by Shekhar Gupta for his critical approach.
It looks like Naseeruddin Shah had taken no lessons from the schooling of Harsha Bhogle, and he posted the rather harsh criticism of Virat Kohli. Needless to say, he was trolled left, right and center by many Virat Kohli fans, who posted the following:-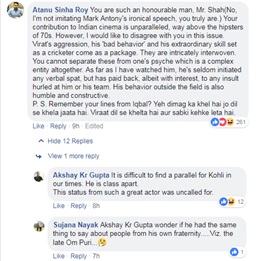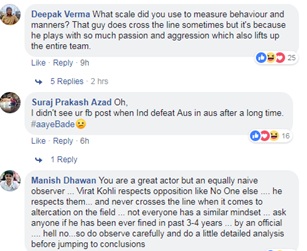 While some reminded him of his own dialogues from movies like 'Iqbal', some of them reminded him that it was not appropriate for 'an actor of his stature' to indulge in such character assassination. However, some had no qualms in roasting him for his hypocritical attitude, as they posted the following comments:-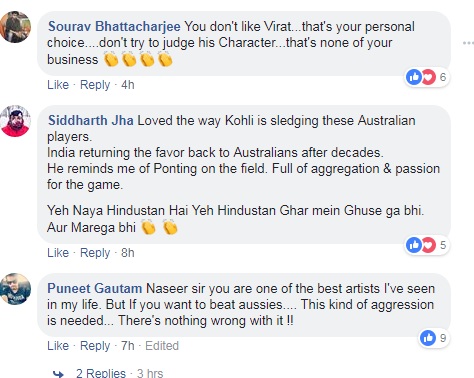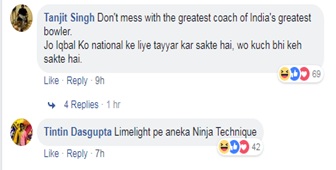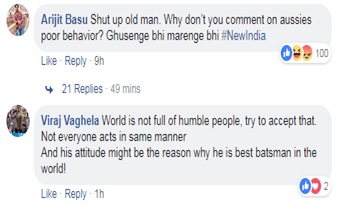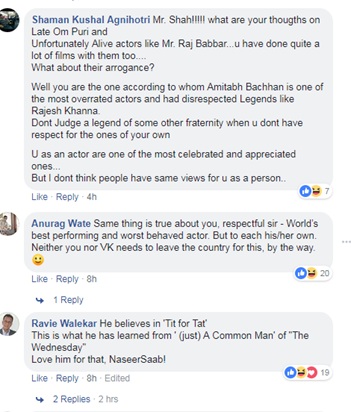 In case Naseeruddin Shah doesn't know well, Virat Kohli knows a simple maxim when dealing with opposition players: 'Tit for Tat'. While in some cases he does go overboard in his language, his aggressive attitude is the need of the hour, especially with teams like Australia, who indulge in sledging and mind games when they don't have enough talent to show in their games.
This has been the case for Team India ever since Saurav Ganguly toured Australia for the test cum ODI series in 2003-04. Since when has paying back in the same coin become a crime, Mr. Naseeruddin Shah?
Besides, Naseeruddin Shah is the last person on earth who should be lecturing Virat Kohli on ethics. If Virat is 'world's worst behaved player' owing to his aggression, what was his mercy petition in the case of Yakub Memon for? Was his whitewashing of Pakistan in the wake of Uri attacks 'civilized behavior', even when it was clear as to who called the shots in Uri attack?
Was playing the religion and victim card when criticized for his pro-Pakistan approach 'a lesson in civility'? We hope Naseeruddin Shah doesn't perceive the entire nation to be this dumb.
As of now, India is rediscovering the respect for their nation. In such cases, criticism on absurd parameters by people like Naseeruddin Shah is absolutely atrocious and uncalled for. No wonder why people trolled him badly for his atrocious people and rightly so, for nothing should be said at the cost of the self-respect of our nation.