Co-founder and CEO of Twitter, Jack Patrick Dorsey is in India right now. Much like his platform, it seems, he has an agenda to propagate, some groups to vilify and provide much sought after validation to some hate-mongers. Perhaps it came as no surprise that in the company of some 'eminent' liberals, and perhaps taking inspiration from them, Jack was photographed holding a sign which promised to 'SMASH BRAHMANICAL PATARIARCHY'.
During Twitter CEO @jack's visit here, he & Twitter's Legal head @vijaya took part in a round table with some of us women journalists, activists, writers & @TwitterIndia's @amritat to discuss the Twitter experience in India. A very insightful, no-words-minced conversation ? pic.twitter.com/LqtJQEABgV

— Anna MM Vetticad (@annavetticad) November 18, 2018
Plain and simple, this is HATE SPEECH. It is hate-mongering against a group which is repeatedly vilified and attacked simply for being Brahmins. It is hate-mongering against a group against which a sustained, co-ordinated and state-sponsored vilification drive has been going on for too long including vicious demonization even in school text books.
Jack's endorsement of indirect violence against Brahmins should not come as a surprise. Twitter India's Policy head, Mahima Kaul, herself follows the twitter handle 'Ambedkar's Caravan' which has implicitly and explicitly incited violence against Brahmins and continues to spew venomous propaganda against the group.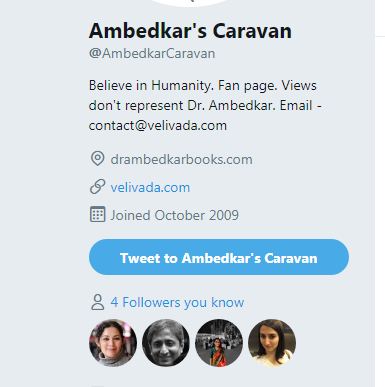 In that matter, Jack's endorsement is not an aberration but a clear pattern of Twitter India's blatantly anti-Brahmin position. The company with which Jack is seen in the picture corroborates the position about the twitter CEO's and his platform's stance. One of the people in the picture is Anna MM Vetticad and a look at her twitter profile reveals her habitual Brahmin bashing and her deep-seated hatred for Brahmins.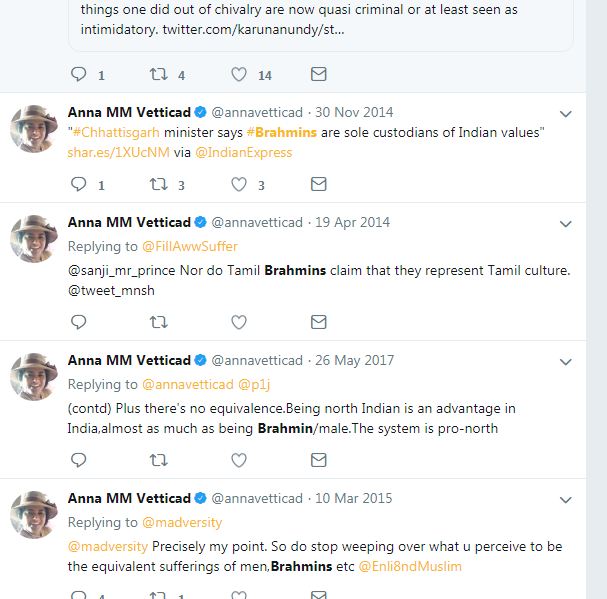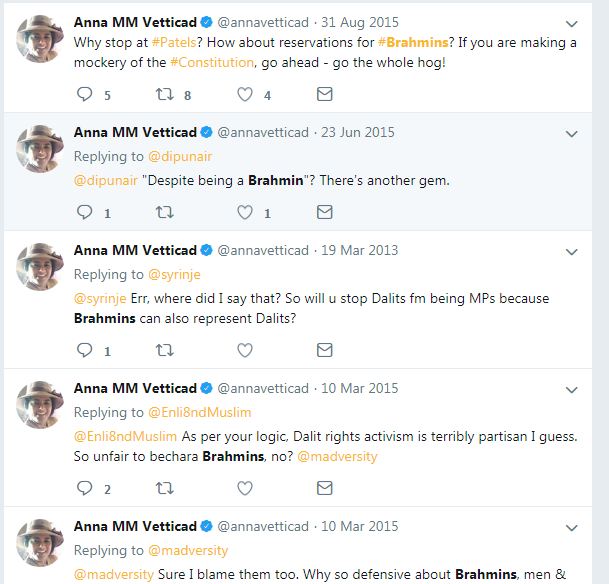 Another illustrious presence in the picture is that of Barkha Dutt, for whom the less is said the better.
Without having an iota of knowledge about Brahmins, Jack is participating enthusiastically in a sustained campaign of hate-mongering to vilify and demonize a group which has become the favorite punching bag of politicians, activists and the recent breed of identity brokers. He is actively perpetuating in the dehumanization of a group which has seen frequent attacks, marked decline in its socio-economic status and continuous harassment due to precisely this kind of gradual demonization. He and his platform have become complicit in inciting hatred against Brahmins. Now, he has become an active propagator in furthering that very vilification of a particular group.
Now, let's talk about the 'privilege' that Brahmins, according to the people in the picture, enjoy. Studies show that 50 Sulabh Shauchalayas (public toilets) in Delhi are all cleaned and looked after by Brahmins (that the founder of Sulabh Shauchalaya was a Brahmin is ironic), that 55% Brahmins are believed to be below poverty line, that in Karnataka Brahmins are believed to have the lowest per capita income. Even Wall Street Journal acknowledged the dwindling socio-economic status of the Brahmins and their marginalization in the Indian society. The report also mentions similar demonization of Brahmins. 

This is the supposed 'privilege' that Jack and his comrades promise to 'smash'. This is the group that Jack proclaims to be the raison d'état of the 'patriarchy'. Without having an iota of knowledge about the glorious cultural history of Brahmins and their contributions in the world's knowledge creation, Jack has decided that Brahmins are the social evils that must be 'eradicated'. Overnight, Jack has become the messiah that would rid India of Brahmanical patriarchy ( no idea what that means). But before embarking on this crusade, Jack must remember 'Kristallnacht' was not one man's doing. It was a culmination of a process. A process which consistently, over the years demonized, vilified a particular group. A similar process that Jack and Twitter have become an enthusiastic supporter of.