Let's begin with Audrey's 'secular-background' and reasons that trigger her biased thought process. As per Yugaparivartan, Audrey Truschke is married into the Rehn family to the son of Pastor Nate, whose original name is Nathan Rehn. 
You make it sound so dramatic! Yes, Nathan Rehn is the name of my husband's father.

— Audrey Truschke (@AudreyTruschke) June 10, 2016
Both, her husband Thane Rehn, and father in law, Nate Rehn, belong to the fundamentalist Christian organization 'Bless India' trying to "win India for Christ" as pronounced in the vision statement.
Pastor Nathan Rehn is the founder of Bless India Ministries Incorporated (BIMI), 9729 Garis Shop Road, Hagerstown, MD 21740, USA.
BIMI has sent funds to a 'Christ the King of Kings Ministries Welfare Association (CKKMWA)', 11-160, Ashok Nagar, Gajuwaka, Visakhapatnam, Andhra Pradesh-530026 during the period 2007 to 2010. CKKMWA has a FCRA Registration number of AP/010350118.
CKMWWA has received a total of Rs. 1.64 crore from BIMI during 2007-2010.
In I.T. returns of U.S.A, BIMI clearly mentions their motto on the first page under summary – 'To train people in Christian Principles'.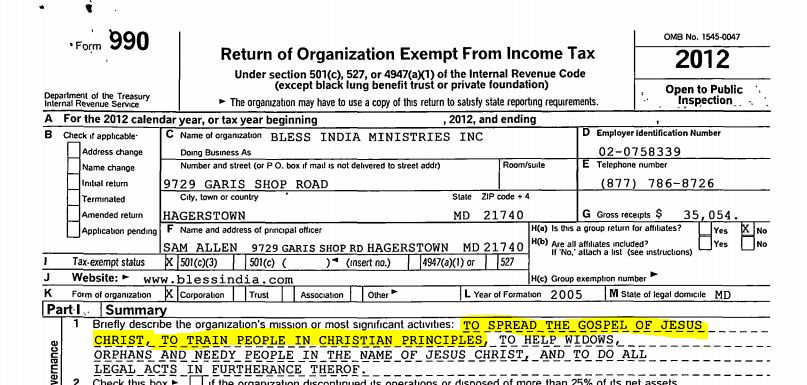 Interestingly, in a note to its donors, BIMI mentions that it has discontinued financial support to Mekala's ministry (Author's Note: i.e., CKKMWA) due to "sin issues".
Coming to Audrey Truschke, she has authored various books on Aurangzeb portraying him as a great ruler. When you have in-laws involved in winning a Hindu majority country for Christ and you are an admirer of a tyrant who massacred his own family, Hindus and Sikhs, you can't come out clean that easy.
In an attempt to sell her books in India, Audrey Truschke picked up on the most heated topic in India i.e. Ram Janmabhumi in a series of tweets on November 9th.
TWEET 1:
Even if there was a temple at some prior point, we don't know that it was a Ram temple.

We don't even know that it (the theoretical, unproven it) was a Hindu temple. Shout out here to Buddhism and Jainism, so often forgotten.

— Audrey Truschke (@AudreyTruschke) November 8, 2018
During the demolition of the Babri mosque in December 1992, three inscriptions on stone were found. The most important one is the Vishnu-Hari inscription inscribed on a 1.10 x .56 meter slab with 20 lines that was provisionally dated to ca. 1140. The inscription mentioned that the temple was dedicated to "Vishnu, slayer of Bali and of the ten-headed one" [Rama is said to be an incarnation of Vishnu who defeated Bali and Ravana]. The inscription is written in the Nagari Lipi script, a Sanskrit script of the 11th and 12th century. It was examined by world class epigraphists and Sanskrit scholars (among them Prof. Ajay Mitra Shastri).
Ajay Mitra Shastri, Chairman of the Epigraphical Society of India and a specialist in epigraphy and numismatics, examined the Vishnu-Hari inscription and stated:
"The inscription is composed in high-flown Sanskrit verse, except for a small portion in prose, and is engraved in the chaste and classical Nagari script of the eleventh-twelfth century AD. It was evidently put up on the wall of the temple, the construction of which is recorded in the text inscribed on it. Line 15 of this inscription, for example, clearly tells us that a beautiful temple of Vishnu-Hari, built with heaps of stone (sila-samhati-grahais) and beautified with a golden spire (hiranya-kalasa-srisundaram) unparalleled by any other temple built by earlier kings (purvvair-apy-akrtam krtam nrpatibhir) was constructed. This wonderful temple (aty-adbhutam) was built in the temple-city (vibudh-alaayni) of Ayodhya situated in the Saketamandala (district, line 17). Line 19 describes Bhagwan Vishnu as destroying king Bali (apparently in the Vamana manifestation) and the ten-headed personage (Dasanana, i.e., Ravana)." (Puratattva No 23 1992-93)
Allahabad High Court directed GPRS excavations and it then directed Archaeological Survey of India, which unanimously proved existence of a Hindu temple due to presence of pillars, idols and many other artifacts used in Hindu temples alone.
Hence, Audrey Truschke 's claims of non-existence of a temple/ Hindu temple/ Ram temple are just attempts to sell her religiously biased books which an Indian scrap dealer may/may-not buy in few cents per kilograms.
Apart from Buddha staying in Ayodhya for some time and Ayodhya being birth place of first and fourth teerthankar, both Buddhists and Jains have no significance with birth place of Bhagwan Ram. Both Buddha and Teerthankars are considered as scion of Ikshvakus. However, countless scriptural and historical facts prove existence of Ram and Ram temple.
TWEET 2:
We certainly don't have evidence that Babur's general harmed any temple to build a mosque there. Temples fall into misuse all the time. It is also common, for practical and ideological reasons, to build religious sites on top of former religious sites.

— Audrey Truschke (@AudreyTruschke) November 8, 2018
The burden of proof lies on other side i.e. left. Audrey Truschke is trying to instigate Shia-Sunni riots in India with this statement as when Audrey Truschke fixates on absence of Mir Baqi, Shia claim is totally lost.
Pillar bases were first discovered by the ASI's former director-general, BB Lal, in 1975. Two of the many similar pillars were also found placed upside down by the side of the grave of Fazle Abbas alias Musa Ashikhan. This Muslim saint was the person that incited Mir Baqi to destroy the Janmasthan temple and build a mosque on it. [Hans Bakker : Ayodhya]
When Audrey Truschke talks about temples falling into misuse all the time, this is exactly where her religious bias clouds her choice of words. She is definitely a Hindu hater under the veil of a secularist.
Audrey's claim: "It is also common, for practical and ideological reasons, to build religious sites on top of former religious sites."
So, how does it feel contradicting your own statement within a minute 2:45 AM – 2:46 AM [November 9th 2018]? You advocate absence of a temple and then you proudly endorse Babar's General Mir Baqi's ghastly act of destroying Ram Janmabhoomi temple.
TWEET 3:
Objection: But can you PROVE that there wasn't a Ram temple there?
Answer: The burden of proof is on the other side. I can say this – The historical evidence does not suggest an old Ram temple. So, this story relies on something other than facts (in this case, communal hatred).

— Audrey Truschke (@AudreyTruschke) November 8, 2018
And we will manage it. Archaeological and scriptural both evidences have proved existence of a temple established by Allahabad High Court. You just lost your credibility (within Indian leftist cabal). Why does Stanford recruit poorly read people?
The story is based purely on facts. Religious hatred, yes. Religious belief for one, mere ego for another.
TWEET 4:
One thing that every single person in this debate agrees upon is this: There was a mosque that stood on that spot in Ayodhya for more than three centuries and was demolished in 1992. Maybe we should be more concerned about that undeniable, real slight to religious sentiments.

— Audrey Truschke (@AudreyTruschke) November 8, 2018
As per Sunni edicts, a mosque needs to have mandatory minarets and wazu which the structure lacked. At most, we can call it a 'dhancha'.
Additionally, there is no record of Babri Mosque in the documents preserved by the Revenue Department of the Government at the Collectorate and Tehsil at erstwhile Faizabad. Moreover, the structure was named after Babur's love i.e. a teenage boy named Babri. Such relations also call for capital punishments in many beliefs around the world, you would know as you are an expert. So, even fundamentalists won't allow such a structure.
Do not poke your nose here, Audrey. You have no factual evidence whatsoever.  Time and again, you try to sell your books by speaking against Bhagwan Ram. Still open to you speaking with facts on the topic but come prepared.