The menace of 'fake propaganda' especially on RSS has grown exponentially on social media. News of a woman caught in fire. The video was being shared widely on social media platforms with a caption written on the video "नकाब जलाने वाली औरतों पर कहर-ए-इलाही". There were voices being heard in the video that, "In an event of RSS , there women cadre in their protest tried burning the Burkha and these women were punished, as Illahi's havoc broke upon them".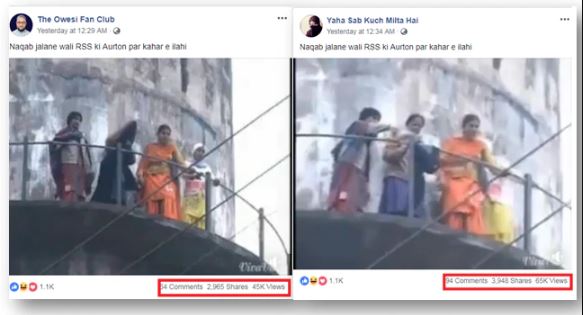 Well, it looks like repeated attempts by left-liberals to falsely malign Rashtriya Swayamsewak Sangh isn't bearing any fruits. The video which quickly became the talk of the town, didn't had any link whatsoever with Sangh, but to give it a communal outfit that 'RSS is against Muslims' its name was conjoined with the video. 
In a bid to find out the reality AAJ TAK news channel took up the matter and found that the video was from Punjab's Kapurthala where teachers were protesting to provide pressure on their demand.
What was shameful was that the video was edited and shared through facebook from 'Yaha Sab Kuch Milta Hai' & 'The Owesi Fan Club' and what was more shameful was seeing people engaging with the post and sharing it. The video that was of 1 minute and 12 seconds showed a women set on fire who was coming down from the stairs of a water tank. The fact that RSS was dragged into it, without going into the detailed facts is saddening and shameful. If the same video in its unaltered form could have been made viral, it could have actually helped the cause. The demands of the protesting women could have very reached the government and certain actions could have been taken in that regard.
But certain people with their minuscule mindset wanted to make a propaganda out of it and gave it an image of 'communal silhouette'. The video was given an outlook that Allah punished RSS Women henceforth instilling fear amongst all.   
If you think this to be the first case then you're actually mistaken, this has happened earlier as well and 
quiet interestingly some fundamentalists and left leaning individuals are quiet fond of such pieces which is actually very shameful.
This year in September too an incident on similar lines had taken place, wherein RSS was falsely being brought into the case. A facebook page named 'भीम सेना' shared a video from their page wherein it had shown that RSS people in Tamil Nadu were beating 2 dalits while the police were being a mere spectator to it.
While investigating the video it was found that, the clipping was actually of Gujarat's Bhavnagar district where police were beating the criminals, aftermath of which they were made to roam on the road in front of people.
Clearly, here too the intention was to falsely malign RSS and its cadre, but the truth has a tendency of revealing itself sooner or later. The ones who try to give a communal color to RSS are actually unaware of the fundamental principles of the RSS, that it does not support communal clashes of any sort and stands against any violence. What is more saddening is that people fall prey to the fake, viral propaganda.
Why is it that the rescue efforts of RSS are being undermined and go unnoticed. In the recent past when they were working for Kerala Flood Victims and providing similar assistance at many places?
It is necessary that people realize that some political parties sponsor the fake propaganda. Its only when the people are aware, can they shun off these politically sponsored fake viral videos.