According to a sting operation carried out by the Republic TV, it has come to light that AAP received funding from a banned Khalistani group. A group member- Gurcharan Singh- of once banned Dal Khalsa claimed that his group campaigned and even funded Aam Aadmi Party during the 2017 Punjab state assembly elections. He accepted the same during the Debate at 10 with Republic TV's editor-in-chief Arnab Goswami. When Arnab Goswami asked Gurcharan Singh whether his group funded the AAP or not, Gurcharan Singh replied, "Aam Aadmi Party was just a tool. It was a meaningless tool. It is an irrelevant party. Aam Aadmi Party is an irrelevant party brought in Punjab by rogue. We used the AAP as tool to expose the political system and Electoral machines. AAP got 90 seats in Punjab. We used them as a tool to expose how fraud the electoral system is in the state."
AAP got funding from banned Khalistani organisation during Punjab elections pic.twitter.com/rcxn9wn2fj

— Rishi Bagree ?? (@rishibagree) October 4, 2018
The Dal Khalsa group does not recognize the authority of the Indian constitution.  The group's spokesperson, Kanwarpal Singh in January 2017 had said, "We boycott elections under Indian dispensation." He had further said, "We are a votary of an independent, sovereign Punjab. We want the Sikhs be given the right of self-determination in this regard."
When Gurcharan Singh was asked again whether he actually funded and campaigned for the party, he replied, "I am not denying it, I am not denying it. We used them as tool. I am not denying it. The whole system is fraud (sic)."
Earlier in the sting operation carried out by the Republic TV, he had said, "Look at Punjab. AAP won the elections. They won 95 seats. We were on the ground. Campaigning for the party. We funded the party to see what a campaign makes a difference. And it does make a difference. People voted for AAP. They did not win because of the EVM (sic.)"
The sting operation is a definitive proof of AAP's collusion with anti-India forces. The Khalistani movement is supported and backed by Pakistan and ISI, and supports the 'Breaking India' forces. Thus the Khalistani group supporting AAP means Pakistan is indirectly supporting AAP. Gurcharan Singh repeatedly ranted against the EVM and AAP also does the same thing. Kejriwal in fact claimed that he knows ten ways to hack EVM. One of the AAP MLAs went to the extent of staging a live demonstration of alleged EVM manipulation in the Delhi Assembly.  It gives rise to serious questions like is AAP dancing on the tunes of Khalistani groups and its supporters?
Former state DGP of Punjab, KPS Gill had said that AAP is providing a platform to radicals in Punjab. Gill said, "Radical Sikh Diaspora is very disappointed over what they could not achieve earlier. Now with Aam Aadmi Party there is influx of them from foreign countries. They think this is the opportunity which is very good for them and they would be able to create a big base from which to operate". KPS Gill has played a pivotal role in ending terrorism in Punjab.
Time and again AAP leaders have showed soft corners for the Khalistanis. This year in June, AAP Member of Parliament from Patiala, Dharamvir Gandhi in Punjab came out in support of the Khalistan referendum. In an objectionable statement inciting susceptible elements, he stated that people have the democratic and legal right to demand a separate homeland.
The Khalistan referendum is a seditious campaign controlled by extremist Sikh elements in the United States and Canada. These secessionist elements profess that they seek to "liberate" Punjab and Sikhs from India and create a separate nation of Khalistan. It has come to light that the campaign has been taking the support of Pakistan's intelligence agency-cum terror outfit, ISI.
 For more details: AAP continues supporting Khalistan propaganda
Again in June, senior leader of AAP and Punjab leader Sukhpal Khaira had supported a referendum for Khalistan. Khaira reportedly said, "I support the Sikh referendum 2020 movement as Sikhs have the right to demand justice against atrocities suffered by them".
The AAP chief Arvind Kejriwal had stayed in the house of former chief of Khalistan Liberation Front (KLF)- Gurwinder Singh. Gurwinder Singh is accused of inciting communal riots during the years when terrorism was at its peak in Punjab. He was even jailed for committing murder and many other heinous crimes.
For more details: AAP is providing a platform to radicals in Punjab
In the run-up to Punjab state assembly elections, AAP rallies in the state, attended by MP Bhagwant Mann and Punjab Affairs-in charge, Sanjay Singh frequently featured portraits of Jarnail Singh Bhindrawale.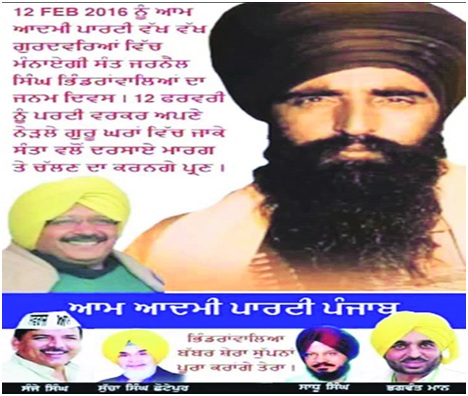 AAP had even fielded Khalistan supporters as candidates. For instance, Jarnail Singh, who was an AAP candidate from West Delhi in Lok Sabha elections, has addressed Khalistan rallies abroad.
Having said that, the allegations made by the member of Dal Khalsa group- Gurcharan Singh- should be thoroughly investigated. When Republic TV approached to AAP leader and Delhi Deputy Chief Minister Manish Sisodia for his reaction on the allegations leveled by Gurcharan Singh, he refused to comment and also abused Republic TV reporter. He said, "Listen, you and your channel can never understand education, so please don't talk. We don't do 'dalali' like your channel. We are unhappy with 'dalal' channels like you." He did not even bother to condemn the fronts of Khalistani terror when asked to do so. He dodged all the questions of Republic TV and walked off, while his men blocked Republic TV's reporter.