Hindustan Aeronautics Limited (HAL) has become what most of Indian public sector companies become over a period of time- A white elephant. According to an audit by Ministry of Defense (MoD), Sukhoi aircrafts produced by Bengluru based domestic manufacturer cost 150 crore, more than those manufactured by the parent producer. "A Su-30MKI made in Russia cost Rs 269.77 crore whereas one made by HAL in India costs Rs 417.69 crore, almost "Rs 150 crore" more per aircraft," the review said. The inefficiency of HAL is not limited to manufacturing of Sukhoi aircraft, many other equipments produced by the public sector company are equally inefficient.
India bought British made hawk jets in 2004 to train pilots. At the time of purchase, a jet cost around 78 crore, Indian government made a deal to purchase 24 jets in fly-away condition while 38 were to be produced by HAL under British company's license. The aircrafts manufactured by HAL cost 88 crore in 2004 despite significantly cheap labor in comparison to Britain .the cost of these jest continued to increase over the period of time with a single jet priced at 98 crore in 2010 and 153 crore in 2016. The difference in price "is primarily due to lesser efficiency and exorbitant man hour rates," the review has found. Most of the products manufactured by HAL as domestic counterpart of foreign companies cost more than the original equipment manufacturer (OEM).
A controversy erupted when Dassault chose Reliance Defense led by Anil Ambani as major domestic partner for offset deal instead of HAL in Rafale purchase. Despite the repeated clarification from Dassault Aviation and Ministry of Defense that government has no role in selection of the offset partner, the opposition blamed the Modi government for corruption. Some sections of the media also misled people about Rafale deal and presented it like a scam despite the fact that no beneficiary of the deal could be found in government. As the elections are near, the Congress party is trying to malign the image of the government due to lack of any major issue. Rahul Gandhi has repeated lies about the deal like Anil Ambani benefited worth 30,000 crore from the offset deal while the whole offset to Reliance Defense was worth 3,000 crore. The management at HAL will not try to improve things if they are provided unnecessary political backing to hide their inefficient practices.
HAL is among the monuments of the Nehruvian economy and a testament to its abject failure. The company was established in Bangalore on 23rd December 1940 by Walchand Hirachand to promote defense manufacturing in the country. However, British government soon forcefully took over the company and nationalized it. Later when India became independent, the nationalized company was brought under the Ministry of Defense. In later days, HAL was established as the main defense manufacturer of the country and a significant amount of resources were put into it. However, HAL could not get any major breakthrough in seven decades of its existence and the country continued to import defense equipment from private manufacturers in countries like United States, France, and United Kingdom. All HAL has been able to achieve is to manufacture less skill intensive and tech intensive equipments for Indian aviation sector by technology transfer from Soviet Union.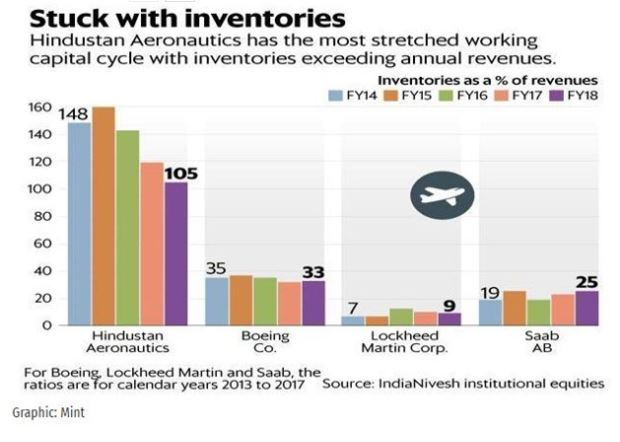 The interesting thing is that most foreign manufacturers from whom the public sector manufacturer gets contacts on behalf of Indian government are private companies. Not a single defense manufacturer in top 10 in the world is public sector unit. India has to import fighter aircrafts like Rafale and F-16 because HAL failed to built good fourth and fifth generation aircrafts. Five largest defense contractors in the world- Lockheed Martin, The Boeing Company, BAE Systems plc, The Raytheon Company, Northrop Grumman Corporation are private sector companies. In fact, among the top 25 defense contractors (in which HAL does not get a place), none of them is a public company. HAL is stuck in the inventories, its revenue in the previous five fiscal years increased just 4.3% per annum on average. Profits decelerated from 2,997 crore in FY13 to 2,070 crore in FY18. Execution is slowest at HAL among its global peers. The inefficiency at HAL should not be tolerated and the government should no longer carry the baggage of a white elephant.