The corporates that have deposited money above the limit amount during demonetization thought that they came out safe and the story was over. As per Reserve Bank of India (RBI) annual report, 99.3 percent of the demonetized currency is back in the central bank. The total value of demonetized 500 and 100 rupees notes was Rs 15,417.93 billion and now after more than a year of hectic counting RBI found that currency worth Rs 15,310.73 billion was returned to them. Almost all newspapers, news websites, and TV channels have long declared that demonetization failed drastically. In fact, some of them immediately declared demonetization to be the biggest mistake of Modi government in four years. However, government was clear about how to pursue the crooks who took an undue advantage of the system.
The government has identified accounts of 73,000 companies where fraudulent transactions were carried out during the demonetization drive. The promoters of these companies are likely to be interrogated by government agencies. "We have identified 73,000 companies in which Rs 24,000 crore was deposited after demonetization. The investigation is being undertaken by various agencies," said PP Chaudhary, minister of state for corporate affairs. "Around 1.26 lakh companies were initially identified where unusual transactions were reported, where accounts of such companies were used only to park money. But the number reduced after preliminary probe," he elaborated further.
Serious Fraud Investigation Office (SFIO), the premier corporate fraud investigation which operates under Ministry of Corporate Affairs is likely to probe the promoters of companies identified for fraud. SFIO coordinates with Income Tax department and Central Bureau of Investigation (CBI) in major cases. Currently, the agency is investigating 64 cases of alleged fraud involving 500 companies. SFIO has finally been given teeth in the last four years of Modi government. In the upcoming years government is likely to expand manpower at SFIO and handle more cases to premier investigation agencies. "We're looking at bringing experts from other ser-Promoters of 73k Cos may Face Action Probe findings reveal fraudulent transactions were carried out in these cos after demonetization vices into the SFIO. There's a need for sectoral experts," said PP Chaudhary.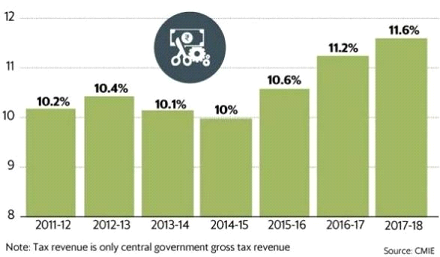 Demonetization has achieved its objective of a crackdown on black money and digitisation of economy.  The ratio of central government's taxes to GDP was 10 percent in the fiscal year 2014-15. Now, if we take a look at the Central Government's taxes to GDP ratio has gone up from 10 percent to 11.6 percent. This is a whopping 15 percent increase in tax to GDP ratio.  According to Economic Survey 2018, 10.1 million people filed income tax returns in the year following demonetization (November 2016- November 2017), while the average for the last six years has been 6.2 million. This shows an increase of over 1.5 times the previous number of income tax returns filed. So, the crackdown on black money has been successful, as tax collection increased dramatically. The simplest definition of black money is 'an income on which taxes are not paid', so if people paid taxes or started paying taxes after demonetization that simply means it achieved the primary goal and delivered on the promise.