Finance minister Arun Jaitley has exposed the lies by Rahul Gandhi on Infrastructure Leasing & Finance Limited (IL&FS) bailout accusations. He posted a letter by K. V. Thomas Congress MP from Kerala to justify government's takeover of IL&FS. Thomas has written a letter to Arun Jaitley asking for interference of government in the matter. "The government may consider supporting IL&FS in the following areas — guide institutional areas such as LIC, SBI, HDFC to support IL&FS to provide equity and debt of Rs 80 billion requested by the company," the letter by Thomas to Jaitley said.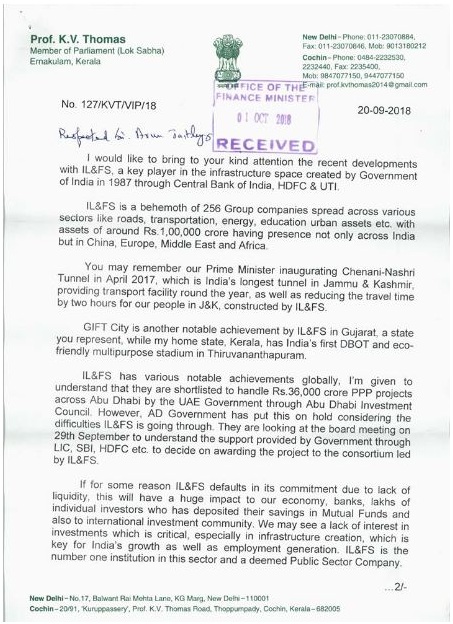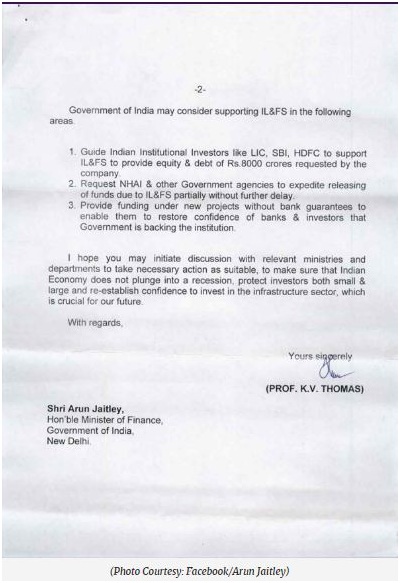 IL&FS is a conglomerate of 256 companies involved primarily in infrastructure finance. The group is known for financing some of the biggest infrastructure projects in the country. It financed Chenani-Nashri Tunnel, longest road tunnel with a length of 9.28 km, GIFT city in Gujarat among others. The company was floated in 1987 by Central Bank of India, HDFC, and Unit Trust of India. The company has expanded exponentially after economic liberalization, as the government and private sector expenditure on infrastructure increased, the company expanded its horizon. In a way, IL&FS epitomized economic growth of India in post-liberalization period.  
The company was going well in public eye but in July, Businessline reported that two of the subsidiary companies of IL&FS have defaulted on loans. In subsequent months many cases of default by IL&FS' subsidiaries were reported by business newspapers and websites. The company has total debt of 12.6 billion dollars, 61 percent of which comes from financial institutions. As more defaults by IL&FS subsidiaries come out in media, shares of Non Banking Financial Companies (NBFCs) started sliding. NBFCs are non-banking financial institutions engaged in the business of loans and advances, acquisition of shares/stocks/bonds/debentures/securities. Analysts started describing it as India's mini-Lehman moment due to impact it could have on Indian as well as global stock markets. Government feared crisis could erupt due to ripple effect of IL&FS default which will be bad for economic growth.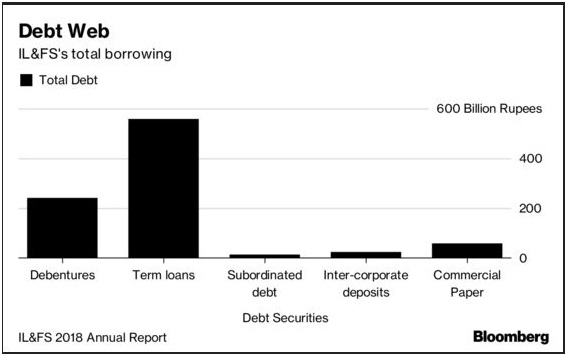 K V Thomas, former chairman of Public Accounts Committee and senior Congress leader sensed the seriousness of situation and wrote to FM to look after the crisis. Government took cognizance of the matter and brought public sector companies like LIC which already had majority stake in IL&FS to rescue the company, as suggested by K V Thomas. Government also revamped the board and appointed a new board as the corporate ministry took over the debt ridden institution. However, Rahul Gandhi accused that the government is using public money to save a private company. The tweets by Rahul Gandhi on the matter are either his ignorance or he is intentionally spreading misinformation.
लाइटस, कैमरा, स्कैम

सीन 1: 2007, CM मोदी IL&FS कंपनी को 70,000 करोड़ का प्रोजेक्ट GIFT CITY देते हैं। आजतक कुछ काम नहीं। जालसाजियाँ आईं सामने।

सीन 2: 2018, PM मोदी LIC-SBI में लगे जनता के पैसे से 91000 करोड़ की कर्जदार IL&FS को बेलआउट दे रहे हैं।

"चौकीदार की दाढ़ी में तिनका"

— Rahul Gandhi (@RahulGandhi) September 30, 2018
मोदीजी, आपकी चहेती निजी कम्पनी ILFS डूबने वाली है। आप LIC का पैसा लगाकर उसे बचाना चाहते हो।क्यों?

LIC देश के भरोसे का चिन्ह है। एक-एक रुपया जोड़कर लोग LIC की पॉलिसी लेते हैं। उनके पैसे से जालसाजों को क्यों बचाते हो?

कहीं आपके लिए ILFS का मतलब 'I Love Financial Scams' तो नहीं?

— Rahul Gandhi (@RahulGandhi) September 30, 2018
LIC is existing majority shareholder in IL&FS, therefore if the share prices of the company goes down it will definitely hurt LIC. This was the primary reason behind LIC's decision to takeover IL&FS. "The restoration of confidence of the money, debt and capital markets, the banks and financial institutions in the credibility and financial solvency of the IL&FS Group is of utmost importance for the financial stability of capital and financial markets," the government said in a statement Monday on the PSUs takeover of IL&FS.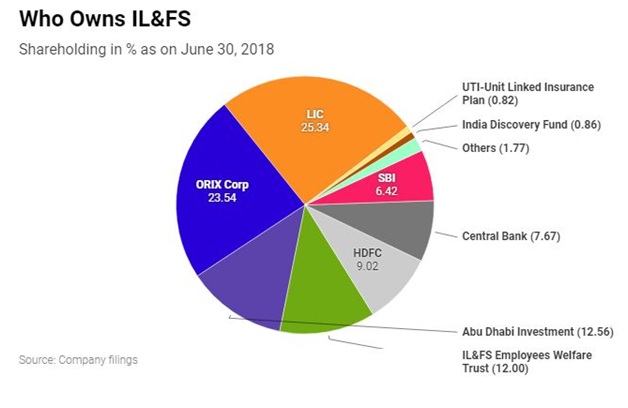 Arun Jaitley criticized Rahul Gandhi for unnecessarily politicizing the matter of LIC takeover. In a series of Facebook posts, Arun Jaitley revealed how LIC itself increased its share in IL &FS over the years and wrote "Do I start calling all these investments today 'a scam' as per 'the perverted Rahul Gandhi school of thinking?" Arun Jaitley further accused the Congress of scaremongering by "spreading disinformation about the government's possible moves in relation to the private sector company IL&FS" that is struggling to pay its creditors. Rahul Gandhi must understand that playing politics is OK but not at the stake of National interest. Banks, mutual and pension fund managers, insurers and individuals are facing losses due to the crisis and if the government had not taken over the company then middle class which is the main beneficiary of mutual funds schemes, insurance schemes would have suffered. Progress on thousands of kilometers of highways financed by IL&FS will also suffer if government does not back it.