We're no strangers to the fact that the much talked about website, The Wire, is a known peddler of lies and twisted propaganda. Despite having received more than enough brickbats for their fantastical conspiracy theories involving BJP President Amit Shah and current Railways Minister Shri Piyush Goyal, this leftist mouthpiece is far from improvement. In their latest hitjob, they've accused the Indian cricket team of being casteist and not giving adequate representation to the allegedly 'oppressed castes', as shown below.
In this atrocious article, penned by Gaurav Bhawnani and Shubham Jain, The Wire has talked about how there has been a lack of adequate Dalit and Muslim representation and also asked for a caste based quota to be applied to the Indian cricket team. Following is an excerpt, which reeks of the malice the site is notorious for propagating: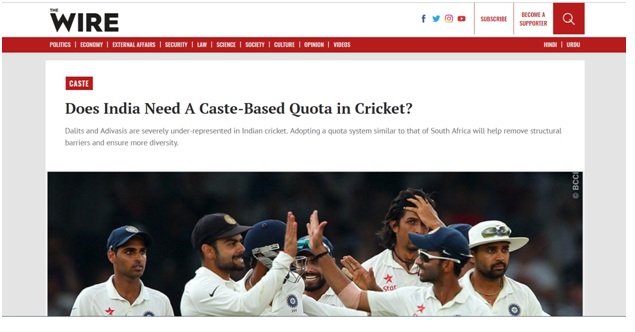 "……Unfortunately, Dalit under-representation in Indian cricket has received scant attention. A similar under-representation of black players in South Africa resulted in the introduction of a quota for non-White players in the playing XI across all levels of the game. On the other hand, we don't even have accurate data about the socio-economic backgrounds of players playing a sport which is followed religiously by most Indians….."
Such a suggestion is not only atrocious, but also reeks of the vicious game institutions like The Wire want our Indian sports to be subjected to. It is after a long time that the Indian sports have finally got back on track. As such, an article like the one mentioned above clearly wishes for Indian sports to be taken back to the dark ages where everything else but sports was preferred.
Needless to say, this atrocious article by The Wire received due brickbats from all corners. However, one of the most effective replies came from an ex cricketer, who was instrumental in many legendary victories the Indian cricket team had achieved in the early 2000s.
Mohammad Kaif, who is well known for his exploits at the Natwest Series 2002, decided to serve The Wire a taste of their own medicine. In an effective retort, Mohammad Kaif tweeted the following:
How many prime time journalists are SC or ST or for that matter how many senior editors in your organisation are SC or ST. Sports is perhaps one field which has successfully broken barriers of caste,players play with inclusiveness but then we have such journalism to spread hatred https://t.co/ludDNpPi3x

— Mohammad Kaif (@MohammadKaif) July 29, 2018
In the caustic tweet, Mohammad Kaif has rightly attacked The Wire for their double standards and has suggested them to not mix sports with politics again. We're not averse to the massive damage that caste based reservation has done to our country.
It is due to the great efforts of the people involved, that armed forces and sports have been unaffected by the malice of casteism. If The Wire's agenda is implemented, the small ray of hope for the resurgence of India in sports would be crushed brutally, and certainly people like Mohammad Kaif would be the last ones to live with it.
Known for their clickbait journalism, The Wire seriously did not expect such an effective retort by Mohammed Kaif to their malicious propaganda. In a vain attempt to defend their stance, the notorious editor in Chief Siddharth Varadarajan tried to shift the goalposts with the following:
The absence of SCs/STs from the media is as big or bigger an issue as it is from cricket. To talk about this—and to discuss ideas for solution—as the two authors of the piece we carried did, can hardly be called "spreading hatred". It's called a debate. Thank you for joining in.

— Siddharth (@svaradarajan) July 29, 2018
I thank you for taking the time to read the piece, and invite you to mail me a response which we can publish. I am one of the founding editors of @thewire_in and my email address is sv[at]thewire[dot]in.

— Siddharth (@svaradarajan) July 29, 2018
The above tweets are enough to expose the hypocrisy of The Wire, and he was rightfully roasted left, right and center. To be truthful, it is high time that we find an effective solution to counter and demolish the propaganda The Wire continues to peddle, otherwise, the image of a robust, unapologetic nation that we've managed to start resurrecting shall come crashing down by just a few lies carefully propagated.