The government has come up with a comprehensive plan to resolve the Non Performing Assets (NPA) crisis of loans of small amounts. The process for the resolution of NPAs will get faster as the government will get an Asset Reconstruction Company (ARC) on board to solve this problem. The ARC is expected to primarily deal with Micro, Small and Medium Enterprises' (MSMEs) NPA problem, for which there are no takers. Acting Finance Minister Piyush Goyal had announced a committee under the chairmanship of Sunil Mehta, non-executive chairman of Punjab National Bank, to examine the idea of an ARC and/or asset management company (AMC) for faster resolution of stressed assets involving multiple state-owned lenders. The provision for setting up ARCs was brought in The Securitization and Reconstruction of Financial Assets and Enforcement of Security Interest (SARFAESI) Act, 2002. The SARFAESI and SICA (Sick Industrial Companies (Special Provisions) Act), 1985 were two acts that existed before Insolvency and Bankruptcy Code (IBC) for insolvency proceedings. While SICA was repealed in 2016 the SARFAESI still exists, providing a legal basis for Asset Reconstruction companies, although as per Section 238 of IBC law it can override existing laws like SARFAESI.
The committee had submitted its report and the government has supported its recommendations. Piyush Goyal said, "Sunil Mehta committee on bad loans resolution has recommended a five-pronged strategy, Project 'Sashakt' to deal with Non-performing Assets in the country's banking system. The five-pronged strategy includes SME resolution approach, bank-led resolution approach, AMC led resolution approach, NCLT/IBC approach, and asset-trading platform. An independent AMC would be set up, and AIF would raise funds from institutional investors, AMC will become a market maker and ensure healthy competition, fair price and cash recovery, there could, however, be more than one AMC."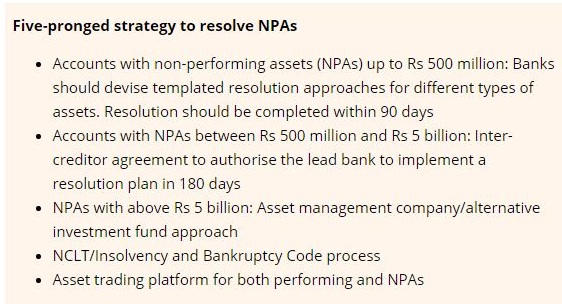 Primarily, there were two ideas which were being explored for the resolution of small loans. The first one was to form a bad bank and transfer all the bad loans there, with the second option involving a resolution through an AMC. A bad bank is a corporate structure to isolate illiquid and high-risk assets held by a bank or a financial organization, or perhaps a group of banks or financial organizations. Eventually, the government came up with the idea that the formation of an ARC will be much better than creating a bad bank for small loans recovery. The larger bad debt loans are already being solved through IBC proceedings in National Company Law Tribunal (NCLT). Ashvin Parekh, the managing partner at Ashvin Parekh Advisory Services, said "the process amounted to shifting assets from the banks' balance sheet to the treasury and if there is participation by banks, there will be a conflict of interest."
The large NPAs of public sector banks were the biggest problem the government was facing in this regard. The government had to recapitalize the public sector banks to give a boost to lending because they did not have the capital to lend loans to the industry. Their capital was turned into NPAs by poorly performing companies and there was no solid mechanism through which this bad debt problem could be solved and the culprit companies could be punished. The Modi government brought the IBC law which is proving to be highly effective in solving the problem of NPAs. To speed up the process for MSME NPAs, the government may allow an Asset Reconstruction company to take over the loans stressed assets involving multiple state-owned lenders which will bring more money to public sector bank coffers. This will boost the lending by banks which will result in more activity in the market and therefore faster economic growth in the country.