The Yogi government in Uttar Pradesh has organized a groundbreaking ceremony for projects worth 60,000 crores (8.7 billion dollars) on 29th July in the presence of PM Modi. The MoUs for these investments was inked in the UP Investors Summit in February.  The total investment promised by industrialists in this investor summit was 4.28 lakh crore (61 billion dollars) in 1, 0 45 memorandums. In this summit, PM Modi said that Uttar Pradesh government can compete with Maharashtra to become the first Indian state with a trillion-dollar economy. Maharashtra's GDP is 430 billion dollars as of now and it aims to become a trillion dollar economy by 2025. The state of Uttar Pradesh is currently 230 billion dollar economy so the state has to grow at least double of Maharashtra's pace to overtake Maharashtra to become the first Indian state with a trillion dollar economy.
The projects launched are expected to create 2.1 lakh job opportunities in the state. PM Modi also attended the concluding session of 'Transforming Urban Landscape' convention along with the groundbreaking ceremony. Speaking at 'Transforming Urban Landscape', Prime Minister Modi had said "We are bound to build a system for future generations, where life is based on 5 Es: Ease of Living, Education, Employment, Economy, and Entertainment. PM Modi added that "Our pledge to make lives of Indians simple and comfortable has become stronger after 3 years. We will give 'pakka makaan' to people who are poor and homeless." The urbanization rate of the country is very fast and hence discussion and debate are very important for urban issues. The previous governments were reluctant to urbanization as they were carrying the baggage that India lives in villages. One of the main objectives of the inefficient and infamous MGNREGA program was to stop rural people from moving to cities. It was argued that the Indian cities do not have enough infrastructures to accommodate the migratory people so people should be given work at home. So instead of finding a solution to infrastructural needs in the cities, the UPA government brought a program to keep people in villages.
The Modi government has accepted the urbanization as natural phenomena in the move of a country from developing to develop one. So this government is making a huge investment in infrastructure and developing smart cities to accommodate the people migrating from villages to cities. PM Modi underscored that his government would try to facilitate every Indian with an accommodation by the year 2022. "By 2022 we will try to ensure that everyone has a house. In order to meet this target the government has approved 54 lakh houses in the cities and also provided more than 1 crore houses to people in villages," he had said.
Urbanization is directly linked to economic growth yet most schemes for improving rural conditions are justified on the basis that they will reduce the migration to cities. As of 2018, almost 34 percent of Indian population lives in cities and this ratio is expected to increase as the country progresses towards industrialization in upcoming decades. The number of mega-sized urban clusters (above 50 lakh population) has remained almost constant over the years. However, the number of smaller urban clusters has been increasing rapidly. The chart shows the number of urban agglomeration clusters of varying population over the years.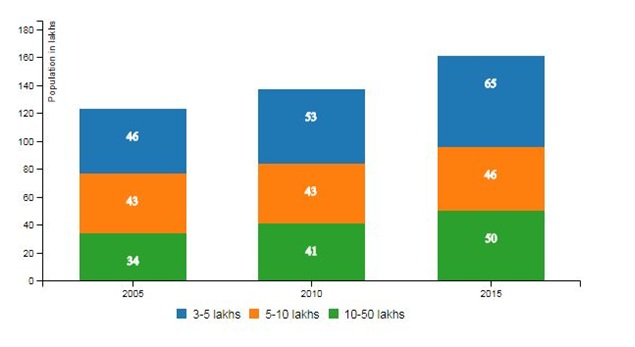 The government should comprehensively analyze the urbanization trends and take steps to support it through urban infrastructure and welfare schemes rather than starting programs like MGNREGA to reduce the number of people migrating to cities.