The atmosphere in Mumbai right before the rain is typically very sultry and extremely hot. Be it at 10 AM in the morning or 7.30 P.M. in the evening, one is bound to be drenched in sweat if he/she uses the public transport. It was a normal sweaty Monday evening for me too until I witnessed what I did on the new railway footover bridge at Parel Railway station.
The new footover bridge constructed by the Bombay Sappers, Indian Army in record time after the untimely calamity at Parel/Elphinstone railway bridge on 29th September, 2017 which claimed 22 lives and injured 35. The Indian Army commenced work on 24th November, 2017 and completed the entire construction of an additional footover bridge for the convenience of the people on the 22nd February, 2018.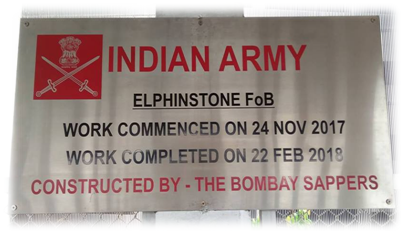 Coming back to the incident, I, was walking back from office towards the station with beads of sweat trickling down my spine soaking my shirt wet.My disgust for everything around me was only increasing with each step that I took, but it all changed when I ran into an enthusiastic team of dedicated workers, who oblivious to the world at large were busy cleaning the steps of the railway bridge with a single minded agenda of scrubbing the dirt of the steps without worrying about anything else.
The team of 5 men were busy sweeping the floors ignorant (yet mindful) to the human traffic passing by them. Four men swept different parts of the steps, while one meticulously collected the garbage in a giant plastic bag.
At first, it seemed like, it was a team of railway employees who were at their mission to keep the station premises spick and span, but a closer look cast doubts over my initial observation. I stood there silently observing them clean without bothering or affected by the passing train or the questioned look on the faces of the people passing by. This continued till I finally went up to a middle aged man directing his team on all the places that required special attention. What I learnt next blew my mind.
This cleaning team was not from the Government, BMC or Railway's and had nothing to do with the railway bridge. On my follow-up questions on their credentials, locus standi and the rationale to clean this bridge, I was told that all of them were small flower vendors and conducted their business in the nearby Meenatai Thackeray market in Parel.
The middle aged man giving orders, who seemed like a team leader was Shri. Sanjay Ganpat Bochare, an independent businessman by profession, Bochare has a flower shop in the Meenatai Thackeray flower market, which he has been running for the last 25 years. The 49 year old who residing in Kanjurmarg area of Mumbai, grew up in a small town of Junnar, near Pune where he completed his class 10 but soon due to money constraints moved to Mumbai (Bombay then) to start his own small business.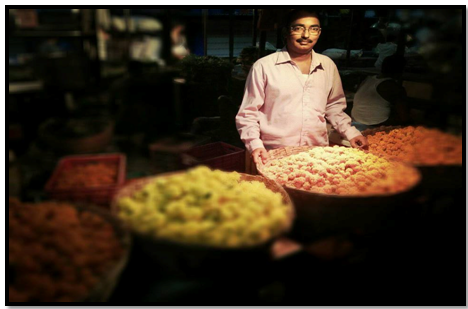 While most of us waste our time procrastinating and cribbing about the dirty surroundings, Bochare and team changed the entire narrative from complaining and cribbing to cleaning and inspiring.
While my other questions had been answered, there was still one question in my mind ,what was it that brought them to the station for cleaning the footover bridge to which they had no connection? Was it their love for their country? Was it the Swachh Bharat Mission? Was it the Indian Army sending officers in plain clothes? All these questions were bubbling up inside me like a bottle of soda and containing them inside was just as difficult as containing the fizz in the soda bottle.
The interview :-
While the 49 year old leader, Shri. Bochare felt a little shy initially, he quickly opened up when I started speaking to him in Marathi.
Since the new bridge was built so graciously by our Army, I asked him if he or any of his team members had family working in the Army, but none of the people who had volunteerd to clean the bridge had any relatives in the Indian Army but their belief that those standing at the border are no less than their brothers and sisters was something that struck me hard, especially when there are is a fad of liberalism which supports people dreaming of breaking our country and question those who protect it. He added in his unequivocal voice that cleaning the surrounding and doing our bit for the society is the least we could do to show solidarity with the armed forces.
The passionate undertone to his 1 minute speech was powerful and hard-hitting. He said that it was due to the greatness of the Indian Army that we today had the facility of walking freely in the country without the fear of being blown up by a suicide bomber like in countries such as Pakistan and Afghanistan. And by not maintaining the cleanliness of the foot over bridge, we were directly or indirectly letting the Indian Army down, not valuing their unparallel contribution towards a unified India and hence every time someone spat or littered on the bridge, it only belittled the selfless efforts of all the people who worked day and night to build the bridge in 3 months.
Bochare was quick to point out that serving the nation is equivalent or rather greater than performing any religious action be it in a Mandir, Masjid or a Church. Bochare, although a devout  Hindu, believed that this act of his was not to accumulate the blessings God but because he felt it was his dharma and his responsibility to keep the bridge built by the Army to be clean.
He told me that he and his team resided in Kanjurmarg area (very far from Parel station) but made it a point to come and clean this bridge every few days without the expectation of any reward or recognition. One of his aides pointed out that by cleaning their surroundings they were also contributing to the Swachh Bharat campaign initiated by PM Modi in their own small way. For every time they cleaned the bridge they felt a sense of satisfaction and contentment of having served the Indian Army in a small way if nothing else.
Conclusion:
While the fervour of being a liberal in today's 21st century India has hit the young generation, the way puberty hits them, courtesy to the extraordinary amount of factually incorrect data fed into young minds by way of academic books and social media, there are still many who have not been bit by this bug and they continue to perform acts of heroism silently without expecting any reward or recognition in return.
And even though it might just be a small part of a giant bridge, this passion and perseverance towards keeping it clean, ignited a fire in my belly, inspiring me to do more for the country which has over the years given me so much and continues to give me so much without seeking anything in return. Acts like these inspires the young generation to do something for their nation and takes the country a step ahead in the direction of Swachh Bharat.
Jai Hind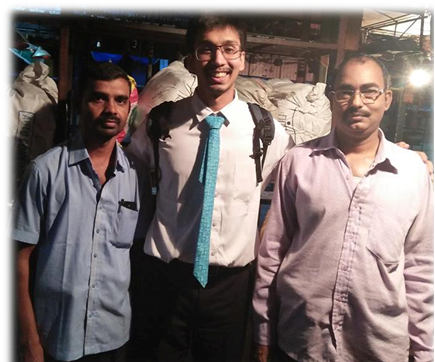 This is a real life incident dated 4th June, 2018 at parel station, Mumbai.