Arguably, one of the most promising yet the most neglected part of India is the North East. The region, which has  given people like Dipa Karmakar, Sunil Chhetri, Baichung Bhutia, M. C. Mary Kom, L. Devendro Singh etc. has largely been ignored by the mainstream media, who would otherwise cry hoarse on any mishap in states like Uttar Pradesh, Madhya Pradesh, Rajasthan, Gujarat, and Haryana, the 'real India' according to the media. Excuses like 'tyranny of distance' is mentioned when this 'over sight' is mentioned to the liberal media.
Every year there are massive floods which cause immense destruction due to the rugged and hilly terrains of the same, with no proper drainage. To add to the woes of the North East, there is rampant militancy, both religious based and left sponsored, yet our media regarded this as the forbidden territory.
Now that Biplab Deb, the new CM of Tripura is currently in news for his naïve, poorly judged statements, one is curious to know how did the media, who cared two hoots about the North East or its development, is now so concerned about the area that they're giving it 24*7 coverage. If one looks closer, they shall know that this is nothing but the notorious notion of 'Agenda uncha rahe hamara' [Our Agenda must reign supreme].
Before the arrival of Shri Biplab Deb, all that media cared about with respect to Tripura was singing paeans of its Ex-CM , Manik Sarkar, who in their words, was a glorified as an ascetic who survived on limited means. Once Manik's government bit the dust in the 2018 elections and BJP established the first non Communist government after 25 years, the media suddenly developed interest in Tripura.
Currently in the news for his naïve opinions and off-the-cuff remarks, Biplab Deb has been a sort of facepalm for the NDA these days, and this opportunity is being milked by the media with both hands. Be it his connection of the Mahabharata with Internet and modern technology or his criticism of ex Miss World Diana Hayden, media has left no stone unturned in adding fuel to the fire, so much so that their latest gaffe turned out to be a deliberate misquoting by carefully twisting the words said in Hindi to suit their agenda. If you don't believe me, see this for yourself:-
Har ghar mein gai honi chahiye. Yahan dudh Rs 50 litre hai, toh ek gai paal le, koi graduate hai, naukri ke liye ghoomta rehta hai 10 saal se, agar 10 saal gai paal leta toh apne aap Rs 10 lakh ka bank balance tayar ho jata: Tripura CM Biplab Kumar Deb (28.04.18) pic.twitter.com/x5Gu6elttv

— ANI (@ANI) April 29, 2018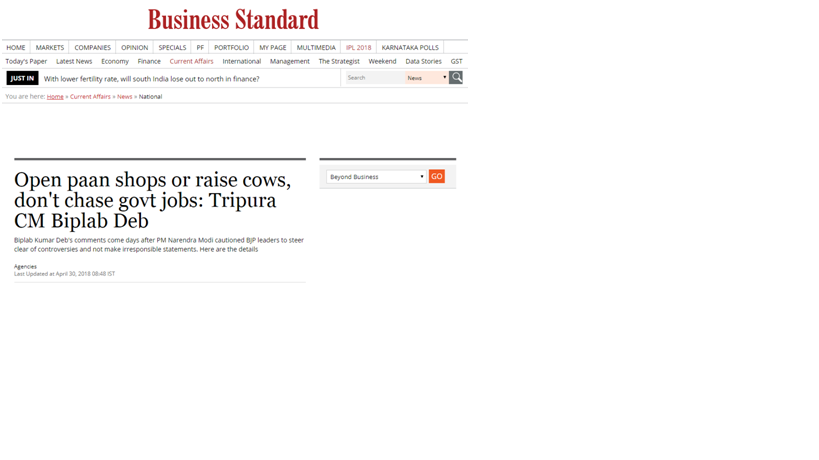 In another case of over enthusiasm, the mainstream media didn't refrain from spreading rumors once again. The following incident proves the point why Indian media is the second least trustworthy media for their citizens in the world:-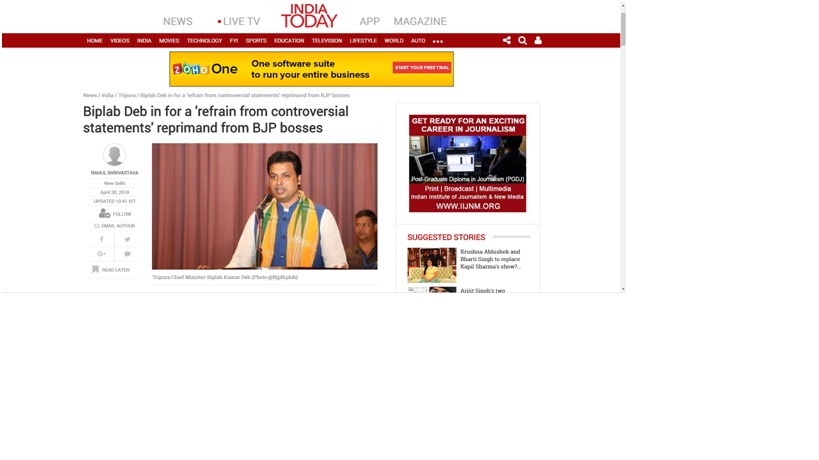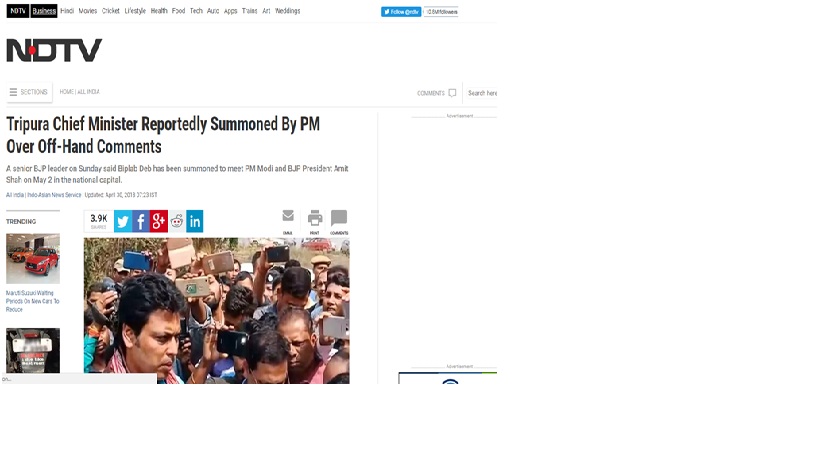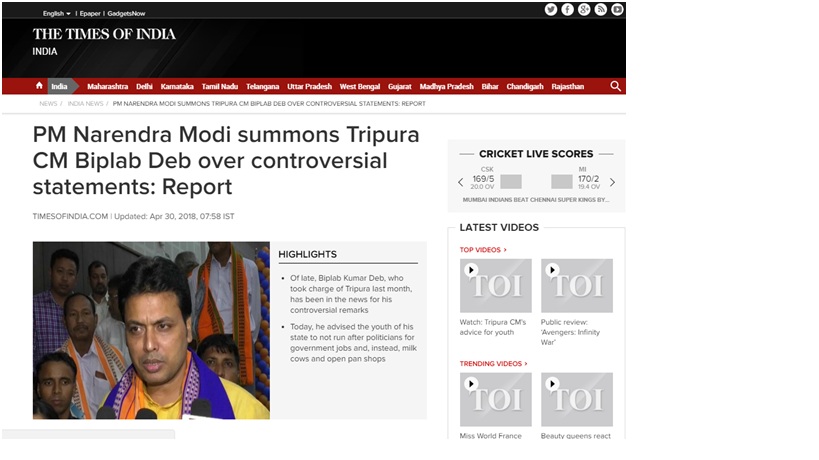 According to the above coverage, PM Modi has summoned Biplab Deb over the controversial statements. However, the actual facts reveal something else. It doesn't look, prima facie, that PM Modi has summoned Biplab exclusively with regard to his statements.
On 2nd May, all the CMs from the North East who're either from BJP or represent the NDA have been summoned to New Delhi. In fact, even CMs of Bihar and Bengal, i.e. Nitish Kumar and Mamata Banerjee, would be having a word with PM Modi too. So if Biplab Deb was exclusively summoned, why are other CMs coming along with him? Besides, it is ridiculous to even think that PM Modi would bow down to media or any external pressure and would chide his CM. 
Interestingly, if one has noticed the news reports, they will find that the sources quote only anonymous party leaders, a prime characteristic associated with fake news. Biplab Deb does need a toning down but certainly not when the untrustworthy Indian media sets the rules.
Why PM Modi will never crumble under Media pressure is explained in this twitter thread
PM Modi follows the "Suno Sabki, Karo apni" golden rule. If a section of our media really thinks that he has summoned Tripura CM Biplab Deb for his loose remarks, then…well good luck to them.

— Atul Kumar Mishra (@TheAtulMishra) April 30, 2018