One of Gandhi loyalists, Sanjiva Reddy had once regretted that being a Congress President he was treated as Mrs. Indira Gandhi's chaprasi.
(Source: Brecher Michael, Succession in India: A study in decision making, Oxford University Press, p-131).
Back in those days Reddy's statement must have suggested that Congress was not only plagued by Nehru's supremacy but also a dynastic dominance. What was a mere doubt was confirmed in part by the elevation of a pilot having no political experience as the Prime Minister of the country by the Congress only because he belonged to a particular family and it was finally confirmed after Sonia Gandhi who had an Italian origin, was made the Congress President.
Sonia Gandhi's reign had for all practical purposes ended in 2014 with a massive defeat at the hands of Modi led resurgent BJP but her career got wrapped up officially last year even as the trend of appointing incapable inheritors continued with the appointment of her son Rahul Gandhi as the party President.
Even as Sonia Gandhi's political journey has come to a silent end it is relevant to discuss her political history and decode how her career epitomizes the Congress philosophy of 'Inheritance over merit'.
Early Days and Congress Presidency:
Following the footsteps of his mother and grandfather, Rajiv Gandhi had found it convenient to build a coterie around him. In order to avoid fair criticism and maintain undisputed supremacy almost equal to totalitarianism within the party organization it was necessary to be surrounded by a clout of yes-men. After Rajiv's assassination, this coterie consisting of leaders like Chidambaram, N.D. Tiwari, Rajesh pilot, Madhavrao Scindia was adamant on anointing Rajiv's successor as the Congress President. An offer which was outrightly rejected by Sonia Gandhi suggesting that she had no interest in Indian politics or for that matter the people of this Nation.
As fate would have it, PV Narasimha Rao who was about to retire from active political life became the chief beneficiary of sympathy vote fueled by Rajiv Gandhi's assassination (since most of the States going into Elections after his assassination were South Indian states) and for a change the Congress had no choice but to choose merit over inheritance and succession.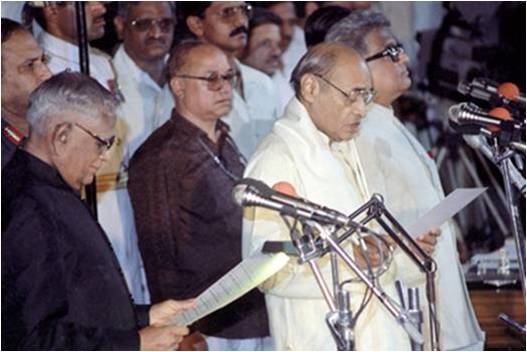 More than anything, Rao's victory came as a ray of hope suggesting that Congress was no longer a family property and someone who did not belong to the Nehru-Gandhi family could dream of taking the party ahead. His tenure saw a string of reforms and bold decisions carefully steering India out of a Balance of Payment crisis, but good Economic policies do not always translate into effective political equations.
Unfortunately, Congress lost the 1996 Elections and Narasimha Rao's fortunes dwindled with this defeat. The Rajiv Gandhi coterie found a golden opportunity to prop up a reluctant Sonia as the only choice for leading a party already used to dynastic leadership. She was made a primary member of the Party in 1997 even as the Congress looked set to take a gamble with the country's fortunes by appointing a reluctant leader.
This was followed by a brutal takeover of the Rao-Sitaram duo which was totally sidelined, and Sonia was made the Party President. In the run up to the 1998 General Elections Sonia became the de facto President of the Congress and Sitaram Kesri was made to play second fiddle even after being the elected President and one of the senior most leaders. The Provincial Chiefs acted in open defiance of Rao's and Kesri's wishes and the long-standing tradition of the Congress empowering the President to take a call in case of disputed constituencies.
This was followed by a spate of theatrics typical of Gandhi family with Sonia resigning in 1999 just before the Lok Sabha Elections in face of open protests by some of the senior Congress leaders including Sangma and Sharad Pawar. Once, these leaders were expelled she happily took over the reins of Congress on a fresh offer.
Advent of United Progressive Alliance
Sonia remained the Leader of Opposition during the tenure of BJP led National Democratic Alliance and undisputed President of the Congress. By the 2004 General Elections it was pretty clear that Sonia Gandhi is there to stay and her status as the Congress leader could not be challenged by anyone.
Her dominance within the Congress was similar to that of Indira Gandhi in her heydays, if not even more stark and clear. While BJP was arguing actively against the appointment of a leader of foreign origin as the Prime Minister, Sonia decided to stray clear of all such controversies and nominated a proxy, Dr. Manmohan Singh as a Prime Minister. Therefore, Manmohan Singh earned the dubious distinction of being the first proxy Prime Minister to be selected purely for political purposes. For the first time since her independence India faced this peculiar situation where the Prime Minister was not in the control of things and according to the media advisor of the former Prime Minister himself Sonia was the real boss in charge of all important appointments.
Sonia Gandhi successfully managed to exercise all the powers in the name of Dr. Manmohan Singh but more was to follow. If UPA-I made a dent in India's democratic set up and ethos, UPA-II caused far more damage. In fact, it can be said that UPA-I had laid down the structural flaws to be exploited during the tenure of UPA-II. Congress managed to stitch up an unlikely alliance in 2009 too, which came to be known as UPA-II. This time, Manmohan Singh's powerless position was far more stark and noticeable as a result of which the Nation slid into an area of complete policy paralysis, the economic growth sunk down to the levels of 1990s and a spate of scams hinted that the country was virtually undergoing an organised loot with an incompetent make believe Prime Minister at the helm of affairs. It also became clear that Dr. Manmohan Singh was nothing more than mere eyewash to avoid protests surrounding Sonia's probable appointment as the Prime Minister. The fact the Prime Minister wielded no power became very clear after trashing of an Ordinance by the then Party Vice- President Rahul Gandhi. It sealed the fact that the Gandhis were the real power and neither the Prime Minister nor the Cabinet were empowered to act freely. It also made clear that the Congress was in mood to give up its dynastic culture.
Sonia Gandhi's downfall:
Sonia's downfall coincided with the rise of Prime Minister Narendra Modi as well as the rise of Rahul Gandhi as the leader of Congress. Prime Minister Narendra Modi had become a popular leader at the National level as a result of his Gujarat model when the Nation was reeling under Manmohan (Sonia) led UPA Government. In the run up to the 2014 General Elections, the BJP went hammer and tongs after the incumbent UPA Government cornering it on all fronts.
Mis-Governance and a spate of scams combined with failure to contain Pakistan sponsored terrorism meant that Congress was in for a heavy defeat in 2014. In fact, a huge loss was correctly predicted too. The Congress put up its worst ever show. The grand old party managed to cobble up a mere 44 seats in the General Elections. This virtually meant curtains for Sonia who had thus far managed to run Congress as a personal property.
Post-Sonia Congress:
This time around there was a more silent and smooth transition to the next generation of the Gandhi generation making it clear that Congress is no longer a party of the masses but an outfit owned by the Gandhis for all practical purposes. Therefore, Rahul Gandhi who was already in complete control of the shrinking party officially took over the party reins last year.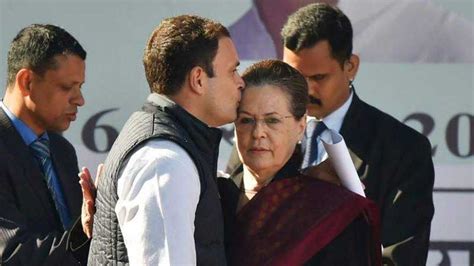 If the past performance is a proper determinant to go by, it can be safely concluded that the Congress is going to die a death due to the 'Inheritance over merit' philosophy. After leading the party into a catastrophic performance in 2014 Rahul Gandhi continued to embarrass the Congress with a string of defeats in Assembly Polls with the exception of Punjab Assembly Polls which can anyway be attributed to the Punjab Chief Minister. It seems that the Nation is no longer in any mood to continue with incompetent political heirs.
Conclusion:
The single most significant takeaway from Sonia Gandhi's political journey is the fact that as long as Congress is in control of affairs, things like efficiency and merit hardly matter. Rajiv Gandhi's appointment as the Prime Minister was the official proclamation of dynastic dominance within the Congress but with Sonia Gandhi's appointment the Congress went a step further, her appointment was as party President was flabbergasting not only due to her lack of political experience but also because of the fact that she had clearly expressed lack of any interest to play any active political role. It is amusing that the grand old party of India failed to produce any leader of national importance outside one family. In fact, Sonia Gandhi's men within the party went after Rao and Sitaram Kesri post the 1996 General Elections to make sure that the elected President was somehow overpowered. Therefore, a section of the Congress actually paved way for establishing an unenthusiastic successor as the party chief. One can simply not accept that the Congress had to make a leader out of an inexperienced and reluctant Sonia Gandhi. Another key takeaway is going to be the installment of Manmohan Singh as Sonia Gandhi's proxy and the biggest abuse of the top post till date in India's history.