This week NDTV announced that it is considering reduction in the workforce by up to 25 per cent as part of internal restructuring exercise to focus on the core business. NDTV has also been exiting from non-core business verticals. In September, its shareholders had approved sale of its automobile e-commerce firm Fifth Gear Ventures to Autobyte Pvt Ltd. It owned and operated automobile e-commerce portal carandbike.com
In June, they had approved the sale of its Indian wear e-commerce firm NDTV Ethnic Retail Ltd to Nameh Hotels & Resorts Pvt Ltd.
So why this sudden focus on core business and what has changed for NDTV to start considering existing from many of its ventures?
Firstly, the company is doing badly. For the quarter ended June 30, 2017, NDTV reported a net loss of Rs 22.01 crore.
The foremost reason for that is its declining viewership. For sample, let's consider the latest rating of news channels. For the 50th week starting from Saturday, 9th December 2017 to Friday, 15th December 2017 as per BARC (Broadcast Audience Research Council of India), In English news genre NDTV 24X7 features as the 5th channel in the list with 252 (000s) weekly impressions against 982 (000s) weekly impressions of Republic TV (1/5th vs the market leader). In Hindi News genre, it doesn't feature in the top 5 channel list at all. For a News network which has been in business for as long as NDTV has been, it's a bad rating and bottom of pit performance.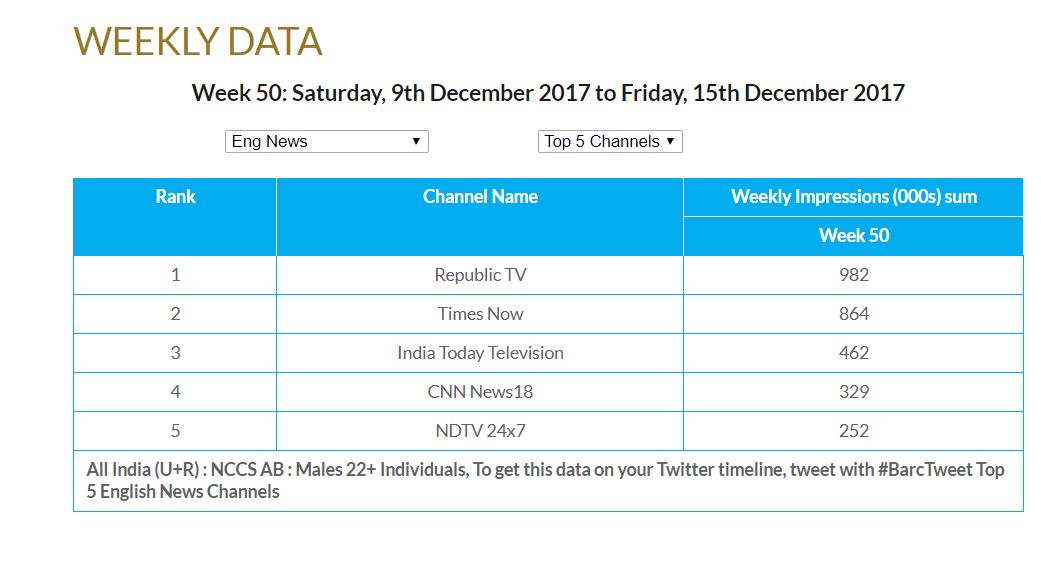 Secondly the going has been tough for the channel which has not been able to digest the changes in political landscape of India. With its proven proclivity for Congress, it has been unable to keep up with changing times and develop a neutral opinion of the current dispensation. It continuously tries to be at loggerhead with government. Its anchors like Ravish Kumar and Nidhi Razdan are poster boys and gals of Left liberals and are known to orchestrate elaborate drama around non-issues. Whether its glorifying antiestablishment crusaders like Kanhaiya Kumar through blank tv screens or its anchors asking the ruling party representatives to leave their studios (Nidhi and Sambit Patra's showdown), NDTV has not been able to come to terms with the fact that those in government aren't there bun chumps anymore. This inability to look at issues objectively has alienated viewers and has exposed their agenda to neutral news watching audience which is reflecting in their poor ratings.
Finally, the network tends to be in news for wrong reasons due to its ambiguous moral compass. Weather its controversial coverage of Pathankot attack which almost lead to it being taken off air for 1 day or its role in getting A. Raja the plum posting which lead to 2G scam as reflected in Radia tapes, it's not clear if NDTV owners have country's interest on their minds. With such questionable conduct, channel continues to be in news but not in the business of news
So, is it end of the road for NDTV?
My assessment is – not quite yet, and the reasons are as following.
Governments non-coherent media policy:
Government or BJP to be precise are yet to figure out how they want to deal with non-affable media channels. In NDTV's case, in spite of being at the receiving end of most of its campaign its top ministers routinely appear for its discussions, events and conferences. There is no official response mechanism through which it has countered the propaganda of NDTV and likes. In a rare case when they took a firm stand on it and decide to black it out for a day because of its dubious reporting on Pathankot attacks, voluntary the government backed out for no specific reason, possibly to avoid a debate on FOE. It has only emboldened NDTV to go ahead with its agenda.
Is NDTV being sustained by the Congress?
Though no clear funding routes have been established but going by its reporting, the channel is soft towards the Congress Party. It wouldn't be tough to imagine that even if the party doesn't come to power in a decade, it can still support its entourage fully. Hence financial backing maybe alive and available for NDTV.
No dearth of support
The critics of the current government hate BJP so much so that even positive steps of government have not managed to shake them from their well-entrenched stands. In their hatred towards Modi, they are willing to support everyone and anyone however dubious the intentions may be. NDTV provides such elements a prime-time platform which is quite a luxury. Anchors like Ravish kumar continue to indulge such elements and continue serving their twisted explanations to viewers through discussions. So, while NDTV's viewership might be going south, its cheerleaders are still giving it standing ovations!
NDTV is on slippery grounds but its story not over yet. While CBI have been investigating the channel since 2014 and has conducted raids too on its owners Prannoy and Radhika Roy over bank fraud, their infirmity in getting a closure has granted this network a fresh lease of life. Its ironical hence, that those who have been maligned by this network repeatedly have decided to look the other way when they could pull the curtains down for NDTV. They are forgetting that being virtuous in a war will have its own price which needs to be paid at some other time.