In the heat of this election season where mud-slinging and below the belt remarks are a given, senior Congress leader Mani Shankar Aiyar managed to achieve a new low, even by his poorly set standards (of calling Modi a chaiwala) when he in an interview openly called the Prime Minister of India a "neech kism ka aadmi". Little did he know, that his remarks to divide the nation on caste basis would backfire so badly that even the people who until then had sympathized with the Congress's cause, left them post Mani Shankar's irresponsible statements.
Having been a repeat offender, Mani Shankar Aiyar took the liberty to call the Prime Minister a "neech" only because such callous statements had never created such a furor in the past.
It is ironic to see that merely a day before Mani Shankar Aiyar made the "neech" statement, he and former Prime Minister Manmohan Singh had reportedly held an informal secret strategy meeting with the Pakistan government authorities led by former foreign minister of Pakistan Khursheed Kasuri and representatives of the Pakistan High Commissioner.
Gujarat being a border state, Pakistan's interest to meddle in the state of affairs in Gujarat is obvious, but what is shocking, is the participation of Mani Shankar Aiyar and Manmohan Singh to possibly strategize a way to stop the inevitable, to defeat the invincible.
What is evident from the above is, that this is not the 1st time that such informal meetings have been held, and it is certainly not the 1st time when Pakistan has tried to meddle in India's internal state affairs.   And it seems too much of a co-incidence for such statements to be made by Mani Shankar Aiyar merely a day after him meeting his Pakistani counterparts.
While the official party stance was that of condemnation, it was with a caveat. And as is well known, the secular brigade who otherwise go on a award wapsi spree when such utterances are made from the 'right', there was hardly a cringe from their side or a reaction of condemnation on Aiyar's comment and that brings us to a deeper question of whether the nation comes first or the party.
The Grand Design:
External Forces which have forever been against the concept of a united India, have used all their might and power to break India and Indians on religious, caste, linguistic lines and while they have been successful by en-large at keeping the tiny factions to be fighting against each other, the UP elections was a rude awakening for them. The BJP took the world by storm when it thumped a massive 325 seats in the largest state in India. The figure was evident enough for the Anti-India and separatist faction that the trend of Indians voting on the lines of caste and religion was now a past and that a pride of nationalism was slowly setting in amongst the masses, leading them to punch the button in favor of the BJP, which had until then managed to provide gas connections and electricity supply to the people and was making major headway because of its innovative schemes to bring the farmer community into the main fold (by eliminating the middlemen).
Taking cue from UP, a strategy had to be chalked out for Gujarat to prohibit people from voting for the BJP, and this was where these external forces used their clout over the meek Indians which had until now succumbed to their evil designs. In the name of secularism, influential individuals across institutions were instructed to issue fatwa's/mandatory instructions to people to not vote for nationalist forces. From the political circle – Mani Shankar Aiyar, Media sector – Rajdeep Sardesai, Sagrika Ghosh and the likes, Bleaching agents like – Devdutt Patnaik (who claim to be an expert on Hinduism, but is nothing more than a pawn strategically placed to feed Indians  lies about their own culture/religion and finally individuals who are heads of religious institutions like the Arch Bishop who had unceremoniously issued directions to Christians to not vote for nationalist forces.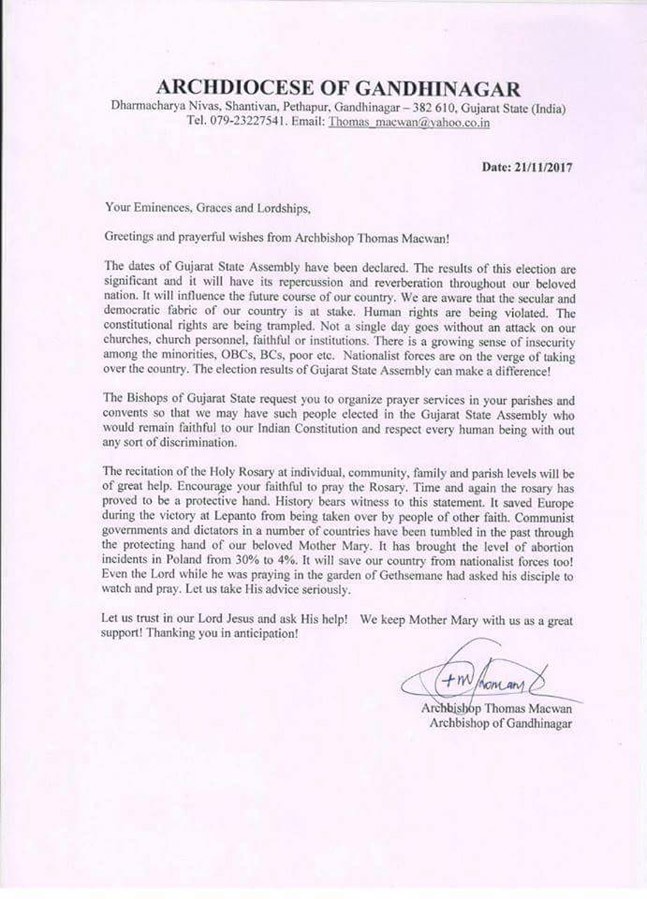 Paragraph 1 of the above letter, if deconstructed word by word, would show where the Arch Bishop's allegiances really lie, the letter reads as follows,
"Not a single day goes without an attack on our churches, church personnel, faithful or institutions. There is a growing sense of insecurity among the minorities, OBC's, BC's, poor etc. Nationalist forces are on the verge of taking over the country."
What the above shows is the insecurity of the anti-India forces against the growing sense of Nationalism amongst the people en-mass across race, religions, caste, sex, rich or poor. All the hardwork over the decades to divide Indians across these lines was fast disappearing and there seemed absolutely nothing that they could do.
The Arch Bishop called this the secular mindset. The secular fabric which was in danger because of nationalist forces. The Arch Bishop, in his favor, did not mince any words when he stated this, since this is the real intent of the external forces. To "secularize" Indians – which essentially means to bring them to the fold of Abhrahamic religions, and to stop the nationalist forces, which essentially means to stop anything which would hold/bind people across religions together.
What is saddening in the arch bishop's case, is the silence of the Christian community which has failed to condemn the blatant interference of the church in the politics of the country.
The above group of religious heads, politicians, media personnel and self proclaimed experts on Hinduism have one thing in common and this is to make Indians (Bhartiya's) feel ashamed about their own roots, their religion. They do this conveniently by twisting our history in school and college text books, by picking up an isolated event by a fringe and blow it up to unimaginable proportions and changing the course of public narrative.
These breaking India forces have penetrated into the Indian system to such an extent that until very recently all institutions which have a enmass reach, were either directly or indirectly controlled by them. The appointment of Smriti Irani as the I&B minister is one prime example, which was controlled by these separatist factions for a very long time.
Another example would be to understand the history that is taught in our school's today, where a big chunk of indigenous history has been deleted to teach the students about the greatness of Babur, Khilji and subsequently the Britishers. Our history books have chapters dedicated for Karl Marx, who during his lifetime, considered the British rule/colonization to be a positive step towards mordernisation, since Indians were more savages and less human according to him.
The above mentioned are tiny examples, if one looks around carefully, the grand design to break India becomes very apparent. From coercing the Indian mind to give up their traditional dress – Kurta, Bandi and Dhoti to don only western outfit of Shirt-Pant and now to publishing articles of regressive hindu women because they choose to wear sarees. The nature of discourse has been set by these breaking India forces for way too long and now with NaMo at the helm of affairs and their sham NGO's being shut down for tax evasion.
What really happened under the name of running NGO's is an open secret which no one spoke about. Christian Missionaries funded by churches in Europe and the Vatican themselves ran their business with the sole agenda of wanting to bring Hindus to "Light" and  
Another prime example of the propaganda to divide Indians was the Aryan Invasion theory by the Britishers and subsequently by the left leaning intellengtia to keep the north and south at bay. Divide North-South by completely fake Aryan-Invasion theory, Divide Dalits and tribals by moodnivasi and oppression caste nonsense, and promote massive divisions between Dharmic religeons of Sikkhism Jainism Hinduism using money, power and influence, many of these projects are openly being carried out by Western countries and visible if you read between the lines5.
The latest entrant to take help from Anti-India forces is Congress Leader, Jignesh Mewani, who was photographed taking money from Social Democratic Party of India (SDPI), the political wing of the Popular Front of India (PFI), which is under the NIA radar after many of its members were allegedly found fighting for the Islamic State in Syria and Iraq.[4] The trend shows that, the country and its sovereignty mean absolutely nothing to these part time politicians and full time businessmen, till the time money keeps flowing in their coffers. It is pertinent to note that it is not only the Congress which has been procuring funds from such dubious entities and individuals in the name of secularism, political parties like the AAP, Left, NC, TCM, SP, DMK, NCP, even JDU had benefitted by their association with such anti-India organizations.
Finally, if the above was not enough, a new trend of abusing the country has begun these days, and that is by way of doing stand up.
Fringe politicians with myopic vision have even used them as tools to propagate their 'pseudo' secular views (more so to with anything that is anti-Hindu).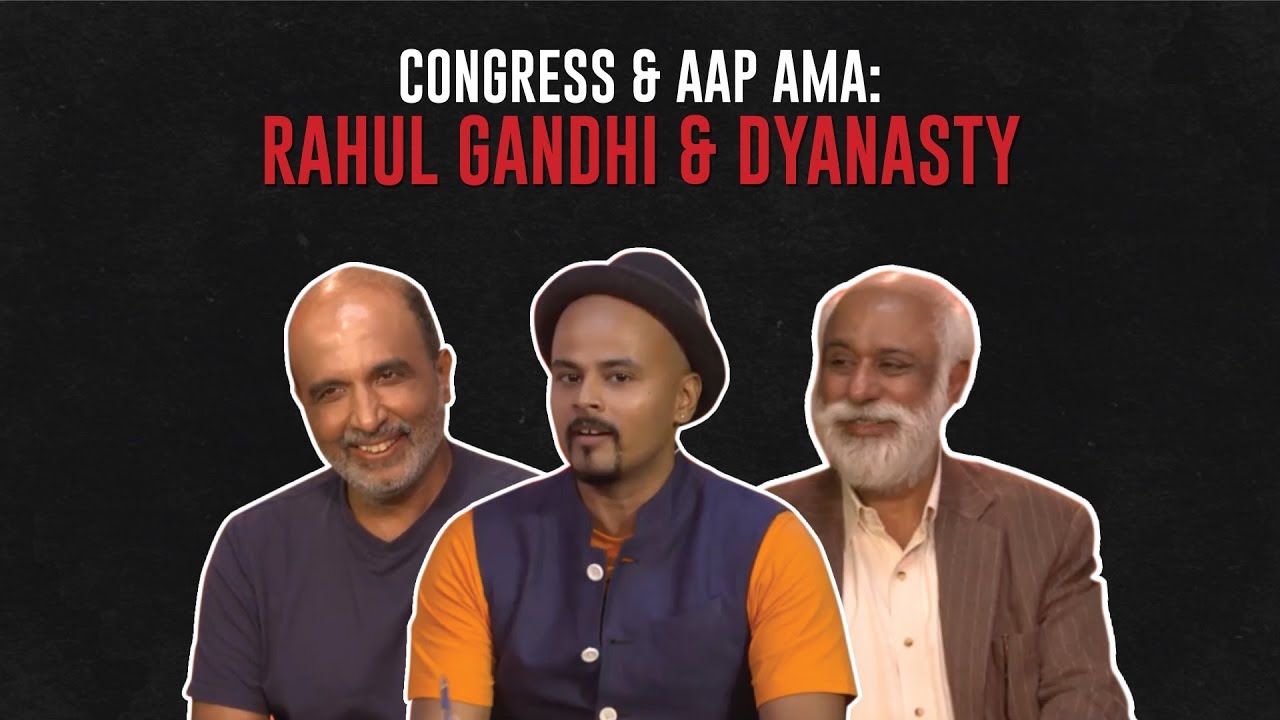 Blast from the past:
The fraudulent principles of this sect of pseudo secularism is so deeply etched in a few Indians that it is surprising that they are ready to let go off even their self respect and pride to show their support for secularism. The secular brigade which are the 1st ones to show placards of "Hindutva terrorism" and "Bharat tere tukdey hongey" go into hiding the minute they are questioned over the regressive practices of their arabhamic religions. They dare not to speak anything against them, because even a word of condemnation on regressive practices under Islam or Christianity, would cost them. And hence the constant attempt to stroke anti-Hindu sentiment, to supporting the cause of Rohingyas, but remaining mute at the settlement of Kashmiri Pandits, to respect for Osama ji, hafeez sahab, Ishrat beti, to congress MLA Imran Masood who once said he wanted to cut Modi to boti boti. Seculars keep mum on Owaisis hen he said "they can 'show' what can be done in 15mins to 100 cr Hindus".
News about Ram Rahim is printed across the globe by Anti-India organizations for weeks together, but there is not a single report when a pastor or a maulana is caught red handed for raping/molesting women. There was not a single piece in the international media which condemned the letter of the Arch Bishop. This recurring trend confirms the suspicion that external forces are hell-bent at wanting to show India and Indians in bad light, atleast till the time, the majority of the country is not converted.
This is the same reason, the destruction of 40,000 Hindu, Jain, Sikh temples and Gurudwaras is considered to be okay, but one cricket ball breaking a church window pane by mistake makes India Intolerant. This is the same reason, whatever happens in Kashmir, Kairana, Kerala, Kolkata, Assam to Hindus is secular but one instance of fringe hatred in Rajasthan makes it to national and International headlines.
Conclusion:
After not mentioning 2002 even once, these anti-India forces (in the name of secularism) have tried to use every trick in the book to divide the Hindu vote bank off the BJP, into tiny factions Patidars, Janeu dhari brahman, Jain and Dalit. It is interesting to note that these politicians and anti-India forces still feel that they would be able to sway the opinion of 6.5 crore Gujaratis by their deeds of procrastination against the rise of the "nationalist forces". In any case, Gujarati's, like Gandhi & Sardar Patel and now Modi & Amit Shah must lead the way in showing the door to the so called secular political and religious parties which actually preach hate, and shall lead the country into another glorious term for Modi in 2019.
As for Mani Shankar Iyer, Indians must remember, he is the same guy who went to Pakistan a couple of years back and said "Enko Nikalo aur humko Lao" (with reference to the Modi Government). Speaking up and exposing this duplicity of these anti-India forces (who go by the name of secularists), is the only way to check mate them and beat them fair and square at their own game by countering them with facts on their agenda driven propagandas.
Kadakcha
[1] https://books.google.co.in/books?id=tWb__DNDUREC&pg=PA471&lpg=PA471&dq=karl+marx+on+india+animal+worshipping&source=bl&ots=uM5wkSGkND&sig=M7ePg-0-GfKeyM_52P6BTOqOGLc&hl=en&sa=X&ved=0ahUKEwiyq87chYDYAhUDq48KHVuGBVMQ6AEIQTAJ#v=onepage&q=karl%20marx%20on%20india%20animal%20worshipping&f=false
[2] http://indianexpress.com/article/india/govt-cancels-licences-of-nearly-9000-ngos/
[3] Page 28,"of Genetics and Tectonics", Land of Seven Rivers, Sanjeev Sanyal..
[4]//economictimes.indiatimes.com/articleshow/61994100.cms?utm_source=contentofinterest&utm_medium=text&utm_campaign=cppst
[5] https://www.theguardian.com/world/2017/aug/28/indian-court-sentences-god-man-to-10-years-in-prison-gurmeet-ram-rahim-singh
Author- D. Shah or @kadakcha