One change that Modi and Shah have brought to BJP is, the Party's massive change in attitude towards Elections. It won't be wrong to call BJP a party perennially-in-election-mode. BJP's archrival and oldest political party of India Congress, however has witnessed an opposite trend in recent times. From a party that never lost an election to party which never wins one, the party is currently nothing more than a glorified regional party.
While it is easy to blame the uncharismatic leadership of Rahul Gandhi for Congress' current predicament, the real reason behind the annihilation of it is the larger than life persona of Prime Minister Modi who expertly balances his political and prime ministerial roles and never leaves anything to chance. Quite certainly, one cannot disregard the blunders committed by the Congress in its economic, social, and moral capacity as well. His trusted lieutenant Amit Shah is a wily political brain and has a natural flair for cracking complex electoral codes.
Rahul Gandhi may have been a reluctant politician, but he is not a reluctant campaigner at all. Right from the Uttar Pradesh Assembly elections of 2012, Rahul Gandhi has been campaigning tirelessly for Congress. His enthusiasm knows no bounds and he hits the campaign trail with everything he has got. The sad part is that his overenthusiasm has been synchronous with Party's sinking political fortunes. In Gujarat 2017 Election too, Rahul Gandhi invested every bit of his strength in snatching the crown jewel of BJP and hit PM Modi where it hurts the most. Gujarat Election Campaign has been one of the most bitterly contested elections in recent times. The gloves were truly off. There were no holy cows this time. From Manmohan Singh to PM Modi himself, everyone was ridiculed and attacked in every possible way. Thankfully it is over.
The second phase of Gujarat elections are over and pollsters are ready with their exit polls. Let us take a look at what different exit polls are predicting about Gujarat.
Times Now-VMR Exit Poll:
According to Times Now-VMR Exit Poll, BJP will win 109 seats and Congress will win 70 Seats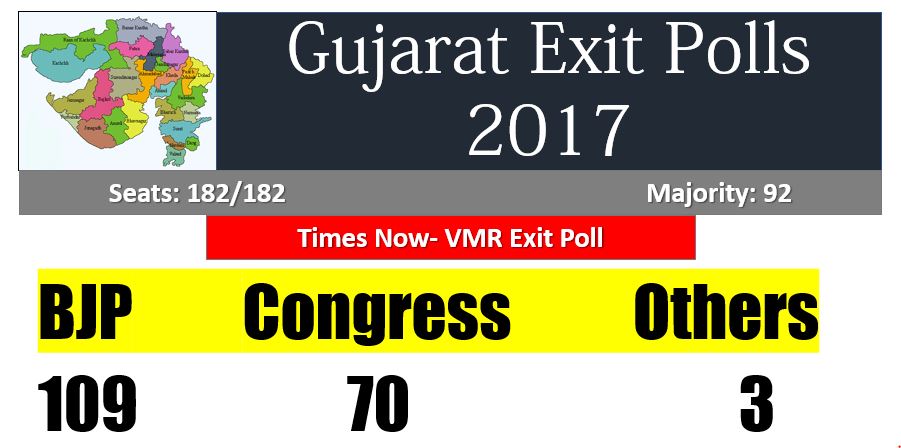 Republic-CVoter Exit Poll:
As per Republic-CVoter Exit Poll, BJP will win 108 seats and Congress will win 74 seats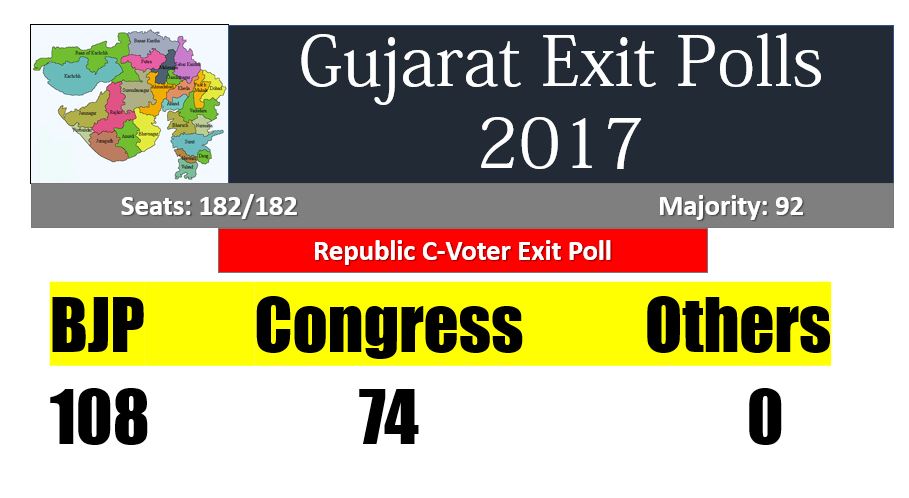 News X – CNX Exit Poll:
According to News X CNX Exit Poll, BJP will win 110-120 seats and Congress will win 65-75 Seats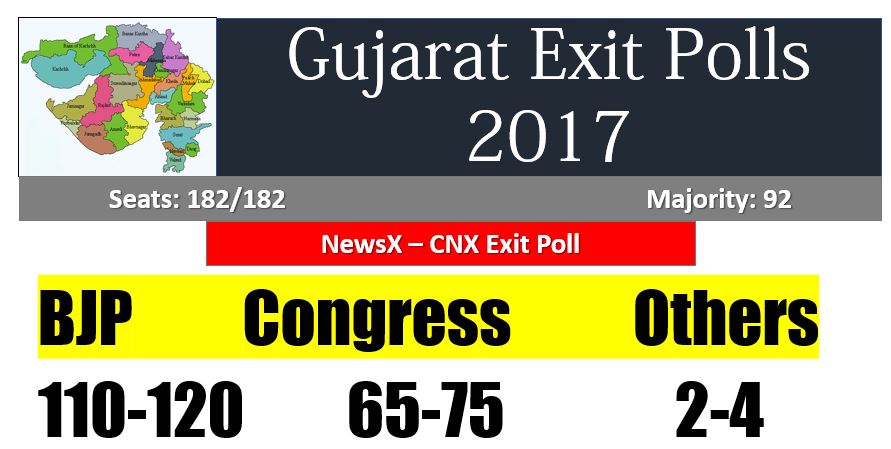 News Nation Exit Poll:
As per News Nation Exit Poll, BJP will win 124-128 seats and Congress will win 52-56 seats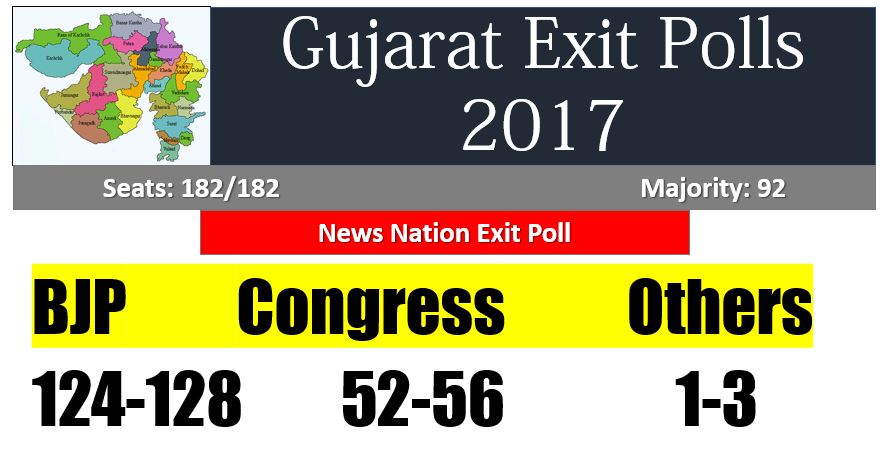 Zee News Exit Poll:
According to Zee News Axis Exit Poll, BJP will win 99-113 seats and Congress will win 68-82 Seats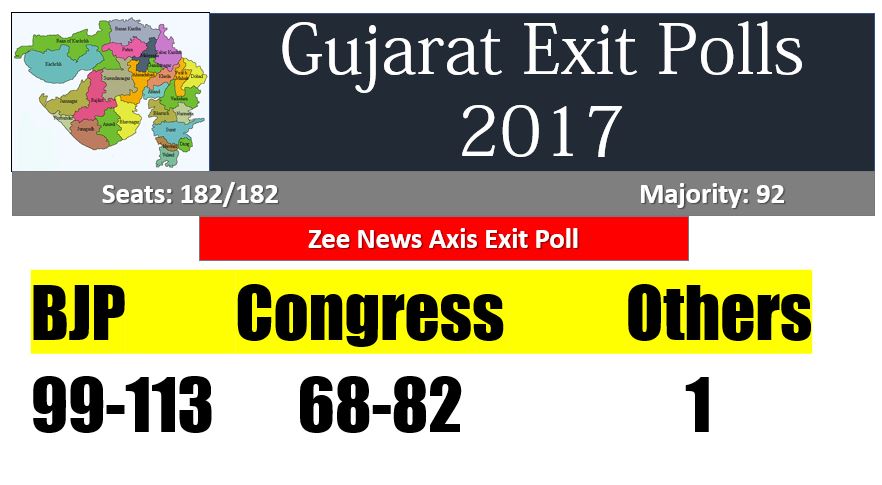 Today's Chanakya Exit Poll:
According to Times Now-VMR Exit Poll, BJP will win 124-146 seats and Congress will win 36-58 Seats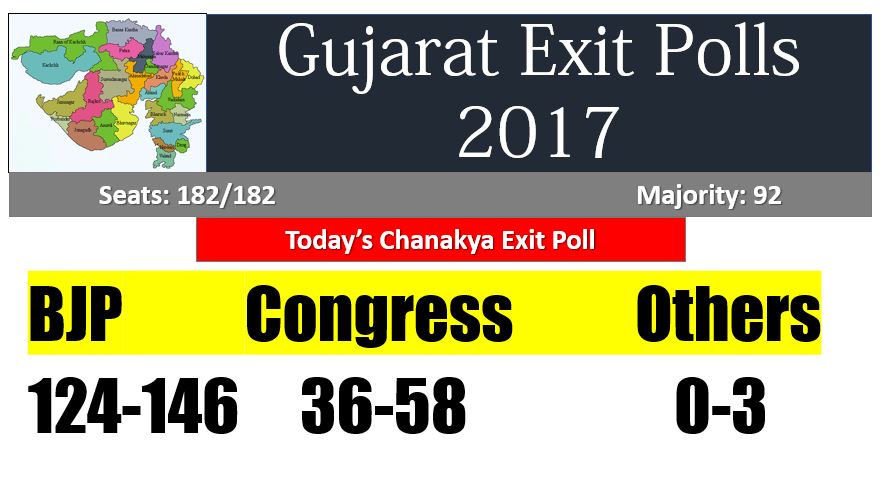 So, BJP's win in Gujarat looks like a certainty, the only question that remains is the extent of its win. Most Opinion polls have placed BJP's vote share in the high-40s while that of the Congress in the mid-30s. We follow the first-past-the-post voting method, in which the candidate with the most votes in each constituency wins and becomes the MLA for that seat. All other votes are disregarded. In a two-party system, it normally produces a single-party government with a clear mandate to govern. In Gujarat Assembly Elections of 2012, the BJP's vote share was 47.9 per cent against Congress's 38.9, which converted into 115 and 61 seats respectively. With about 4% vote share Keshubhai Patel's Gujarat Parivartan Party (GPP) played a minor vote cutter in the last election. Keshubhai is once again a part of the BJP. NCP of Sharad Pawar had contested in 2012 in alliance with the Congress and won 2 seats. Its talks with the Congress having failed this time, the NCP fielded 72 candidates. Shankarsinh Vaghela will cut into Congress's base as well. Factoring in all these aspects, it can be assumed that the state of Gujarat is going to witness a saffron sweep this time.
At the risk of sounding over-optimistic, I predict 147 ± 3 Seats for BJP this time.
Congress shouldn't be able to cross the 40 seats mark. But voters of Gujarat have already casted their votes. Let us see what news the morning of 18th December brings.