On Wednesday US Representative Tulsi Gabbard (D-Hawaii) returned from a trip to Syria, which she described as a "fact-finding" mission and did not previously make public. Gabbard's press office stated that she met with Syria's President Assad to discuss strategies to bring an end to the brutal civil war that has claimed the lives of over 400,000 people.
During an interview with CNN's Jake Tapper upon her return to the United States, Tulsi Gabbard said the Syrian people were very happy to see her, but were not happy about the Obama administration funding and arming terror groups operating in Syria, who are trying to topple the government in order to take over the country for themselves.
Tapper started referencing tweets that were critical of Gabbard for meeting with President Assad, while also claiming that he's responsible for the deaths of thousands and even gassing his own people, trying to to make it appear as if she should never have met with such a leader to begin with.
That's where Tapper and CNN get a dose of truth that always makes them extremely uncomfortable, as they never stray too far from the established Obama/Democrat endorsed narrative.
Tulsi Gabbard starts out by saying, "I'll tell you what I heard from the Syrian people, that I met with walking down the streets in Aleppo, in Damascus."
"They expressed happiness and joy at seeing an American walking their streets, but they expressed the question, why is it that the United States, its allies and other countries, are providing support, are providing arms, to terrorist groups like Al-Nusra, Al-Qaeda, ISIS, who are on the ground there, raping, kidnapping, torturing, and killing the Syrian people? Children, men, women and people of all ages."
Tulsi Gabbard continues, making sure that her point was getting across clearly and that the voices of the people of Syria would be heard.
"They asked me why is the United States supporting these terrorist groups who are destroying Syria – when it was Al-Qaeda who attacked the United States on 9/11, not Syria. I didn't have an answer for that."
US Representative Tulsi Gabbard (D-Hawaii) has the USA Establishment and the  establishment media outraged with  the Washington post accusing her of Being a mouth piece of Assad
If that's the case , Is the Washington Post a pro ISIS mouthpiece ? If we use the same logic. But well logic and liberals don't do well together.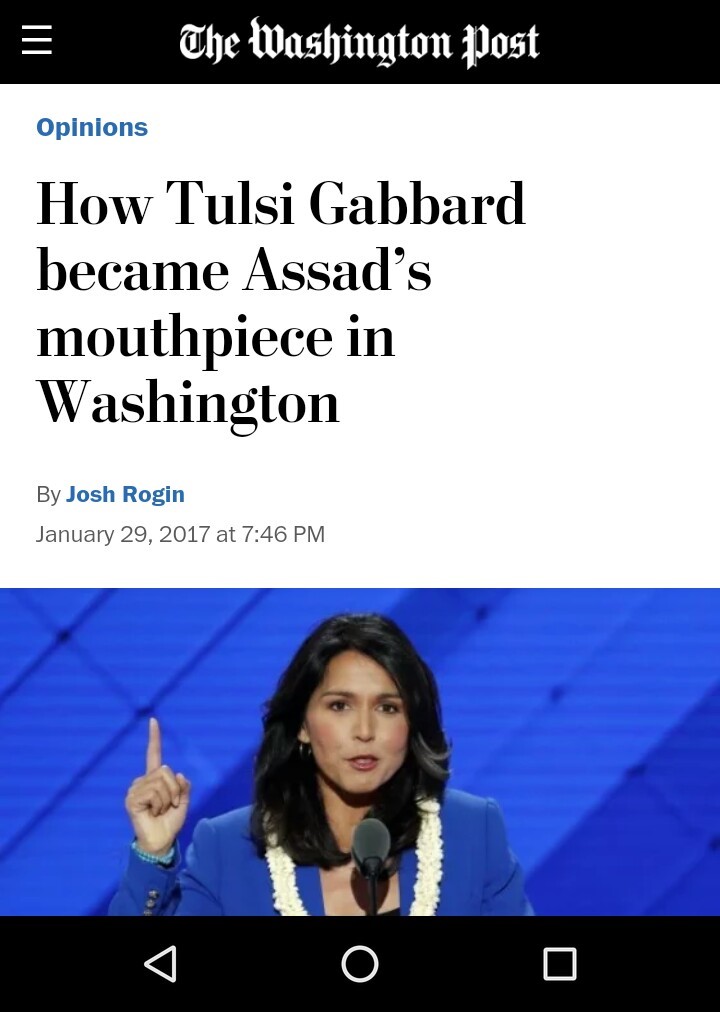 She travelled to Beirut, and then to Damascus and Aleppo, where she spoke with Syrian students, entrepreneurs, academics, and aid workers. She also received firsthand accounts of the conflict from refugees displaced by the war.
She met with a number of religious leaders, including The Grand Mufti of Syria Ahmad Badreddin Hassoun and Archbishop Denys Antoine Chahda, who heads the Syrian Catholic Church of Aleppo.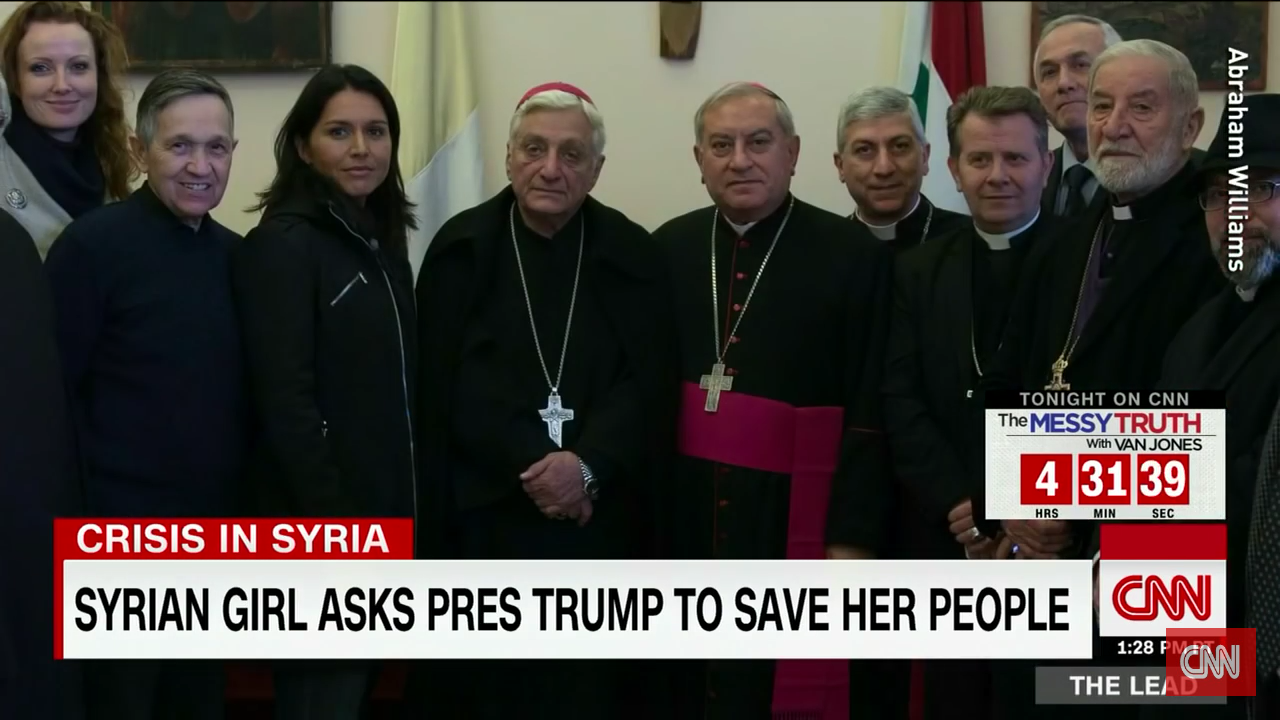 Tulsi Gabbard also met with several leaders of the Syrian opposition who spearheaded anti-government protests in 2011. She says some of them believe that the originally peaceful uprising was hijacked by jihadists "funded and supported by Saudi Arabia, Turkey, Qatar, the United States."
Contrary to the official US narrative that terrorist groups such as Islamic State (IS, formerly ISIS, ISIL) and Al-Nusra Front could be "separated" from the moderate opposition which fights by their side, Gabbard said that the Syrian people she talked with do not distinguish between the various militant groups.
 The message  to the American people was powerful and consistent: There is no difference between 'moderate' rebels and al-Qaeda (al-Nusra) or ISIS — they are all the same," Tulsi Gabbard said, describing the essence of the Syrian conflict as "a war between terrorists under the command of groups like ISIS and al-Qaeda and the Syrian government."
The Syrian people caught in this war "cry out for the U.S. and other countries to stop supporting those who are destroying Syria and her people," Tulsi Gabbard wrote in a blog post, adding that it is the message they asked her to convey to the world, as it has been constantly muted by "one-sided biased reports pushing a narrative that supports this regime change war at the expense of Syrian lives."
An Iraq War veteran and member of the House Armed Services and Foreign Affairs Committees, Tulsi Gabbard is known for her sharp criticism of former US President Barack Obama's interventionist policy in the Middle East.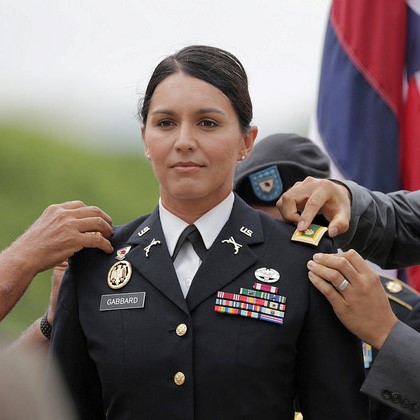 Her Syria trip became a talking point within the US establishment immediately after it was announced, with some pundits alleging she intends to cozy up to the Syrian government.
In December, Gabbard introduced the Stop Arming Terrorists Act, designed to prevent the US government from providing direct assistance to terrorist groups and to "prohibit the Federal government from funding assistance to countries that are directly or indirectly supporting those terrorist groups.
"We must stop directly and indirectly supporting terrorists—directly by providing weapons, training and logistical support to rebel groups affiliated with al-Qaeda and ISIS; and indirectly through Saudi Arabia, the Gulf States, and Turkey, who, in turn, support these terrorist groups", Gabbard wrote.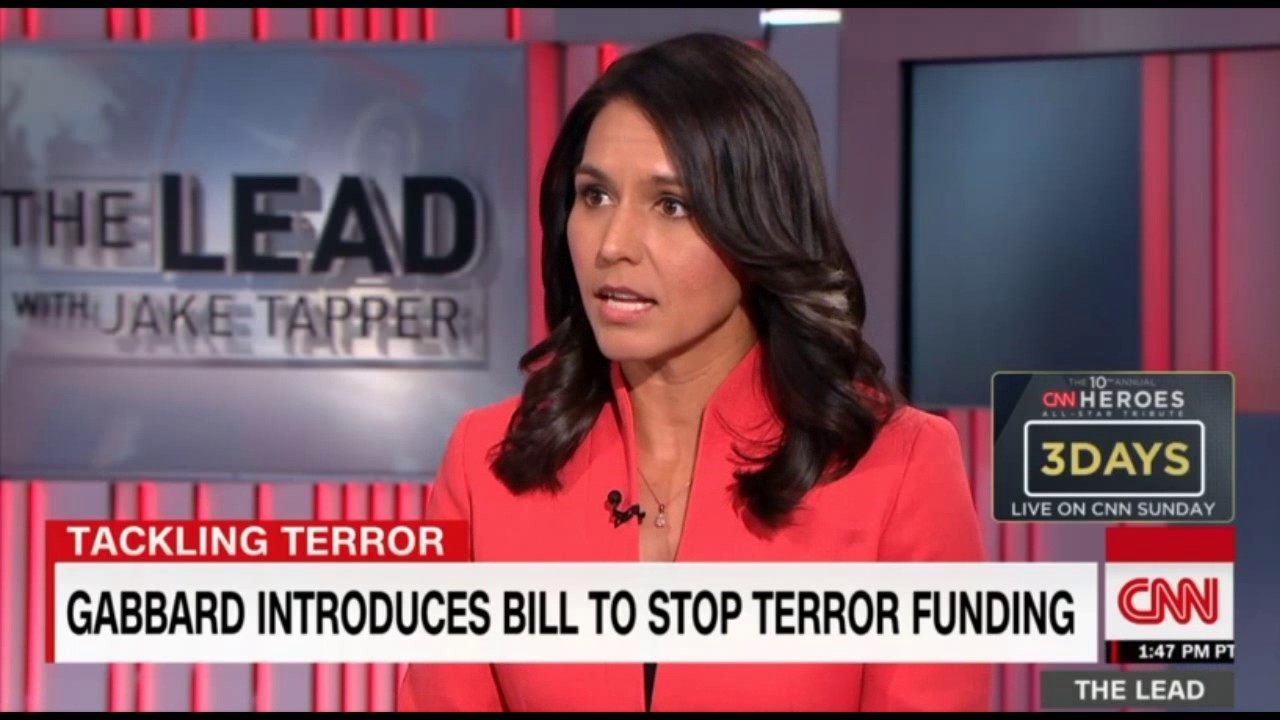 Tulsi Gabbard believes Washington should shift its approach from attempting to overthrow the Syrian government to actually combating terrorist groups. She says the US has been repeating the same foreign policy pattern "from Iraq to Libya and now in Syria," with its pursuit of regime change which, she argues, has only brought about "unimaginable suffering, devastating loss of life" and contributed to "the strengthening of groups like al-Qaeda and ISIS."
"I return to Washington, DC with even greater resolve to end our illegal war to overthrow the Syrian government," Gabbard wrote in her blog post.
Her view on the Syrian Civil war also aligns with Top Donald Trump National Security advisor and Former Director of Defense intelligence agency Gen. Micheal Flynn.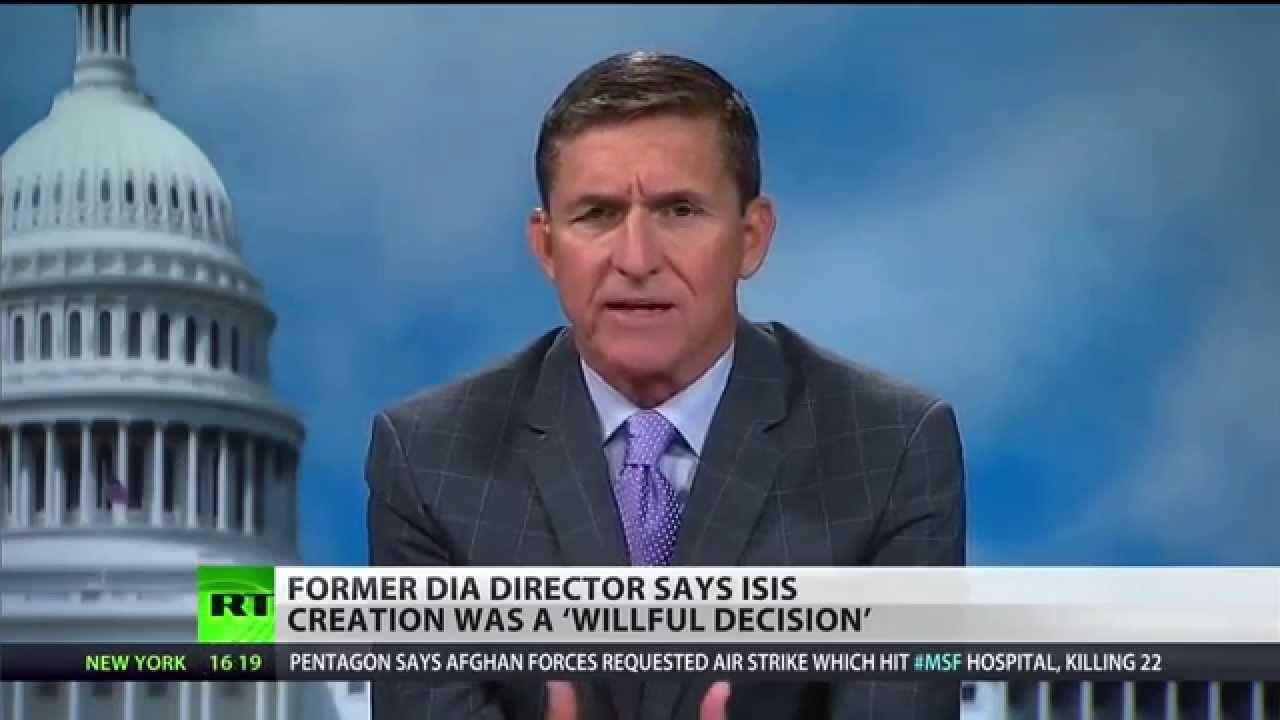 General Michael Flynn, stresses that it was a conscious decision to support Islamic Terrorists in Syria in 2012, expecting this to result in an Islamic Caliphate being set up.
Michael Flynn was head of the DIA until mid 2014.
Sources / links
References:
http://edition.cnn.com/2017/01/18/politics/tulsi-gabard-trip-sria/index.html
https://www.rt.com/usa/375110-gabbard-assad-sria-war/
https://www.rt.com/usa/312050-dia-flynn-islamic-state/
http://levantreport.com/2015/08/06/former-dia-chief-michael-flynn-says-rise-of-islamic-state-was-a-willful-decision-and-defends-accuracy-of-2012-memo/