Being a good man is bad, especially in bad times. Ramashankar Yadav learnt it in a horrible way. The prison guard was killed by the escaping SIMI students (I was told they should not be called terrorists, till it is proven in the court). I know that prisons turned Tilak, Gandhi and Nehru into prolific writers. But, it was only yesterday I learnt that prisons bring out innovative skills from 'students'. They used a sharp plate, tongue cleaner and a bedsheet as tools to get out of the jail. Of course, there was someone else who helped them by cutting CCTV cables.
The Talib changed into civilian dresses and got a good stock of dry fruits, Mawa before embarking on a long journey, perhaps not to return. Of course, they were killed by the MP police. There was a video in which one policeman was seen firing. Whether the bullet hit the person or not is not clear in the video. And, before and after airing the video, all news anchors tell that they cannot vouch for the authenticity of the video. I wonder why they are airing it then, for it amounts to spreading rumors. Isn't it?
Well, Madam Barkha condemned the killing of SIMI 'students' for they appear to surrender in the video. Of course, she condemned the killing of Ramashankar Yadav also. Same was repeated by Madam Kavitha Krishnan too. She even advised everyone not to call the dead SIMI students 'terrorists' and 'khoonkar aatankwaadi'. Yes Madam.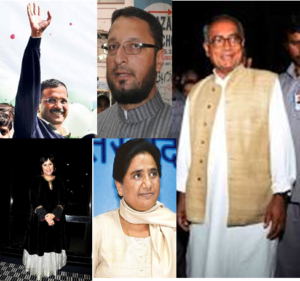 But, I fear the MP police who killed the SIMI students were not in the mood to observe any niceties, forget the rights of the dead, especially after seeing the dead body of Ramashankar Yadav.
I suggest both madams to meet the team of MP police that participated in yesterday's encounter and tell them in person, in presence of the slain guard's family. A word with Chandan Ahirwar, the guard who survived may also help precipitate the matter. I heard he broke down while narrating the killing of his colleague.
When Madams were on a teaching spree, how Behenji and Raja Digvijay Singh can be far behind? Maya memsaab found the encounter suspicious and wanted a judicial probe. If I am not wrong, it was Asaduddin Owaisi who asked for the judicial probe first. Despite being in election season, Behenji's response time is too high. She should respond faster.
Digvijay Singh covered the topic that was not touched by Behenji. He posed a question – almost like Amitabh Bachchan in 'Kon Banega KarodPati". "Why only Muslims break out of Jails and not Hindus" he asked. Good question. Why don't he spend his rest of life trying to figure out the answer for such a beautiful question? He declared he has no love for those who create ruckus in the name of religion including OwaisiJI! I wonder what Singh saab is trying to do, if not playing politics bringing the religion of SIMI 'students' into the discussion.
By the way, as he spoke of the religion, is it correct to call the SIMI students 'talib' as that is the original Arabic word for student? Seems the business operations of SIMI and Taliban also match. Digvijay Singh may take note of the fact that one Sajid and Rashid, who slipped minutes before the famous Batla House encounter on which he expressed similar doubts – have joined ISIS.
The latest political celebrity of nation Arvind Kejriwal wants a Supreme Court monitored probe. All these so called liberal celebrities want an investigation into the deaths of the 'talibs' (we agreed talib is Arabic to students). Well, was it necessary?
Especially in a country where the judiciary is overburdened with all and sundry cases from Kejriwal's defamation of Jaitley to Rahul Gandhi's defamation of RSS? Consider police investigation. Going by the words of Shivraj Singh Chouhan, they were too busy to note even the CCTV had stopped functioning.
Perhaps it would be prudent to donate the money to Ramashankar Yadav's family. His daughter's wedding is scheduled for in December.
It is high time the Supreme Court take suo moto cognizance and declare human rights of common people would be a priority over human rights of those who engage in anti-social and anti-national activities. Anyway, those enjoying in Zannat would care of any enquiry anyway? So far, the 2G case is pending. Sheila Dixit is planning to rule UP. Robby Vadra is yet to visit a court room. Even after trial Salman Khan drives his Land Rover.
Another query to fulfil whose wishes? Or simple political stunt?
There is a bigger question to ask than why MP Police killed the SIMI "Students"? – If there would be an enquiry, it shall be to find out how Ramashankar Yadav died? And the outcome shall be to prevent such incidents from recurring in future. Everything else is simply – nonsense.
Save
Save