Digital world is a cruel world. It's ruthless and relentless, what's uttered once stays in the digital ecosystem for ever. And they resurface again to expose the hypocrisy of people. Worse,  there's always an additional risk of account security getting compromised. When celebrity accounts get hacked by trolls,  all hell breaks loose. Rahul Gandhi learnt it the hard way. His twitter profile was hacked momentarily.
Congress Vice President Rahul Gandhi's official twitter account was hacked on Wednesday, and expletives and abuses were posted on the handle. The abusive tweets were later deleted.
And the hacker made full use of the precious time. The hacker went on to tweet outrageous tweets about Rahul Gandhi and the Congress Party.
While we totally condemn such black hat tricks, Rahul Gandhi's twitter hacked episode brought a lot of comic relief to the nation.
By the time the IT team could resolve the issue, screenshots were already going viral in twitter and much to Rahul's dismay they are here to stay forever.
But credit must be given to Rahul's IT team which quickly resolved the issue. Otherwise this could have been a much bigger mess.
The guns are already out with Randeep Surjewala issuing a warning to the hackers.
Here check the screenshots yourself: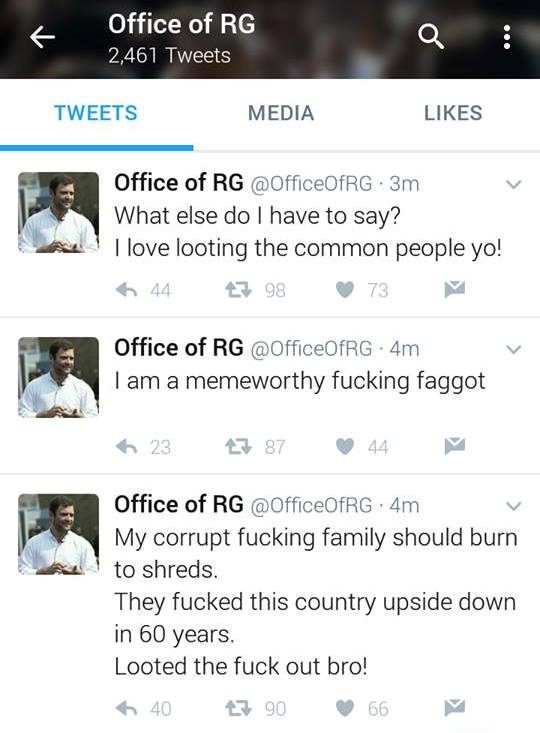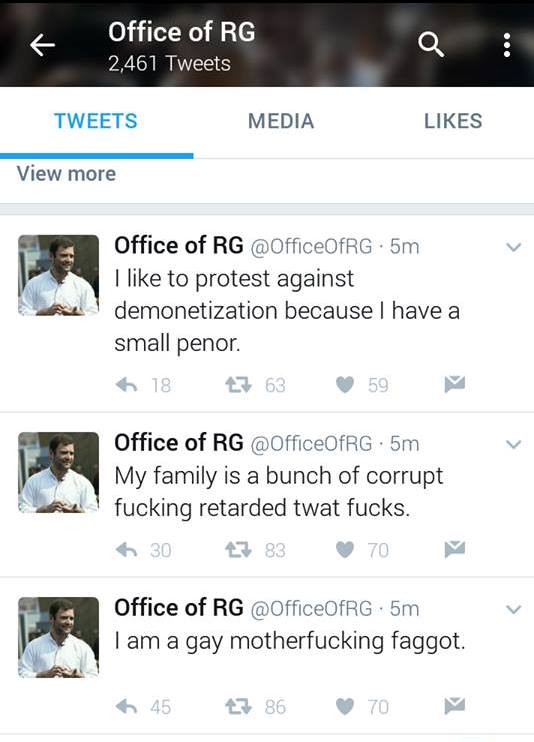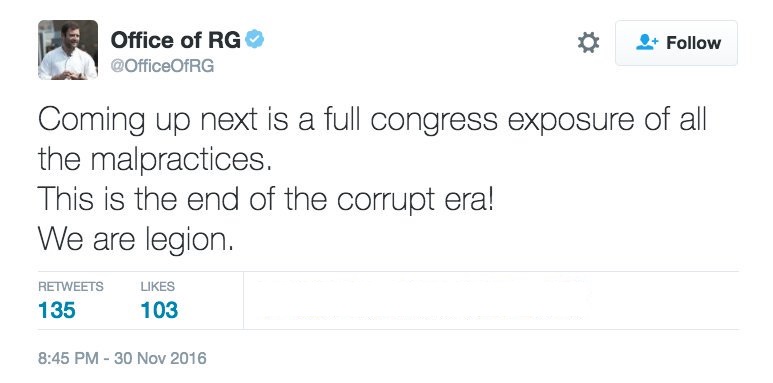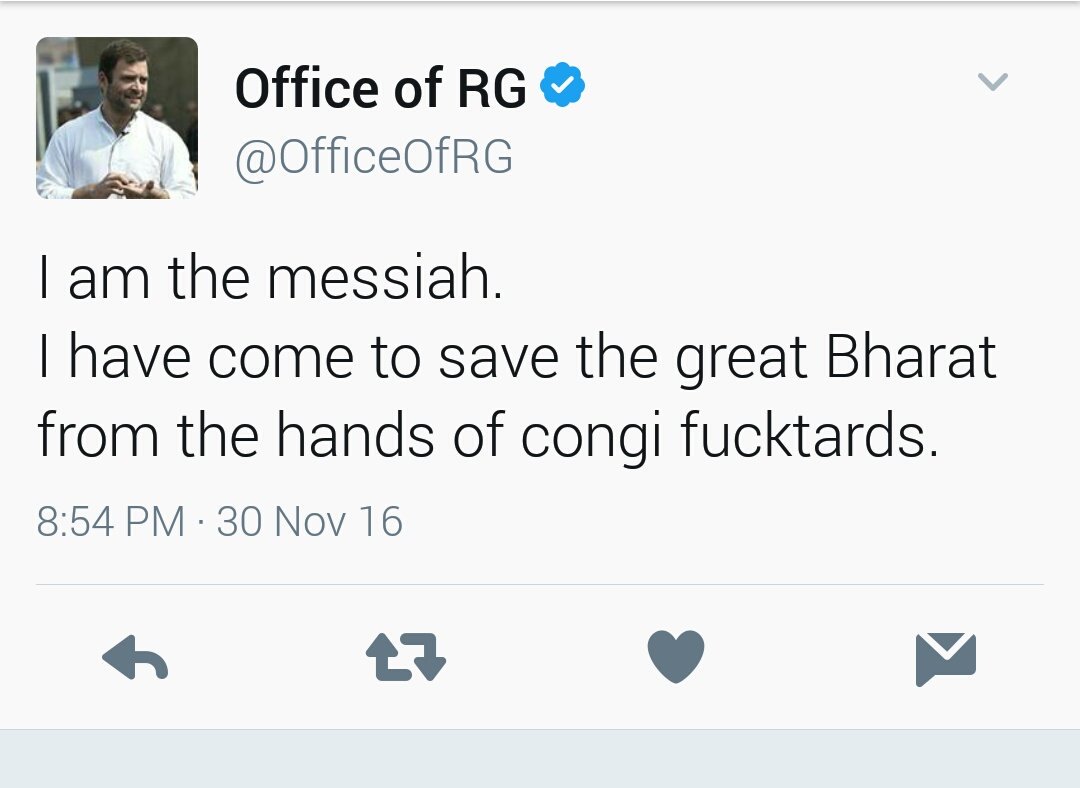 And this is how Twitter reacted:
Sources say some Congress workers happy with hacking of #RahulGandhi 's account. Apparently this hacked version makes more sense than normal

— bwoyblunder (@bwoyblunder) November 30, 2016
That Awkward Moment When Someone Who Can't Handle A Twitter Account Aims To Handle A Country. ;)#RahulGandhi #Hacked #PappuHacked pic.twitter.com/GVk77CdC6s

— Sir Ravindra Jadeja (@SirJadeja) November 30, 2016
Meanwhile Kejriwal has quickly changed his password from Modi to #Demonetization#RahulGandhi

— The Viral Fever (@TheViralFever) November 30, 2016
Baba – Mummy I need money to buy weed
Soniya- beta bas purane note bache hai
Baba- pic.twitter.com/tfjmjbCv24

— ? (@AndColorPockeT) November 30, 2016
Hahahahahah! Wtf! pic.twitter.com/RrjPP9vYXB

— Nupur J Sharma (@UnSubtleDesi) November 30, 2016
Sonia: Tune kisi ko password bataya kya ?
RaGa: Mumma Modi keh raha tha to disclose all account details #RaGaHacked pic.twitter.com/amvKzEJn4Z

— The-Lying-Lama (@KyaUkhaadLega) November 30, 2016
Hope you had a good laugh too but on a more serious note this could be a staged drama too. This could be a subtle way of saying hey! look even rich and important people like Rahul Gandhi can get hacked, so can you. And if social media security can be compromised, your online accounts, credit cards, cash wallets can be compromised too.
The reason why I am saying that all of this could be a staged drama too, because Congress Folks are already blaming digitization of everything. Remember Narendra Modi is painstakingly trying to digitize the nation and this could be the opposition's desperate move to prove it wrong.
And just imagine, if it's so easy to hack digital presence of an SPG protected person, how easy it would be to steal your digital money.

— Dr Ajoy Kumar (@drajoykumar) November 30, 2016
Save
Save
Save
Save
Save
Save
Save