Delhi is engulfed under a blanket of smog. Visibility is low. The air has a distinct smell about it. The air is so heavy that you can feel it around you. Everything has turned grey. There is a thin grey film on trees, on car windscreens and on every conceivable object under the sun that rises and sets without much ado. This might sound like an excerpt from a novel describing the morning after World War III, but it's the reality. The shocking reality of Delhi. Winter chill has set in, there is slight nip in the temperature and its eerily calm. So every particle that goes up, stays right there unless inhaled by somebody.
The Pollution level has breached the safe limit by over 17 times at several places. There is a rise of 60-70 percent in ailment cases related to pollution.
Delhi Chief minister Arvind Kejriwal met environment minister Anil Dave and sought Centre's urgent intervention to deal with the challenge.
After a meeting with Environment Minister Anil Dave, Kejriwal proposed the following 'emergency' measures:
Construction and Demolition activities to be halted temporarily
Schools to be closed for the next three days
Badarpur Thermal Power Plant to remain shut for 10 days
Transportation of fly ash to also be stopped temporarily
vacuum cleaning of roads to start from 10 November
sprinkling of water on roads on a large scale from Monday
All DG sets, except those used in emergency services in hospitals and mobile towers, will not be allowed for the next ten days
Looks like a good plan to combat the Delhi Pollution and Smog menace. But isn't it too late already? And isn't Arvind Kejriwal and his government in a way responsible for this emergency situation in Delhi?
As I was digging about more information on the Delhi Pollution and Smog menace and the initiatives that the Center and State have taken to curb it, I came across this picture on a blog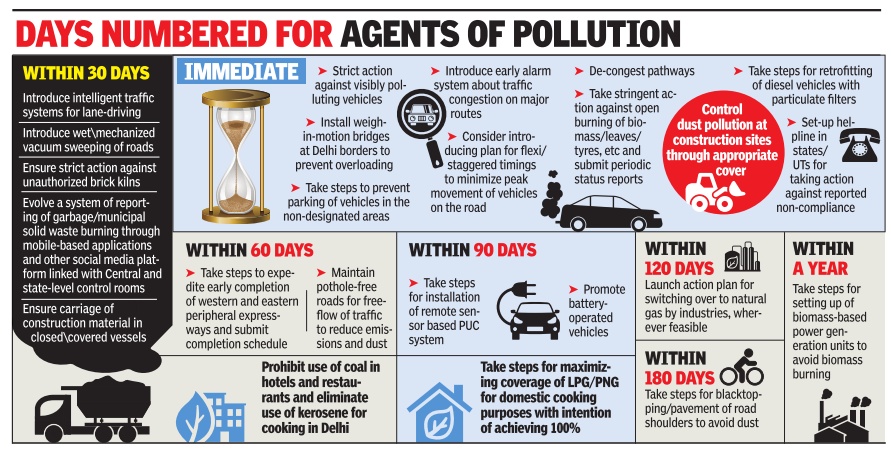 The blog led me to a Times of India Report dated Dec 31, 2015 which clearly states about the Center's notification to the Delhi Government.
Last year the Centre had issued a 42-point action plan to handle the Pollution and Smog situation and directed Delhi and three neighbouring states—Haryana, Uttar Pradesh and Rajasthan—to implement them in right earnest.
While some of those points were supposed to be implemented immediately, the others were to be taken care of in a staggered manner ranging from 30 days to one year. The directions were issued under Air (Prevention and Control of Pollution) Act 1981.
Some of the points mentioned in the notification were:
Retrofitting of diesel vehicles with particulate filters
Procurement of additional buses to augment the public transport in the state of Delhi
Control of mass burning of bio mass and municipal solid waste
Acting against polluting vehicles that openly flout norms
Banning entry of pre-2005 registered trucks as per Supreme court order
Control of air pollution from construction and demolition activities
Use of Vaccum cleaners for cleaning roads
Sprinkling of water to control dust on roads
Control of burning of coal tar by road construction agencies
But even after a year, the Delhi government is merely enforcing short term emergency measures to curb pollution which simply means that most of the points mentioned in the 42-point action plan were utterly disregarded.
Now as the supporters of the Delhi Government are busy blaming Diwali crackers for the pollution and smog, Kejriwal went ahead and blamed the Punjab and Haryana government for the mess. While I am not denying that crop burning in Haryana and Punjab does contribute to pollution in Delhi but Delhi has its own demons to deal with. Vehicular pollution, lack of a proper garbage disposal system and unregulated industries and factories are the real culprits. Blaming others is always the easy way out.
India has a federal system and in many cases, the role of the central government is to issue directives and notifications while the onus of implementation lie with the state governments. In this case Arvind Kejriwal seems to be the real culprit.
Delhi is currently paying for the expansionist intentions of Arvind Kejriwal who is currently busy in establishing bases in other states. Kejriwal's disruptive politics hasn't been of a great help too.
But all cynicism aside, let us hope that Kejriwal's short term emergency plan works. All of us need to breathe, it is currently impossible to breathe in the national capital.