'Social Media came to the rescue of passengers in Railways' – these are the headlines in various newspapers/news websites. I beg to differ.
Suresh Prabhu heading the Indian Railways and the efficiency with which the Narendra Modi Sarkar functions came to my rescue.
I am a working professional living with my wonderful dog Zoya. I love animals and adopted Zoya from a shelter a few months ago.
My mother and I were due to travel from Baroda to Bandra Terminus with my dog on 15/10/2016 by Sayajinagari Express (19116). The process of travelling with your pet on Indian Rail is seemingly simple- book a first class coupe/cabin and submit an application to request a private coupe/cabin. A private coupe ensures your dog can enjoy the journey with you and doesn't need to be locked in a cage with other luggage. Dogs are not allowed in a shared coupe/cabin.
While seemingly simple, the process came with a huge inconvenience. You can submit your application for the private coupe to the CRO (Chief Reservation Officer) only at the start station of the train. Sayajinagari Express starts from Bhuj and it would have been ridiculous if I had to travel from Baroda to Bhuj (a good 450kms) just to submit a piece of paper!
Thoroughly distressed, I did what many fellow Indians in trouble here and abroad do- I tweeted to the government (Suresh Prabhu and the Railway Ministry) to help with a solution.  And lo behold, within 20 minutes of posting the tweet, the Railway Ministry looped in the concerned department to help me out. I received a call from the DRM's (Divisional Railway Manager) office within 5 minutes of sharing my contact no. I was asked to submit my application directly at the DRM's office in Baroda. The next day I submitted the application without hassle and that was it. It was done.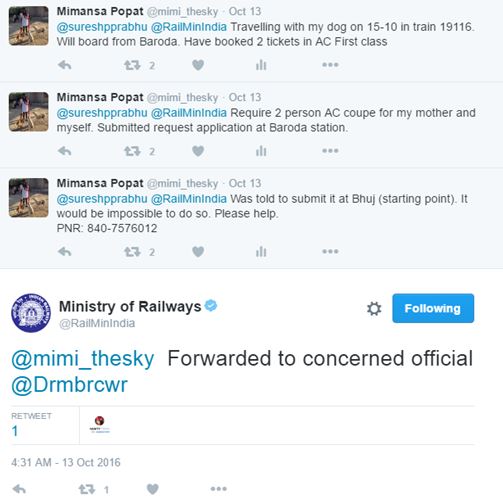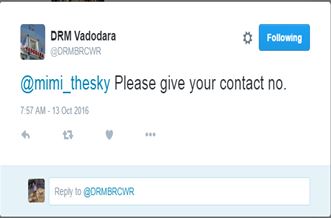 On the day of my travel, I reached the station early to book my dog and the official said that he had received a call from the Head of Department to help me out in case I face any difficulty at all.
This Government cares. It cares not only for its people, but their pets too. It cares enough to resolve issues on priority- my issue was resolved in under 30 minutes!
I am not a VIP/MLA/MP. I am an ordinary citizen of India who believes in the extraordinary Government of this country.
Mailed to us by Mimansa Popat