On 1st Sept 2016, Reliance held one of its most data and communication centric AGM; wherein huge announcements pertaining to its telecom business viz., JIO were made. In this article, we take a detailed look about the investments made, planned investment, detailed look at the telecom business, discount in pricing to peers and expected size of business in ensuing years.
RIL has invested USD 20 bn in the telecom business; for building this Telecom empire comprising telephones, hardware, home entertainment and custom made apps.
JIO project shall make Reliance the most comprehensive provider of telecom and internet services company across India.
It will also give the company unparalleled access to the country's 'big data': precisely enabling to know how the millions eat, shop and have fun. In fact, Mr. Ambani mentioned in March that "For Reliance… data is the new oil, and intelligent data is the new petrol." One of the senior Reliance executive even mentioned about "Deep Packet Inspection, and what you can do with the analytics of that is mind-boggling"; that would dig into 'packets' of data.
According to filings at the Commerce Ministry, Jio has more than Rs. 32,500 cr., or ($4.9 billion) of long-term debt, and other liabilities of Rs. 58000 cr., as of March 2016. The company has incurred following investment over the years; which is expected to be scaled down from FY18 onwards. This shall be game changer as from FY18 the company shall move to huge positive free cash flow.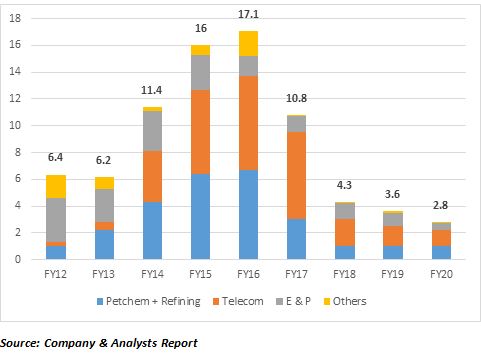 The key takeaways from the AGM was definitely the launch of JIO, as well as the FREE services from Sep to 31 Dec 2016. "As part of the Jio Welcome Offer, users will have access to unlimited LTE data and national voice, video and messaging services along with the full bouquet of Jio applications and content, free of cost up to 31 December 2016."
The company has unveiled the following mobile plan: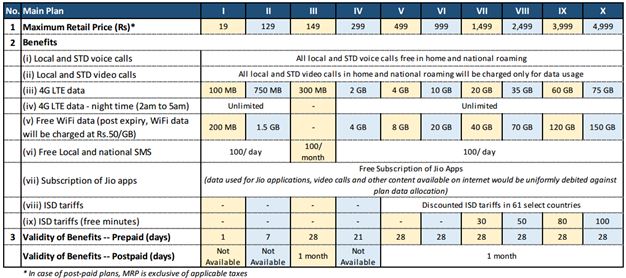 Source: Page 3 of Media Release of "Launch of Digital Services by Reliance Jio Infocomm Limited" http://www.ril.com/getattachment/ab237b25-e2b5-4eb1-909e-f6a9a923387e/Launch-of-Digital-Services-by-Relance-io-Infocom.aspx
The value per GB based on multiple plans works out to: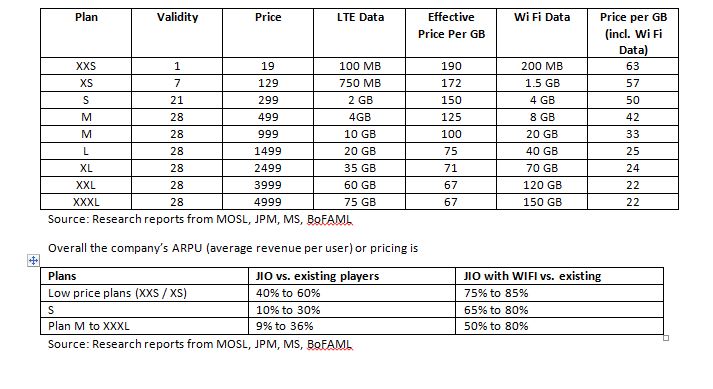 Some more key takeaways:
India is expected to be among the top 10 post countries globally for mobile internet accessibility vis a vis the current rank of 155 now; post JIO launch & performance.
The project covers 18,000 cities and ~200,000 villages with company claiming reach of ~90% of India's population by the end of March 2017.
The company plans to sell the 4G LTE devices (primarily LYF mobile phones) priced at Rs. 4,000 and also trimmed down versions at ~Rs. 2,999.
There would be a JIO-Fi (personal router) launch at for Rs. 1,999.
Company's subscribers shall get content subscription of Rs. 15,000 free for one year.
The phone connection shall be integrated with Aadhar; leading to eKYC approvals within 15 minutes.
As per company, the customer / subscriber need not pay for both voice and data; which is the currently. The company assures and as per the launched plans, the customer shall only pay for data and voice calling and SMS shall be pretty much complimentary.
The pricing is expected to ~1/10th of existing pricing, with night data free
25% additional discount to customers.
The free JIO service shall be there from 5th Sept to 31 Dec 2016
The company has assured customer intake capacity of 1 mn customer per day
The company has also stated that Fiber to home in select cities shall have a speed of 1 GB per second
The company plans to hit 100 mn subscribers and achieve a world record
The user shall be benefitted by JIO applications called JIO PLAY, more than 300 TV channels including 40 HD channels, JIO CINEMA, JIO MUSIC, JIO MAGAZINE, JIO NEWS & JIO MONEY
Key impact:
Dual SIM to see rise, with people trying JIO
4G handset sale to see sharp uptick
Fair Usage Policy may be scrapped
Huge increase in video and online music; expect NetFlix to see
Analysts are already expecting the company to generate ~USD 2 bn in revenues in FY18; or garner ~5% to 7% market share. By FY21, analysts are already expecting the company to reach revenues in the range of USD 8 bn to USD 9 bn; and garnering about one fifth market share. This can be the fastest increase in the overall market share in the business. Already news were earlier for ~Rs. 14,000 cr., market cap wiped of existing telecom players. However, this wipe off is frankly limited.
JIO, if properly launched & implemented, will cause such disruption that the entire entertainment and the communication will be disturbed. The market cap or equity of Tata Skys, DTH operators, home internet providers like You Broadband or Hathway, etc., shall see sharp decline. It can be fair to assume that all these operators shall die over a period of next one year.
Source:
http://indianexpress.com/article/technology/tech-news-technology/data-tariff-aint-cheap-in-india-scope-for-75-per-cent-cut-study-3005917/
http://www.medianama.com/2016/09/223-reliace-io-launch/
http://in.reuters.com/article/relince-telecoms-jo-idINKCN11611V
Equity research reports from Motilal Oswal, JP Morgan, among others