India has signed a deal for direct acquisition of 36 Rafale fighter jets from France, on Friday.
The French Defence Minister Yves Le Drian arrived in New Delhi earlier today to finalise the deal which will cost India 7.8 billion Euros (Rs 58,000 crore).
Defence Minister Manohar Parrikar and his visiting French counterpart Jean Yves Le Drian signed the deal for Rafale fighter jets, equipped with best in French technology besides multiple India-specific modifications that will give the IAF cutting edge capability over Pakistan and China.
The Dassault Rafale is a twin-jet fighter aircraft able to operate from both an aircraft carrier and a shore base. The Multi role Rafale is capable to carry out all types of combat aviation missions:  Air-defence / air-superiority, Anti-Access/Area Denial, Reconnaissance, Close air support, Dynamic Targeting, Air-to-ground precision strike / interdiction, Anti-ship attacks, Nuclear deterrence, buddy-buddy refuelling. The Rafale entered service with the French Navy in 2004 and with the French Air Force in 2006. It has proven its worth in combat in Afghanistan, Libya, Mali, Iraq and Syria. In 2015, Egypt and Qatar have each ordered 24 Rafales.
Let's take a closer look at what makes Rafale so Lethal: –
The Weapons package: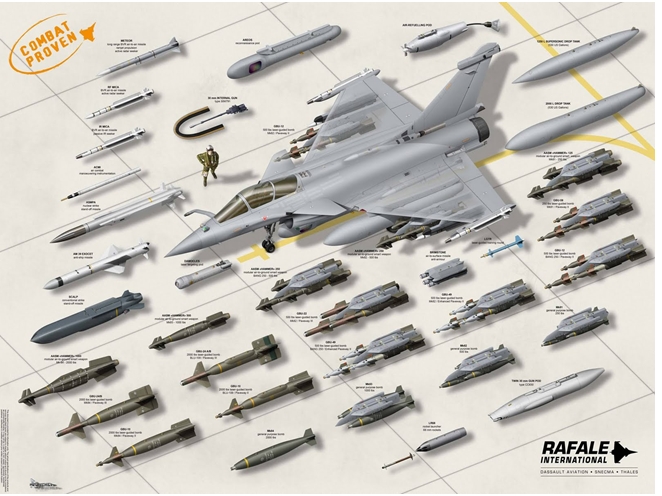 The MBDA MICA is an air-to-air "Beyond Visual Range" (BVR) interception, combat and self-defence missiles, in their IR (heat-seeking) and EM (active radar homing) versions. The MICA can be used within visual range (WVR) and beyond visual range (BVR). The weapon offers 2 guidance systems with its 2 interoperable seekers:
The Exocet is a French-built anti-ship missile, the relatively compact missile is designed for attacking Naval ships (e.g., frigates, corvettes, destroyers, Aircraft carriers, etc). Excoet is potent anti-ship missile which has been refined over the years.
The Meteor is the next generation of Beyond Visual Range Air-to-Air Missile (BVRAAM) system designed to revolutionise air-to-air combat in the 21st Century. Meteor's stunning performance is achieved through its unique ramjet propulsion system and active radar seeker derived from MBDAs Aster and Mica missiles.
Scalp EG is optimized for pre-planned attacks on static targets, with long-range and efficient stealth design, Scalp EG can eliminate strategic components of enemy defensive systems, without risking manned aircraft. The missile weighs 1,300 kg and is powered by a turbojet engine, offering mission range in excess of 250km.
The HAMMER (standing for Highly Agile and Manoeuvrable Munition Extended Range) modular, rocket-boosted air-to-ground precision guided weapon series, fitted with INS/GPS or INS/GPS/IIR (imaging infra-red) guidance kits, or with the upcoming INS/GPS/laser guidance kit. The weapon is modular because it can integrate different types of guidance units and different types of bombs.
NEXTER 30M791 30 mm internal cannon, firing 2500 rounds/min is available of both Single and Twin Seater Aircraft.
Most importantly, Rafale is expected to be used as an airborne strategic delivery system, in simpler words Rafale is expected to be used as the Jet which will deliver nuclear weapons in a strike role.
The Radar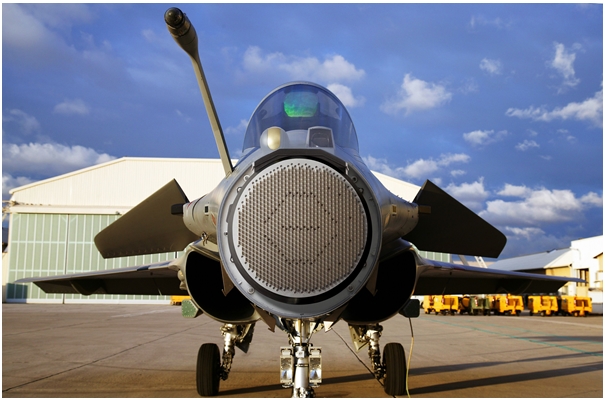 Active Electronically Scanned Array – AESA RBE2 radar
According to the manufacturer of the Radar Thales "The AESA RBE2 combines a brand new concept with Thales' expertise from previous fighter radars. Compared to radars with conventional antennas, the RBE2 provides unprecedented levels of situational awareness, with earlier detection and tracking of multiple targets as well as the capability of using several radar modes at the same time:
All-aspect look-down/look-up detection and tracking of multiple air targets for close combat and long-range interception and in jammed environment in all weather,
Real-time generation of three-dimensional maps for terrain-following,
Real-time generation of high resolution ground maps for navigation and targeting,
Detection and tracking of multiple sea targets.
Furthermore, the AESA RBE2 brings the Rafale a number of other key operational benefits:
Extended range capabilities supporting low-observable target detection and full use of new weapon systems such as the Meteor Air-to-Air missile,
Higher reliability for reduced maintenance and lower through-life support costs,
Greater waveform agility for SAR (Synthetic Aperture Radar) imaging and improved resistance to jamming. Dedicated to the Rafale, the RBE2 is the Europe's first-ever AESA radar delivered to European Air Forces.
The RBE2 is a highly capable Radar which is able to perform a variety of functions: –
Air Defence
Very long detection and track ranges
Fully automatic, sorting and ranking of tracked targets
Fully target tracks independent of search volume
Meteor compatible
Deep low-level penetration
Automatic terrain following and avoidance
Strike mission
En Route update of target area situation
High resolution imagery modes (SAR) – Designations
Sea skimming attacks
Detection and multi-tracking Active electronic scanning makes it possible to switch radar modes quickly, thereby enabling operational functions to run simultaneously
The Engine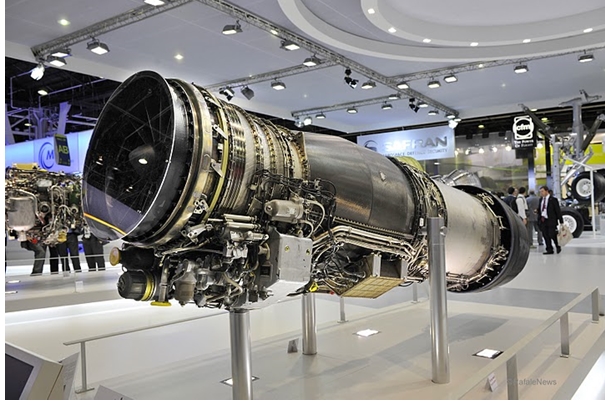 The Snecma M88 is a world class engine powering a world class Aircraft. The M88-2 is a new-generation turbofan engine offering a high thrust-to-weight ratio with easy maintainability, high despatch reliability and lower operating costs.
The M88-2 incorporates advanced technologies such as single-crystal high-pressure turbine blades, integrally bladed compressor disks ("blisks"), a low-pollution combustor with smoke-free emissions, ceramic coatings, and composite materials.
The M88-2 powerplant is rated at 10,971 pounds dry and 16,620 pounds with afterburner. It is equipped with redundant "Full Authority Digital Engine Control" (FADEC), which provides for carefree engine handling anywhere in the flight envelope: the throttle can be slammed from combat power to idle and back to combat power again, with less than three seconds from idle to full afterburner.
Its all-modular design facilitates and simplifies all maintenance operations. Furthermore, it is perfectly integrated in the Rafale airframe, which means that two ground crew members can remove and reinstall an engine is less than an hour. The Dassault Rafale is the only combat aircraft in the world that can take off again with its reinstalled engines, without having to be checked out on a test stand.
Electronic warfare suite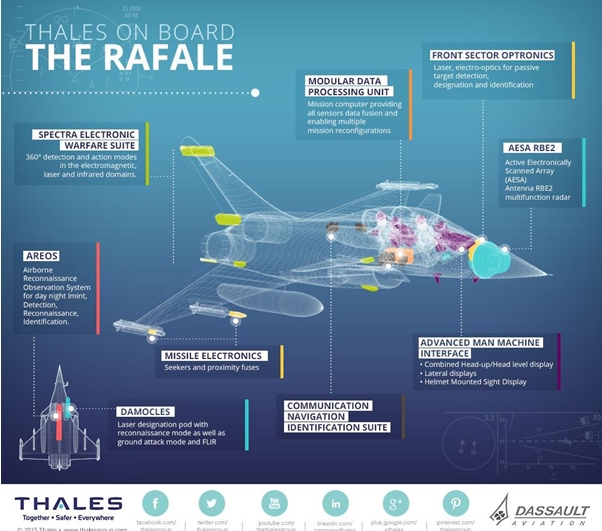 SPECTRA (Self-Protection Equipment to Counter Threats for RAFALE Aircraft) has been jointly developed by Thales and MBDA to provide an integrated self-protection system for the new Dassault Rafale combat aircraft.
The SPECTRA integrated electronic warfare suite provides long-range detection, identification and accurate localisation of infrared, electromagnetic and laser threats. The system incorporates, radar warning, laser warning and missile warning receivers for threat detection plus a phased array radar jammer and a decoy dispenser for threat countering.
The angular localisation performance of the SPECTRA sensors makes it possible to accurately locate ground threats in order to avoid them, or to target them for destruction with precision guided munitions. SPECTRA's capability regarding airborne threat localisation, is one of the keys of Rafale's superior situational awareness.
Also instrumental in SPECTRA's performance is a threat library that can be easily defined, integrated and updated on short notice. SPECTRA also includes a new generation missile warning system that offers increased detection performance against the latest threats to Combat Aircrafts.
Save