Instead of beginning flat, let's picture this:-
There is you, and there is this neighbor. You are simple, but sober. All you want is some peace for yourself. But this neighbor of yours is a pain in the arse, who just hates the same, for some unknown reason. He / she will do anything to make you raise arms, and then cry 'Mercy!' 'Mercy!', to sway sympathy in his favor. He / she can go to any extent, to make your life hell, but what you are forced to do by the society? IGNORE, MAINTAIN PEACE, AVOID THEM, TALKS SOLVE EVERYTHING, as the sick list goes on. Does this end your problem, or rather aggravates it?
In the end, irritated by the ever growing influence of that evil neighbor, you finally decide to take the matter in your own hands. If might is right, let me show it the right way, is your call. You beat the nightmares out of your scheming neighbor. No matter how much the society will hate you for showing your courage, at least you will have taught a lesson to all: DON'T MESS WITH THE WRONG PERSON!
In the current context of the Uri Attack, where 17 hardworking soldiers of our nation were brutally massacred by monstrous Salafi jihadis from PAKISTAN, notorious for its schools of terrorism, which has put both the army and the NDA led Central Government on the backfoot, which was what the enemy nation exactly wanted.
However, PAKISTAN has probably forgotten that if provoked beyond limits, INDIA has spread the rampage of destruction on her so much, that she had to beg for mercy more than three times, whether in UN, or at the feet of INDIA.
Whether it be 1965, when a war to capture Kashmir was converted by INDIANS into a war to save LAHORE, or 1971, when a war to spread Islamic imperialism in East Pakistan ended up in giving away BANGLADESH, or even 1999, when a move to infiltrate Kashmir Valley converted into PAKISTAN becoming a laughing stock all over the world.
However, as I think, and believe, only words and history won't help us now. The time is for some hardcore action, a retribution that reminds PAKISTAN of who is the daddy.  The time is ripe for a war, the ultimate war!
But, wouldn't people be affected?
Of course they would. While nationalists and patriots like me would love the monsters being roasted alive, as a proud revenge, the war with Pakistan will also set the arses of some burdens on INDIA on fire. Here are the possible casualties, whom we would personally love to see suffering on seeing Pakistan being whipped black and blue:-
Peace Doves & Historical Revisionists –
The ones who shall be affected to a huge extent with this WAR, will most probably be the peace doves, who bark the rants of 'Aman Ki Asha', following the principles of Gandhism, while completely overlooking  the ill effects of the useless idealism, which has only wounded INDIA, not healed it. These people come in front only when the oppressors are taught a lesson for life. Remember the outrage on Burhan Wani's death? Before anything else, even if we shut up seditious stuff like the trash from hypocrite news daily, 'Hindustan Times', put restraints on idiots like Kanhaiya Kumar, who must be puffing in joy with the news of the Uri attack, half of the job will already be done. Cut off the ammunition, the weapons will themselves dry up. Rest is up to us.
Besides the fact that the war will destroy 'Aman ki Asha' activists in the bud, the war will also dent the illegal factory of historical revisionists, who have always tried to represent, that right from the Vedic Age, INDIA is a peaceful country, who has never raised arms, while completely ignoring that INDIA, besides being peaceful at heart, has completely routed anyone who tried to set their malicious eyes on the nation. The culture varies, but whether Hindu or Muslim, every emperor has his / her share of crushing the enemies of INDIA to dust. Alexander the Great and Genghis Khan, remember?
Barkha Dutt and the anti Indian journalism gang –
A war on the PAKISTAN is the easiest way of killing the gang of anti INDIAN 'journalists', led by the traitor cum intellectual terrorist and unofficial campaigner for Pakistani terrorists, Barkha Dutt. It's time we invade the nation for daring to challenge our sovereignty for time immemorial, and at the same time, act strongly against anyone sympathizing even remotely for the enemies of humanity, which includes scumbags and scallywags like Sagarika Ghose, Rajdeep Sardesai, Sudheendra Kulkarni  as well.
To be very honest, even a carton of BURNOL for each of these scallywags won't work, given the burns they shall suffer for their own actions.
Hafeez Saeed and his gloating bunch of dumbwits –
If terrorism was a profession worth something, probably Hafeez Saeed, the mastermind Salafi cleric  and chief of Lashkar e Toiba, one of the most hated terrorist organizations all over the world, would have probably received knighthood for the same. However, a war against Pakistan shall teach a nice lesson to such people, who gloat on their jackal strikes against the world. It will also shut up this mindset of terrorists, who think INDIA can do nothing against them, as perfectly quoted in Neeraj Pandey's 'BABY':-
"Hum jaante hain INDIA ko. Woh kuch bhi nahin kar sakenge. Woh sirf baatein kar sakte hain! Aur woh kabhi kuch nahin kar payenge."
(I know INDIA. They can do nothing. They're all talk, and they will never do anything!)
It's time, to make this dialogue history, and make the terrorists pay for taking our noble soldiers' lives.
Hypocrites like Mohammad Shahabuddin and Shiv Narayan Yadav –
Also, with a war on Pakistan, the blabbering mouths of nincompoops, whose own records are not bright at all and still bark on the Government, accusing them of being spineless, while themselves unleashing terror.
Mohammad Shahabuddin, well known for spreading acid terrorism in Siwan District, Bihar, is now mocking Narendra Modi for not taking strict action against the terrorists. 'He is a zero, Bakwas'. Interesting, a man who has himself destroyed countless lives for his lust of power teaches someone who is already on backfoot values. Hypocrisy died a thousand deaths with this!
If this is not enough, there is this masterpiece of this RJD stooge (Stooges, or Bhakts as pseudo seculars call, isn't an entitlement of BJP alone), who was delighted on the death of the 17 soldiers:-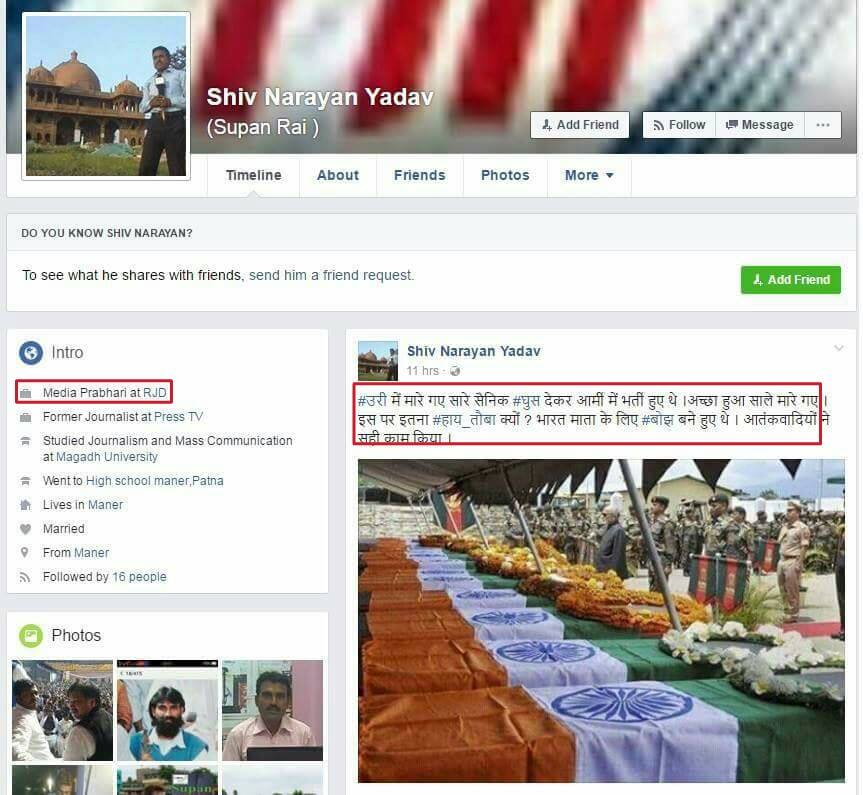 A war on Pakistan is probably the best medicine for morons like this.
Although I'm not a blood thirsty human, I am of the opinion that it is criminal to teach a human non violence even he / she is subjected to the most violent and criminal of the attacks and abuses, as respectfully quoted by maverick American revolutionary, Malcolm X. For some, it may seem as if a war with PAKISTAN is not a solution, but if you want some PEACE, YOU HAVE TO BE PREPARED FOR A WAR? True, there is no glory in war, BUT THERE IS NO GLORY IN BEING A SPINELESS COWARD EITHER!
I hope our Prime Minister, Shri Narendra Modi is listening. INDIA is testing you on the altar of patriotism and humanity!
Save
Save
Save