Bihar setback has proved that indecision regarding the selection of the CM candidate can definitely hurt the party's prospects. On the other hand, projecting CM face in Assam has proved to be positive.  Now, BJP is tasked with choosing its man/woman for CM's job in country's largest state, Uttar Pradesh. Out of 403 assembly seats, any party/coalition needs to win 202 seats in order to form the government.  BJP currently has 41 MLAs in UP.
Party's strategy is still on drawing board?
Party workers and office bearers were very excited during the national executive meeting that was recently held in Allahabad.  But, journalists did not get the sound bite from Amit Shah that they were looking for because the BJP focused only on building a narrative for next year's polls instead of choosing CM candidate for the same.
During this event, senior leaders from the BJP interacted with journalists on condition of anonymity and indicated that the party plans to wait for at least three months before declaring its CM candidate. Until then, the party will probably continue with posters featuring party chief Amit Shah, PM Modi, and Union Home Minister Rajnath Singh.
Bhartiya Janta Party has 71 Lok Sabha MPs from the state of UP. Synergy between booth committees, ground level party workers, and MPs would play an important part in motivating voters to come out of their house and vote for the saffron party on the poll day. During the national executive meeting, the party urged all its MPs to devote their time and focus on plans that can help in winning assembly constituencies within their Lok Sabha constituency.
Polls will take place sometime in January or February. According to the senior leader who interacted with reporters, the Trio (Home Minister, PM Modi, and Amit Shah) is expected to address more than 100 rallies during the next seven months in the state of UP. The campaign will intensify from monsoon and will help the BJP to understand if it needs CM face or not. The party must consider the impact of Jat quota agitation, Rohith Vemula, intolerance campaign, etc. and design its election campaign, PR strategy accordingly.
Political analysts believe that the BJP may choose someone from- Rajveer Singh, Varun Gandhi, Manoj Sinha, Rajnath Singh, or Smriti Irani as their CM Candidate in UP.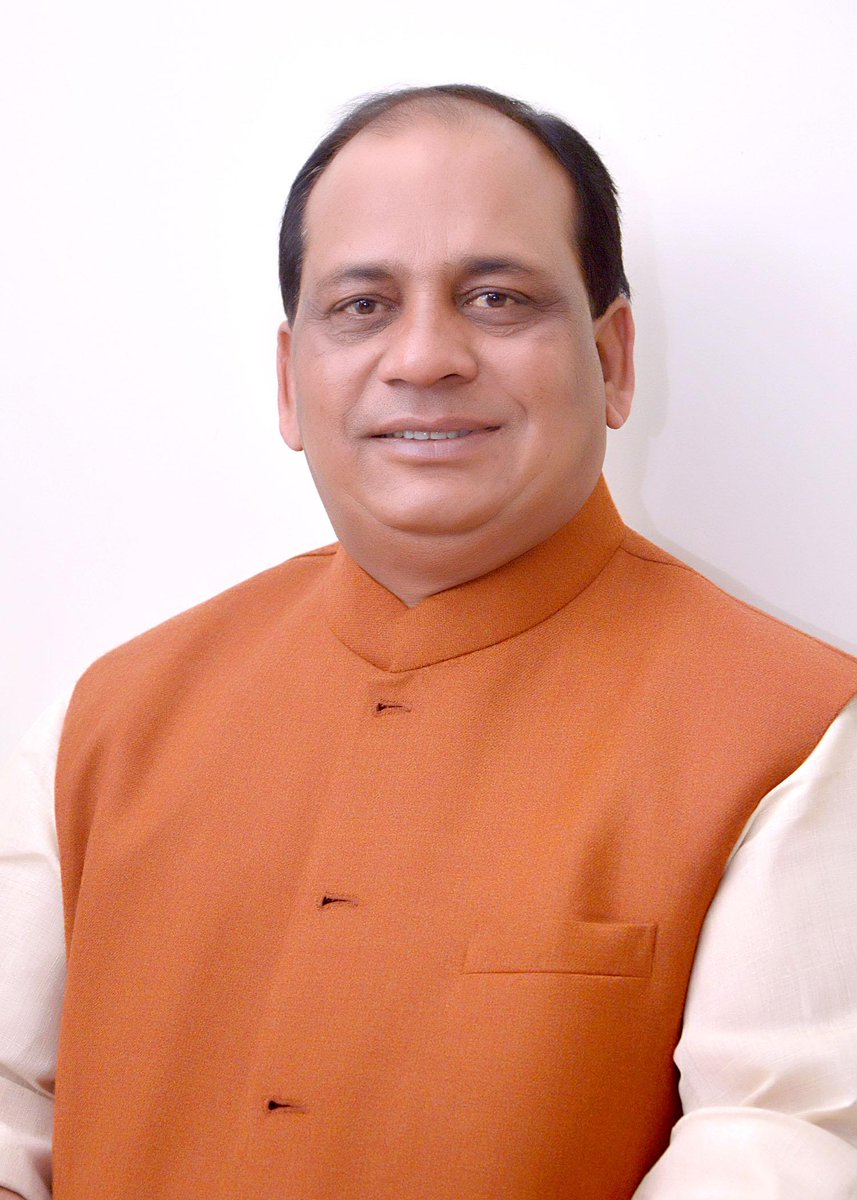 Rajveer Singh
Ananda Bazar Patrika's recently published report has highlighted the possibility that Rajveer Singh (son of state's former CM and current governor of Rajasthan, Kalyan Singh) may get selected as UP's deputy CM if BJP forms its government after people's mandate. He belongs to the Lodh OBC community and currently represents the Etah Lok Sabha constituency as its MP.
Under the leadership of party chief Amit Shah, BJP has created the National OBC Morcha last year. In order to get rich electoral dividends, the party should create social coalition similar to the one that Mayavati created in the past. Rajveer Singh can definitely play an important role in the creation of such rainbow coalition. His father had successfully brought people from various castes under one roof in the past. Under his father's guidance, Rajveer can prove to be the best bet for the BJP.
Rajveer Singh defeated SP's Devendra Singh Yadav by 51,650 votes during 2014s Lok Sabha polls.  The 51-year-old MP recently made it in the headlines as he was part of BJP's six-member committee that studied various aspects of Jawahar Bagh violence and recommended CBI probe in the same. The MP had attracted negative light when party's senior women leader Meena Kumari had sent written complaint to party leadership describing Rajveer's abusive comments about her.
There is nothing much that media can find to criticize Rajveer Singh except for Meena Kumari's complaint. On the good side, Singh has adopted several villages, including Aurangabad village from Kasganj district under different schemes.
Manoj Sinha
Manoj Sinha is BJP's Lok Sabha MP from Ghazipur constituency. The 57-year-old MP is also the Union Minister of State for Railways. His spotless character and performance in Parliament during 11th, 13th and 16th Lok Sabha can prove to be his plus point. Manoj Sinha is one of the very few MPs who utilize all the funds allotted for public welfare in their constituency every year. Most importantly, he has M Tech and B Tech degree in civil engineering. He has been associated with BJP's ideological partner, RSS, since several years.
Union Minister of State made it into the headlines in September 2015 when he hit-out at Lalu by saying that former Rail Minister's 'Indian Railways in profit theory' was based on ungrounded projections to misguide the public.  This was also supported by CAG's report.
When asked about the situation in the state, Manoj Sinha pointed out that UP needs someone who can bring back potential investors and can get rid of current lawlessness in the state to use its immense potential in nation building.
The Bhumihar leader played a key role in bringing Bhumihar votes for PM Modi in Varanasi constituency. This immensely helped in defeating Ajay Rai who happens to be from Bhumihar community.
On being asked if he is ready to be party's CM candidate, the Union Minister of State said he is not in the race. Anyway, perhaps he won't open his cards until he gets a green signal from the party chief.
Union Home Minister Rajnath Singh, Smriti Irani, Lok Sabha MP Yogi Adityanath, and Varun Gandhi do not need much of introduction. Yogi Adityanath often attracts controversies because of his comments and may not prove to be an acceptable candidate in the state's complex caste arithmetic driven politics.
Rajnath Singh is most suited, but will center manage without him?
No doubt that Rajnath Singh eminently suits all the requirements. He seems to be the perfect opponent for Akhilesh and Mayawati. But, currently, the central government is grappling because of problems created by Congress and leftist journalists. Losing the Union Home Minister would also force the party to find his replacement at the center. Perhaps, PM Modi may not be too keen to let him move out of Delhi as of now.
People may consider Smriti Irani as 'outsider'
Union Human Resource Minister Smriti Irani has good knowledge about the state of UP. She proved her political courage by contesting Lok Sabha polls against Congress Vice-Present Rahul Gandhi.
Even after losing elections, she often visits Amethi constituency and looks into its issues, but this may not prove to be enough in order to compete with the son of the soil.
When it comes to choosing between Smriti Irani and Rajnath Singh, most of the party workers from UP, including state's chief prefer to go with Rajnath Singh. They believe that Smriti Irani may lose out because of the 'outsider' tag. No doubt, she is better than Rajnath Singh when it comes to handling presstitutes. If selected for CM's role, Smriti Irani would definitely give tough time to Akhilesh, Mayawati, and Congress as well. But, BJP may find it difficult to play caste card.
Gandhi vs. Gandhi
As mentioned earlier, Sultanpur's young and dynamic MP does not need any introduction. Varun Gandhi has his own share of controversies.  He made a big splash for the first time in 2009 when Rajdeep controlled CNN-IBN aired Varun's anti-Muslim speech. He suddenly became a hero for every 'right-minded' BJP supporter. "Yeh Gandhi hamey pasand hai"-was Shiv Sena Chief Balasaheb Thackeray's first reaction to his speech.
It is obvious that if the Congress declares Rahul or Priyanka Gandhi as their CM candidate for UP, the BJP would require someone who can give a point-by-point veiled rebuttal to Gandhi. This is where Varun Gandhi can prove to be rabbit-in-the-hat for BJP. As huge posters of Varun Gandhi are being hanged in various parts of the state, we can assume that Union Minister Maneka Gandhi's son is willing to take the responsibility on his shoulder.  Several surveys have highlighted him as the most popular choice for CM candidature. Perhaps, his popularity can increase BJP's chances of achieving victory.  Unfortunately, some individuals in the party look at him as threat to senior leadership.
Getting back to the main point- BSP, SP have their calculations as well as face to build their campaign around. BJP should not approach the people without its own face. At the most, it can consider waiting until congress opens its cards.