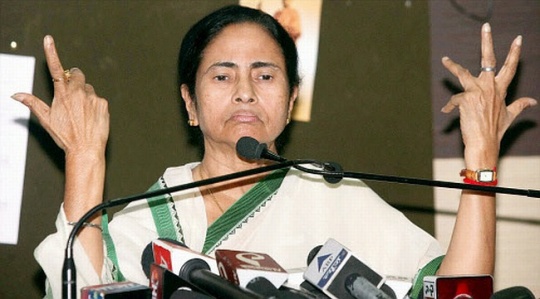 ||'কারও পৌষ মাস, কারও সর্বনাশ||
(Karou Poush Maas, Karou Sarvanaash)
There is a famous Bengali proverb that says one's harvest season is another's complete devastation. Mamata Banerjee's harvest season began 5 years ago, when she vanquished the Left Front and stormed into its citadel in West Bengal. In the last 5 years, Mamata Banerjee's stellar achievement has been reducing West Bengal to a state of utter ruin, devastation and desolation. Gokhale's saying, what Bengal thinks today India thinks tomorrow, today definitely sounds more like a curse. TMC goons are entrenched in all institutions- police, judiciary, schools, colleges everywhere. The emergence of TMC-Jihadi nexus has meant that West Bengal is on the verge of becoming India's very own Afghanistan. Mamata Banerjee rode on the crest of the Poriborton wave that established her in power in Bengal, but she has shown that she is nothing more than a shrill and impatient street protester who is more at home screaming and name calling rather than bringing about real, positive Poriborton. For the ordinary Bengali, TMC blue might have replaced the crimson red of the Left, but there is pretty much nothing beyond that as far as Poriborton is concerned.
The extent of pervasive lawlessness in West Bengal over the last 5 years may be understood with the following cases-
1.Communal Violence
There were 23 cases of communal disturbance in 2012 in West Bengal that claimed multiple lives. The government took no steps to ensure recurrence of violence. In 2013, riots in Canning stemmed from the murder of a Muslim cleric by unidentified men. Following the incident, Hindu homes and shops were systematically targetted by Muslim mobs, forcing people to flee and seek shelter. There was hardly any action by the government against the rioters. In May 2015, riots in Nadia district claimed 4 lives and forced hundreds to flee. Once again, the response from the government was muted. In January 2016, a protest rally called by Muslim organizations degenerated into violence. Mobs of rioters destroyed Hindu homes, shops, molested women and challenged the police and state machinery. Instead of addressing the situation, Mamata Banerjee government turned a deaf ear to reports of communal violence. West Bengal, in the last five years has become a Communal tinderbox and the Mamata Banerjee's government seems unwilling or unable to deal with the Communal situation.
2. Crimes against Women
According to NCRB data for 2014, West Bengal had the second largest number of crimes against women in the country. West Bengal also stood at Number 2 in terms of rate of crime against women. The state has a total of 21 women protection officers, all contractual, for a population of 90 mn+. These statistics prove the hollowness of the 'Maa, Mati, Manush' slogan of the Trinamool Congress. The 2013 Kamduni Gang rape and murder case, better known as Bengal's Nirbhaya case came to light because of the persistence of locals and civil society. Incidentally, protests against the rape invited swift retribution from Mamata Banerjee's government. One of the protestors was beaten black and blue by TMC Chhatra Parishad. There have been similar cases in other parts of the state- notably, Birbhum, Kolkata, Nadia etc. The response of the government has been to suppress evidence and prevent details from getting out. Famously, in the Kolkata rape case, Mamata Banerjee had called the victim a liar and accused her of trying to embarrass the government. No doubt then, that Bengal has continued to be at the bottom of the list of crimes against women.
3. TMC-Jihadi Nexus
In October 2014, there were blasts at the residence of a TMC leader in Burdwan. The 2 men who died were identified as IM operatives who were trying to assemble IEDs. Instead of cooperating with the NIA, local police was alleged to have destroyed the evidence of Jihadi materials. Even before Mamata's elevation as Chief Minister, there were reports that Bangladeshi Jammaat-e-Islami helped TMC with huge funds, ostensibly for election purposes. The TMC is alleged to have returned the favour by transferring money to Jamaat-e-Islami, when it came under pressure in Bangladesh, during the 1971 trials. In 2012, there was a massive Islamist congregation in Kolkata in support of the Bangladeshi War criminals. The riots at Malda are believed to have been facilitated by extremists who slipped in from Bangladesh. Incidentally, during the 2014 Lok Sabha elections, TMC was openly supported by the radical Jamaat-e-Islami. The government also banned a rally celebrating Bangladesh Liberation Day, but allowed a rally demanding that Bangladeshi War criminals be let off. Mamata Banerjee is heavily dependent on the support of radical Islamic organizations to ensure the support of Muslim vote bank.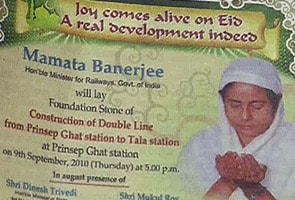 4. Minority Appeasement
Mamata Banerjee understands that her hold on power rests with the Muslim population which forms more than a quarter of West Bengal's population. She has doled out incentives to Muezzins and Imams, turned a blind eye to mushrooming illegal madrassas, spoken of Islamic housing, announced stipends and scholarships for Muslims, promised reservation for Muslim teachers, validated academic degrees of unauthorized Madrassas, built new Haj houses, accorded Urdu the status of second language of the state, handed over laptops and bicycles to Muslim students and many more of such incentives. Last year, Mamata Banerjee even went to the extent of delaying Durga idol immersion to accommodate the festival of Muharram. At the same time, she has accused her detractors of being BJP or RSS agents and has insisted that she is motivated by principles of secularism in doling out largesse to minority community.
5. TMC Goondagiri
Krishna Prasad Jana, a college student belonging to Congress Chhatra Parishad was beaten to death in August 2015 by TMC goons, when Krishna refused to felicitate a visiting TMC minister. In June 2015, While addressing a meeting in Basirhat, Abhishek Banerjee, nephew of Mamata Banerjee openly announced that those who dared to challenge the TMC administration will have their eyes gouged out and their hands chopped off.In October last year, a doctor was mercilessly beaten up in Howrah, allegedly by some TMC goons after he reportedly refused to pay donation for a soiree. Countless Left front and other political activists have similarly been murdered by TMC goons over the last five years. There are many such cases of molestation, rape, bomb making, drug dealing and others against TMC activists. In many villages, it is the writ of these goons that actually runs. Mamata Banerjee government has not taken any steps to curb goondaism amongst TMC activists.
||ডাঙায় বাঘ জলে কুমির||
(Dangae baagh, Jole Kumir)
In 2016, when West Bengal votes, chances are that Bengalis will decide whether they were better off under the Left or under 5 years of Mamata Banerjee's rule. That question is not going to be easy to answer. As is evidently abundant, Mamata Banerjee succeeded in beating the Leftists at their own game by convincing the electorate that she was more Socialist than even the Communist Left front. Inevitably, she has continued the same disastrous policies that brought affairs in West Bengal to a nadir under the Left Front. Additionally, her hobnobbing with Jihadi elements and her tacit support to radical organizations poses a grave security challenge. In a state where Congress is a minor player and BJP's stellar performance would mean winning 10-20 seats, Bengalis would need to decide between the Devil and the deep sea. Essentially, the contest boils down to choosing between TMC goons and Left front thugs. May God give Bengalis courage to make the right choice.
References:
http://blogs.timesofindia.indiatimes.com/…/tyranny-of-the-…/
http://www.dailyo.in/…/malda-riots-kaliac…/story/1/8517.html
https://en.wikipedia.org/wiki/Suzette_Jordan
http://economictimes.indiatimes.com/…/articles…/50886442.cms
https://en.wikipedia.org/…/2013_Kamduni_gang_rape_and_murde…
https://en.wikipedia.org/wiki/Suzette_Jordan
http://www.rediff.com/…/west-bengal-and-the-ex…/20141028.htm
http://www.oneindia.com/…/burdwan-blast-case-is-mamata-tryi…
http://indiafacts.org/west-bengal-jihadi-playground/
http://timesofindia.indiatimes.com/…/articlesh…/48397770.cms
http://timesofindia.indiatimes.com/…/articlesh…/47780892.cms?
http://timesofindia.indiatimes.com/…/articlesh…/49175869.cms