For a long time now, Mahendra Singh Dhoni has enjoyed the status of being the best Indian Captain, wicketkeeper and best finisher. But off late, Dhoni the Captain seems to be going through a long never ending rough patch especially when exposed to overseas conditions. Still, he is potentially the only high quality match finisher for India as far as the limited overs cricket is concerned and by far the best wicketkeeper India can boast of.
Here we provide a list of reasons as to why the 'Captain Cool' seems to be losing his charm and becoming unfit for the aforesaid tag.
Possible Friction in Dhoni the Captain's team:
Cricket is a team sport and the team cannot succeed unless the players are comfortable under their skipper no matter how brilliant the skipper maybe. This is true for the current Indian Team, Kohli has announced himself as the Test Skipper after stupendous victories over Sri Lanka and South Africa last year. It is very much possible that the team may not able to adjust itself under two entirely different Captains. Clearly, Kohli looks more successful and apt of the two given that he also has form and age to his advantage. India needs a futuristic team in days of transition, Dhoni should thus give in to the needs of the team and pass on the baton to an energetic and win hungry Virat Kohli before Virat Kohli loses any of his charm and mojo. As of now Kohli seems to be getting the better out of the same set of players as compared to Dhoni
String of Defeats:
For a team which looked way better than any other world team both before and after 2011 World Cup, the string of defeats that followed thereafter were unprecedented. It appeared as if Dhoni the Captain has lost his hunger of taking the team home after having won both the formats of the World Cup. Dhoni had certain better off days in between in the form of ICC Champions Trophy and an invincible run in the 2015 World Cup before he again perished at the hands of the Kangaroos. After the 2015 World Cup too, the string of defeats has continued and Dhoni failed to take his team home against South Africa even in the home conditions. While India is preapring for the next World Cup, we need an aggressive skipper who shows the hunger of winning. The new skipper too would need time to settle in, instead of resigning as a Captain in late 2017 or 2018, it would be better if Dhoni takes the inevitable decision in 2016.
Monotonous Selections:
In the initial years of his stint as Dhoni the Captain, Dhoni was known for taking out of the box decisions and foxing one and all with his bold decision making. After 2011, Dhoni seems to have lost his defining quality. Now Dhoni seems to be persisting with a set 3 medium pacers, 2 spinners theory even on bouncy Australian Pitches. Moreover, there seem to be a bunch of players in the team who survive in the team no matter what their performance level is. Thus, even under highly competitive conditions, Shikhar Dhawan, Raina, Mohit Sharma, Umesh Yadav, Binny and Aaron have been regular features in the Indian team. Retaining below par players has thus all of a sudden become a feature of Dhoni's Captaincy. This is not an accusation of a conflict of interest but Dhoni is maybe, losing the expertise and the cricketing mind that he possessed.
Dhoni the Captain's Defensive brand of Cricket:
In his initial years Dhoni used to take up the job of a hard hitting batsman when the rest of the team used to play traditional brand of cricket. Dhoni also translated this aspect into his Captaincy and used aggressive field settings in his initial years leading to immense success not only in India but also in overseas conditions. Under him India crossed the frontiers of Australia, South Africa and New Zealand, something that was unimaginable before he had announced himself as an innovative skipper of the Indian Team. The situation has changed upside down over time, Dhoni no longer enjoys the status of a world class lower order batsmen and does not possess a remarkable strike rate. This is also manifest in his captaincy as Dhoni, due to some unknown reasons keeps the most defensive of field settings even in those scenarios where he can have the liberty of closing in. Dhoni has become somewhat defensive and has lost the reputation of risk taker. He seems to have become one of those who try to minimize risk all the time and in turn end up taking the biggest risk of not taking risks.
Dhoni the Captain no longer possesses a calm mind: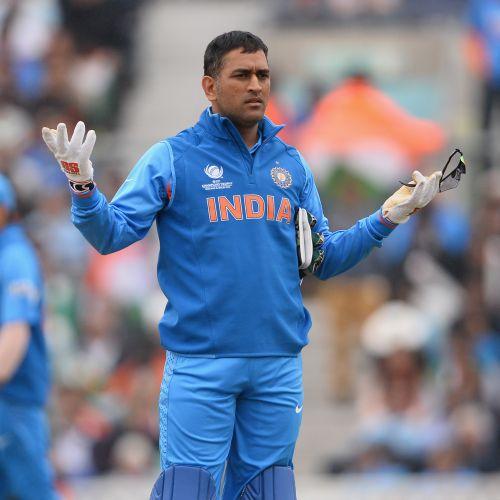 Over years, Dhoni became the 'Captain Cool' of team India. He became a skipper who had complete and silent control over everything and was as expressionless as the previous Prime Minister of India though not as powerless. Dhoni seems to be losing this remarkable quality and an extended rough string of defeats seems to have got the better of him. Many a times, he hits out in Post Match Conferences, speaks out in a rather blunt manner. He has shown anxiety many times even on the field. Maybe, Dhoni does not possess the same ability of facing nail biting situations as any other phase of the game.
Conclusion:
The failures of Dhoni the Captain seem to be influencing his batting in a negative way though his wicket keeping is still impeccable. If Dhoni, the batsman has to survive, then Dhoni the Captain has to go. At a time when India is struggling with a vacuum at the Lower Middle Order Batting, an in form Dhoni is what India desperately needs, which is only possible if Dhoni resigns as a Captain.
Dhoni's gesture of calling off his Test Career to extend his Limited Overs Career was indeed commendable. He needs to take a similar decision to survive in a competitive world of cr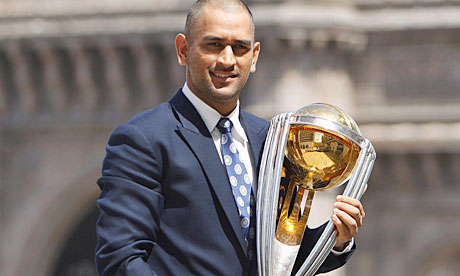 icket, where hard hitters like Guptill and De Villers make to the headlines every month for their stormy knocks, its been quite some time since we saw a stormy Dhoni knock.
Despite what should be his forgettable last years as a Captain, Dhoni will go down in history as the most successful Indian Captain for a long time to come. His career as a Captain is all but over and subject only to an official stamp from him, but his helicopter shot may still have sufficient firepower left in it. Dhoni would do well to realize this and resigning from Captaincy will do more good than harm for M.S. Dhoni.
It is not even necessary that Dhoni should end his career as a Captain, there is no such precedent in the history of Indian Cricket and greats like Gavaskar, Dravid, Kapil Dev and Ganguly among others kept on playing cricket after resigning or in cases being stripped of Captaincy.