Mitchell Johnson is an enigma- A man capable of scaling stratospheric heights as well as sinking into hopeless nadirs. At his venomous best, there was or is or will be none better. But, in those days when his radar goes haywire when he fails to summon up his inner beast, he could be the favorite whipping boy. None knows better about Mitch's Dr. Jekyll Mr. Hide conundrum than the Pommies. They were the ones who were too scared to even walk into the pitch in the 2013 Ashes when Mitchell Johnson was scaring the living daylights out of everyone who dared to pick up an English willow. They were also the same guys chuckling at Johnson's expense when a wayward Mitch allowed the Barmy army to get to his nerves over family troubles and poor form- the ridiculing chant of "He bowls to the left, He bowls to the right" became part of the cricketing folklore. His numbers may not do justice to his caliber. But, he was one of the few cricketers who could give you a pure sense of exhilaration- a fire-breathing display of pure mayhem satiating our most carnal desires of blood and sweat. And, I dare to commit blasphemy- even the surreal artistry of Sachin Tendulkar couldn't quite match the visceral elation invoked by Mitchell Johnson while spitting fire at his hapless cowering victims. Like Tendulkar, he invoked extreme passions among cricket lovers- Eulogies being penned left right and center panegyrizing the man is a testimony to that.
Mitchell Johnson was earmarked for greatness from the very beginning- With Dennis Lily, his idol and mentor rightly calling him  once in a generation bowler. Well, during the course of the Ashes bloodbath of Pommies and the subsequent annihilation of South Africa, he looked like even once in 9 lives phenomenon- transcendent displays marrying brute power and speed to malicious venom resulting in savage annihilation of the batting sides, more than enough to wash away his sins of blowing hot and cold for much of his career. From the very beginning when he started out for Queensland, he was a force of nature, with his former teammates and opponents including Chris Hartley, Shaun Marsh, and Ed Cowan still waxing eloquent about the awe and fear he inspired with his raw pace. He virtually wiped out
opposition sides singlehandedly- with Queenslanders rubbing their hands in glee and opposition sides petrified at horror stories going around. But, just when he was about to be anointed as the next great Aussie pace demon, he lost his way inexplicably- moored in self-doubt and "impostor" complex, something he managed to do a few times in his career to the despair of many, though we should credit him for bouncing back every single time. He was so lost that he was seen driving a truck for a living- dreams of reliving mayhem unleashed by the West Indian cartel or Australia's very own Jeff Thomson reduced to ashes.
Thanks to the support from his coach Brett Mortimer, Johnson managed to bounce back after finding a sense of self-belief, however fleeting to augment his outrageous talent- he won his first baggy green cap within 2 years. His first truly great performance came in a losing cause in Perth, 2008 when he destroyed a strong Proteas lineup with 11 wickets in the match including 5 wickets for 2 runs in 22 deliveries in a mesmerizing display of raw fast bowling which had it all- pace, venom, bounce, and swing. Then he went on to break the arm of their indomitable skipper for good measure in the Sydney test. And, it didn't end there, in the next leg of the back to back series in South Africa, cricketing world looked on with baited breath as Mitchell Johnson conjured up one of the greatest displays of aggressive raw fast bowling in recent history- Hashim Amla was left as clueless as a schoolboy by his prodigious swing, Smith was put back in the hospital during the course of a hostile spell. And, before that in Johannesburg he produced a sublime MoM performance with an 8 wicket haul in the match. Further, in the last test he blasted a century too for good measure.
Australian public hailed their new big bad enforcer and waited for arch-rivals England to be devoured in the Ashes. But, alas, there was yet another twist in the tale as the other Mitchell Johnson turned up for the series and he ended up broken amid loud heckling by Barmy Army- And the Ashes was lost. By the time the next Ashes in Australian soil came up, he was just your normal bowler, a far cry from the Australian great he was destined to be. Apart from a superlative performance at WACA where Mitchell Johnson is always at his exhilarating best, he couldn't do much and almost lost his place in the side. The lingering self-doubt and a timid shy personality coupled with poor form almost killed his career.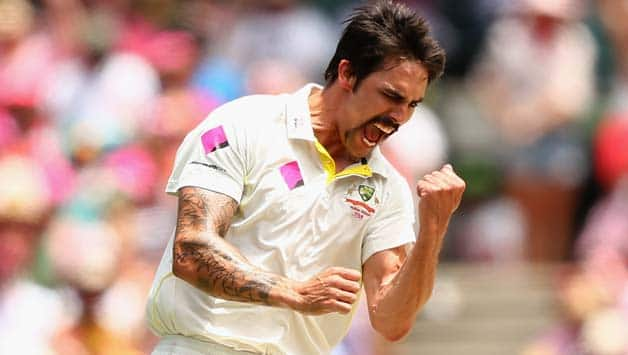 The next phase started in an even worse note as he looked like a mere trundler in the subsequent South African tour. And, a freakish toe injury which put him out of action actually proved a blessing in disguise. His time in obscurity and the simultaneous rousing performance by Australia at home against a strong Indian side somehow rekindled the fire within. Support from the family, Australian board, Dennis Lily and an SAS veteran aided in his rehabilitation, a process whose driving force was indeed his own hunger to finally be the man everyone knew that he can. And, in 2012 he looked fitter and faster against India. An IPL stint with Sachin's Mumbai Indians helped as the pep talk from legends seemed to charge him up. The belief seemed to be there more than ever in his career and a make or break shot at greatness awaited in the 2013-14 Ashes.
And, boy, it was worth the wait. The real Mitchell Johnson turned up finally. He looked the devil incarnate himself as he vented out the collective frustration of over a decade on the hapless English. The carnage began in Gabba where Pommies were made to look like lambs to the slaughter. Johnson's cold stare oozed not just confidence, but the dismissive arrogance of an artist supremely confident of his dark art of terrorizing batsmen to submission. He smelled blood and was ready to spill some if necessary. Trott was reduced to a nervous wreck, Cook was stripped of his aura as England's King Arthur. Lower order was terrorized to the point that they seemed to beg for instant death rather than be brutalized. It was a carnage- excitement in the air was palpable as crowd bayed for English blood. All through the series Johnson was unstoppable- a speed demon tearing through English batting every single time with deliveries spewing venom. The crowd went berserk every time Johnson had the ball in his hands and the English cowered in mortal fear. Australian slip cordon gave an evil cackle reminding the batsmen of their imminent slaughter. "It was seen to be believed, it cannot be explained, you should have been in the stadium to appreciate the moment"- experts went on waxing lyrical about the surreal experience. It was the greatest pace bowling exhibition since the time of the West Indian cartel.
The South African tour that followed was even more brutal- Proteas with their Kallises, Amlas, ABDs, and Smiths are a completely different proposition from the hapless British, they said. Dale Steyn will give everything back with double then venom, they said. Every doubter was shown his place when Mitchell Johnson roared in and prised the heart out of the much vaunted Proteas lineup. Smith's career was ended, McLaren was sent to hospital- he missed the entire season. Everyone with the notable exception of ABD was terrorized into submission. South Africa was conquered just like the English were battered to submission. But, we have to say now that it was his last great sustained performance. Though he remained a huge threat, a very good bowler, the dizzying heights of these two series were never to be reproduced. The primary reason seemed to be the untimely demise of Phil Hughes who died on the pitch felled by a bouncer- Johnson never seemed to bowl with the same venom. He was deeply affected by the death of his friend and it was a constant reminder of the real danger posed by his ability to bowl monster balls at batsman's throat. The mellow, affable person Johnson is, he seemed to withdraw to his formal self- someone too nice to use his ability to inflict excruciating pain on the batsmen with his raw pace and vicious bounce. But, this time it seemed to be the voluntary decision of a man at the peak of his abilities. Loss of his partner in crime, Ryan Harris, also played its part in the diminishing returns as he lost the freedom to go on an all-out attack in the comfort of having someone of the caliber of Ryan at the other hand.
Mitchell Johnson bid adieu to the game on his own terms- a typical Australian trait of calling it a day while still being in the top of their game. He finished with 313 wickets with 12 five-wicket hauls at an average of 28.4- a not so extraordinary average for someone considered as one of the greatest of his generation. But, it was more of a reflection of his fabled inconsistency. His strike rate of 52.1 and the ability to win tests on his own more than compensated. Finishing the fourth leading Australian wicket-taker of all time, winning an Ashes on his own, tormenting South Africa at home and away, two World cup medals etc. testifies to his greatness. Further, in test wins his average stood at around a remarkable 21 and the strike rate at around 42. His 9 MoM awards are the highest anyone has during the span of Mitch's career.
Of course there is merit in his argument that with his ability, he could have done much better. But, he certainly has done enough to be remembered as one of the greatest pace bowlers ever. More than his records, cricket lovers all over the world will cherish the life he infused into test cricket. Johnson at his pomp was a site to behold as cricket stadiums transformed into gladiatorial arenas of the past where blood, sweat, and fear enthralled thousands. More than that, he was a gentleman off the field- one who always indulged his admiring fans, an affable giant with a kind heart. Maybe it was his gentle personality which saved many a batsmen from the slaughterhouse as he could never be as cold as a Marshal or a Thompson, deriving dark pleasures from the plight of hapless batsmen helpless before their power. None of us wanted to see you go, almost everyone held back tears as you steamed in for your final few deliveries, maybe except for the Pommies. But then, even Barmy army paid you glowing tributes. Well played Mitch- You will be missed.