"The attack on Sudheendra Kulkarni is a sign of rising intolerance in the country", said Sri L K Advani, the Margdarshak and the founding member of Bharatiya Janata Party, which is ruling the country now with absolute majority, a rare feat that was achieved almost after 30 years since the last time Congress party had got it in 1984 riding on the sympathy wave due to Indira Gandhi's assassination. Not only that. For the first time, BJP is also ruling Maharashtra with its own CM, having won the State elections fighting by itself exactly a year back, almost pulling it off close to the majority, that forced a reluctant Shiv Sena to sit at the pillion seat to cling to power and some sort of relevance.
So why would the senior-most leader of BJP say something that the main opposition party and some self-styled literati who are basking in the glory of returning their awards which they could never get while they got it, are saying, based on a one-off incident when his erstwhile sidekick who literally played his part perfectly to script his downfall was smeared ink on his face by an uneasy partner of the ruling party, that is desperately trying to seek some attention, frustrated by its diminishing importance in the whole scheme of things. Or is it the first time, Shiv Sena is up to such a tantrum that forced the octogenarian leader to "break his silence" and alarm the nation about the growing intolerance in the State? Was he not leading the BJP all these years and was pandering to Balasaheb and his family all these years while he was nurturing his own PM ambitions, when Shiv Sena workers were busy digging up cricket pitches or involved in vandalizing media offices?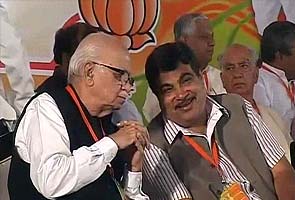 This is not the first time Mr. Advani has been saying exactly what the Opposition parties are saying. The other day, he mentioned a similar remark about Emergency like situation that stirred up some controversy and gave enough fodder for the Opposition and the media to implicate Modi's leadership style as the reason behind such remarks. Later he had to clarify it wasn't so. Similarly, he decided to keep quiet in the last National Executive despite the Party President and the PM repeatedly requesting him to say a few words and this was the first time in any National Executive that he was present, he had not spoken. Once again playing to the galleries of Opposition and the Media. In 2013, during the National Executive at Goa, he refused to participate because Modi was being announced as the chief campaign manager for the Loksabha elections, a precursor to his candidature for PM post. He even went on to write a letter about how the party is all becoming about "one man show" and resign from all the party posts, except the chairmanship of NDA, which exposed his true motives. He then refused to contest from Gandhinagar which had returned him several times to Loksabha with thumping majority, and indicated his preference to contest from Madhya Pradesh.
Ever since he got wind of Modi's popularity growing beyond Gujarat and the growing chorus among party cadres for his Prime Minister candidature, Advani had started becoming restless. He first opposed Nitin Gadkari's second term as Party President fearing Gadkari would back Modi's candidature and instead proposed Rajnath Singh. When Rajnath Singh himself started backing Modi's candidature, Advani went to canvass the allies to put pressure on BJP. K C Tyagi of JD(U) openly said during a discussion in media that Advani had promised Modi would not be the PM candidate of NDA as long as he was at the helm, and had cried when Modi's candidature was announced. Imagine he would trust an opportunist like Nitish Kumar whose true colours are exposed once he ditched BJP to form alliance with his betenoire, Lalu, simply to oppose Modi, than his own party colleagues. So it was not surprising when Uddhav Thackeray used to say those days, Sushma Swaraj would become a better PM, as to who could be behind all these.
And why is it difficult for Advani to digest this simple fact that his time is up and he had his fair share. For one, for all the hard work he had put to build the party from a two MP party in 1984 to finally form a Government, he had to sacrifice the PM'ship to his more flamboyant colleague and one who had a "moderate" image, Atal Bihari Vajpayee. By the time Vajpayee finally hustled to say "Let Advani ji become the PM" and wound up his speech in a haste in 2004, NDA lost, despite a pretty decent five year rule. Then his real chance came up during 2009, he fumbled it by embarking into a "peace making" yatra to Pakistan under the able advice of the same Sudheendra Kulkarni who is now brokering for Kasuri's book. Not only did he do this grave mistake, he further praised Jinnah that annoyed his own party cadres and the electorate in India. All in the name of becoming an "inclusive" and a "moderate" leader (ready minority appeaser). The "Cash for Votes" scam in 2008 was another embarrassment for the party when it was proved, the same Sudheendra Kulkarni, was behind it. NDA lost the elections much worse than in 2004 and it looked almost impossible for it to break 160 seat mark until Modi created history last year.
This precisely is the problem of Mr. Advani. He is unable to reconcile with this, and that someone whom he had groomed could become a much bigger success than him. What he failed to recognise in that process is that, it is not Modi's personal ambition, unlike his, that drove Modi to the coveted chair that Advani did not get. It was the wishes of the party cadres and the millions of people in the country. He failed to listen to them. Instead he listened to two-bit stooges like Kulkarni, who ill-advised him and brought his downfall, and is still defending his theatrics. He built the party by working with and mobilising the cadres. But then he failed to listen to the cadres when they were telling him what could make BJP come to power. His own personal ambition took the better of him, and blinded him even to the success of his own party now being led by his protege who still respects him. But instead of being proud of the achievement of his party and its growth, Advani is choosing to leave a bitter taste with everyone. Perhaps the same taste that his bilious tummy is throwing up to his tongue. To say what the Opposition wants to hear.