USA Caste discrimination: Most of us have heard about miracles in the USA. For children born in India, getting to this country has traditionally been the epitome of success. To further encourage us, our teachers constantly say that it is a meritorious country. For those of us who feel extremely disappointed about caste politics, the message is that the country of George Washington doesn't discriminate on caste lines. We are here to break this illusion. It is 2023 and the country situated nearly 12,000 km from us is filled with people hating others because they belong to different castes. The hatred now has legal recognition in Seattle.
USA: Seattle passed anti-Caste ordinance
News in the public domain tells us that Seattle has become the first American city to ban caste-based discrimination. Now, caste will be treated at par with immutable characteristics like gender, race, country of origin among others. The resolution was moved by Kshama Sawant, a city council member of Seattle. It was passed with the majority of 6-1.
While on the face of it, the resolution is well-intentioned, it just extends India's caste ban to the USA. Any person with any sense of morals would be up for it the moment they get a brief about it. "We want ban on caste discrimination…yeah, yeah everybody is against it, you don't get any unearned moral point for it."
The problem is that it is not as simple as that. Beyond this moral superiority, underlies a deep division and hatred for unity of Indians and South Asians living abroad.
Discrimination in the name of ending discrimination
It has been acknowledged by locals aware of the matter. Niraj Antani, the first Hindu and Indian-American state senator in Ohio's history has condemned the ordinance. He said that caste discrimination is simply a thing of the past. Quote, "As the 1st Hindu & Indian State Senator in Ohio history & the youngest Hindu & Indian elected official in the nation, I am strongly condemning the anti-Hindu ordinance passed by @SeattleCouncil last night. This ordinance is Hinduphobic & is a travesty for all Hindus"
TODAY: As the 1st Hindu & Indian State Senator in Ohio history & the youngest Hindu & Indian elected official in the nation, I am strongly condemning the anti-Hindu ordinance passed by @SeattleCouncil last night. This ordinance is Hinduphobic & is a travesty for all Hindus. READ: pic.twitter.com/nLkMobGptV

— Niraj Antani (@NirajAntani) February 22, 2023
Niraj added that the Council's decision will be used for systematic discrimination against Hindus. He advised the city to devise a policy to protect Hindus from discrimination.
Niraj's fears have been echoed by bodies like Coalition of Hindus of North America (CoHNA) and Hindu American Foundation. Suhag Shukla, co-founder and executive director of Hindu American Foundation said, "The City of Seattle has voted to treat South Asians (and Southeast Asians and African) in a manner that no other ethnic or racial community is treated under the guise of non-discrimination. It has voted yes to discriminating against ethnic minorities, repeating the ugliness of nativists in the state nearly a century ago."
Pins blame on Hindus
Their fears emanate from the fact that it gives excessive power in the hands of the American state for guarding traditionally peaceful communities. Initially, the resolution presented by Kshama sought to protect only Hindus. After a few rounds of protests some changes were introduced at the 11th hour. The modified bill worsened it not only for Hindus, but the Asian community as a whole.
Let's revisit this 11th hour amendment which clearly is an attempt to remedy the constitutional red flags raised by @HinduAmerican.

But, not only does it fails miserably. It makes things worse.

How? By expanding the targeted hate and harm.

— Suhag A. Shukla (@SuhagAShukla) February 21, 2023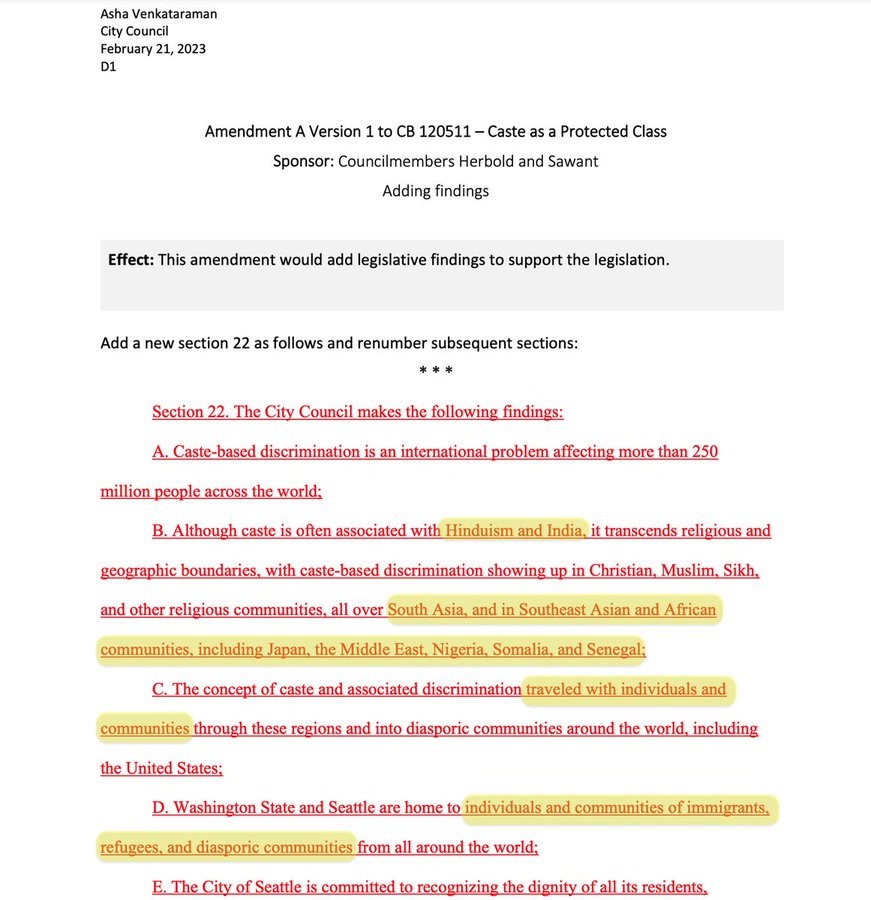 It clearly states that wherever Hindus went, they carried their Caste legacy too. According to the ordinance, Police will have power to check whether Immigrants, refugees and diasporic communities from South Asia, Southeast Asian countries like Japan, African countries like Nigeria, Somalia & Senegal and the Middle East are engaged in any caste discrimination or not. Effectively, what the ordinance is saying is that it is Hindus who have polluted the atmosphere of the places where they migrated to.
Baseless bigotry
There could be no bigger bigotry and hate than that. So much so, that even Dalits, for whom people like Kshama claim to be fighting for, are not happy with it. Madhu T from Ambedkar-Phule Network of American Dalits and Bahujans termed Kshama as controversial and ordinance as ill-intentioned. She had no qualms in accepting that it would only harm South Indians, particularly Dalit Bahujans.
Madhu T seems to have gotten hold of the philosophical aspect of it. The ordinance is nothing but an ideological subversion of the highest order. It is a classic Marxist ploy, 'Give me more power to protect you, else you and your community will burn down'.
What this ordinance does is open the floodgates for caste-based discrimination in the USA. This kind of discrimination has not existed in the American continent in the past. It is for this very reason that people who faced traditional caste barriers in India migrated to the USA and made fortunes. Looking at it from the ugly side, Indian Americans have found anti-Indian racism more tolerable than alleged caste discrimination in India.
Caste in the middle of culture war
The question is how did this come to the fore. The thing is that, America is in the middle of a culture war. The Marxist idea of Bourgeois vs Proletariat has been extended by left-wing American professors to every social identity. Instead of individualism, people are now identified by their groups. Whites vs Blacks, Men vs Women, Straight vs LGBTQ are some of the common dividing lines in the country. Racist, sexist, homophobic, Islamophobic are some of the most popular slogans.
Amongst them, caste has also emerged as a tool of oppressions. Now, you may say, it's USA and they must have done empirical studies on existing caste lines there. It was done by EQUALITY LABS, an organisation actively involved in the Kashmir Conflict industry.
The Kashmir Narrative is controlled by a set of US/UK- based 'Kashmiris' who make a living off Kashmir conflict. Since about 2015-16, the 'family business' is being passed to the next gen with the help of Pak establishment, & vested interests.

A Thread:https://t.co/AZQFkFsV0V

— DisInfo Lab (@DisinfoLab) August 3, 2021
Marxist ploy
The organisation conducted a survey claiming that caste based discrimination exists in USA schools, colleges, universities, workplaces and religious institutions. The Seattle city council has used this survey as evidence of caste based discrimination. The problem is that it has been thoroughly discredited by a 2022 report by Carnegie Endowment for International Peace, Johns Hopkins and the University of Pennsylvania.
Combined study by the aforementioned 3 institutions effectively said that EQUALITY LABS has pummelled a hypothetical caste angle to discrimination against Asians. Referring to the study, V Kadam from Dalit Bahujan Solidarity Network said that discrimination exists but it is on 'origin', gender and 'skin colour' lines. Makers of the survey taken by EQUALITY LABS were so shrewd and so demonically intentioned that they dropped the names of those who do not identify with caste.
To put it simply, people like Thenmozhi Soundararajan, executive director of Equality lab and anti-Brahmin activist are not able to look at people as individuals. They divide people into two categories, oppressed and oppressor. If the first one is suffering from any problem, then it is the fault of the second category. It does not matter how the person ended up in the wrong circumstances. It's the oppressor's fault. Nothing could be more tribal than that, but it is reality in today's politics.
Kshama's profile is controversial
Kshama, the woman who took the responsibility to get this resolution passed is no different. She was born and brought up in a Brahmin family. It may sound confusing as to being born in a Brahmin family should absolve someone from discrimination which Marxists and Ambedkarites, a subset of Marxists, claim. But such is the philosophical sleight of hand that she is fighting against caste discrimination. The official excuse will of course be observation of discrimination around her environment.
By profession she is an economist and has joined socialist Alternative and a devoted Marxist. Its website describes the organisation as, "a Marxist organization that fights for every reform possible but recognizes that capitalism by its very nature must produce inequality, racism, and sexism". Kshama was an active participant in 'Occupy Wall Street movement, again a movement for Marxist utopia.
Also Read: Macron-Modi-Biden: France gives India an edge in dealing with the USA
Classic case of class-based guilt
Recently, Kshama co-authored a piece about her resolution in Indian Express Newspaper. Every word of the write up is laid with tribal instincts of looking things in binary. There is no scope of nuanced and rational thinking.
One of the examples of caste discrimination cited by her is that of a 2001 case in which an upper caste man was found guilty of trafficking Dalit girls and young women. Another case of accusation of labour trafficking, servitude, and exploitation on Bochasanwasi Akshar Purushottam Swaminarayan Sanstha (BPAS) has been claimed as Caste based discrimination.
The only reason Kshama has for terming them as Caste suppression is that the women in the 2001 case and most of the accusers in BAPS case belong to the politically correct community of Dalit. So, even if the person belonging to the general category in India got embroiled in a fight with the non-general category, he is engaged in caste discrimination. Though, it is not true the other way around.
What kind of logic is this? Perverted logic is the right phrase to describe it.
Somehow, this illogic is repeated to a sickening degree. So much so that it is close to acquiring the status of truth. No community could survive on it.
Now that the resolution has been passed in Seattle, other cities and states will follow it. New studies will be published showcasing Indian Americans of general category possessing more wealth than non-generals. No one will credit these people for their back breaking hard work. Instead, it will be claimed that they got it because they oppressed other Indian Americans living there.
That is the classic blueprint of anti-Brahmin and even anti-Jew hatred for that matter. Ronald Regan once quoting someone said, "If fascism ever comes to America, it will come in the name of liberalism." It has arrived and is now ready to engulf Indian Americans. Caste discrimination is going to be used to punish the strong and more productive Indians. That is the ultimate end of class-based guilt.
Support TFI:
Support us to strengthen the 'Right' ideology of cultural nationalism by purchasing the best quality garments from TFI-STORE.COM
Also Watch: