With the rapid advancement of technology, rare earth minerals have become increasingly essential components in a variety of modern-day applications. China is the world's leading producer of these minerals, with a market share of over 90%.
In light of this, a Bengaluru-based startup, Chara Technologies, has designed electric motors that do not require rare earth metals. According to the company, these motors are as effective as conventional motors, and are cost-effective as they are produced with locally obtainable materials such as aluminium, copper and steel. The only imported components are semiconductors.
Classic Hardware, Modern Design
Bhaktha Keshavachar the CEO of Chara Technologies states that reluctance motor technology is a 200-year-old concept, leading one to question why it has not been implemented more widely if the necessary materials are so readily available.
The answer is putting together all the components, constructing the hardware, and programming the software to optimise the motor's performance is very challenging. In 2022, Chara's team succeeded in overcoming these obstacles. "We could conquer all the problems of reluctance motors with the advent of power electronics and sophisticated control systems," says Keshavachar.
Due to the increasing demand, the startup is presently concentrated on producing motors for electric vehicles (EVs). Last year, Chara received $4.5 million in investments from Exfinity Venture Partners, Vietnam-based Big Capital, Kalaari Capital and ciie.co, thanks to its innovative work.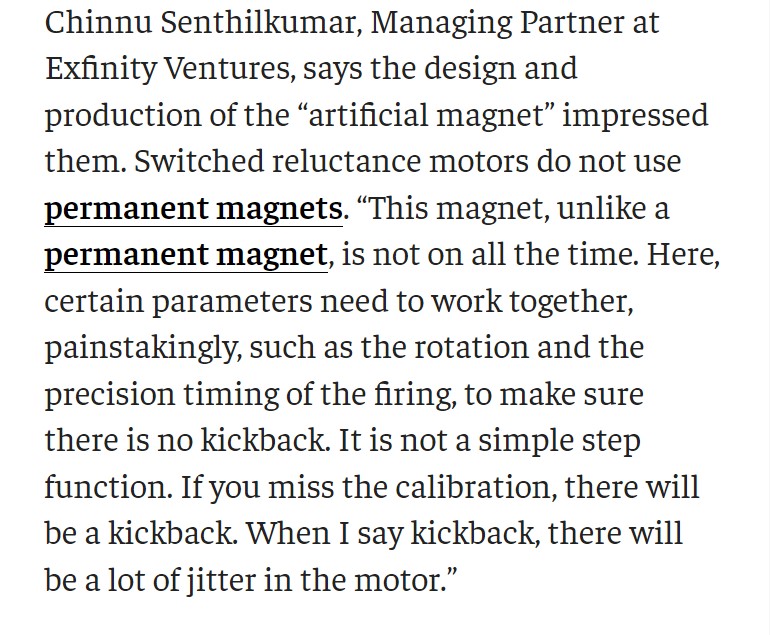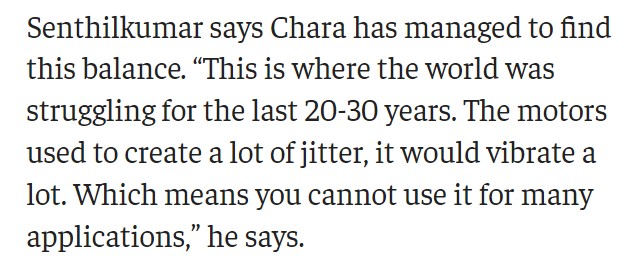 Chara conducted research and development for over three and a half years, and spent one year creating products and conducting trials. The company is now negotiating with three customers for further trials namely Amber Enterprises India, Bounce and Tata Elxsi. Tata Elxsi has reached an agreement with Chara to distribute these motors both domestically and internationally.
Hurdle in the path
Chara's current greatest challenge is producing motors in large quantities. As Exfinity Ventures' Senthilkumar explains, making such equipment in high volumes can "become a beast to control" during assembly and testing. It is not a machine with just a few moving parts. "It has to work in millions and millions of parts, and in this case, may be tens and thousands of parts actually," he says.
This year, Chara is set to begin commercial production of its switched reluctance motors. With its potential to be proven in the real world, numerous manufacturers would be delighted by the fact that they no longer have to acquire rare earth materials.
Support TFI:
Support us to strengthen the 'Right' ideology of cultural nationalism by purchasing the best quality garments from TFI-STORE.COM
Also Watch: