G20 Presidency India: America is an interesting country. Rather, silly would be the precise word to describe it. Uncle Sam promises a lot on terrorism but rarely delivers. Still, the Global North believes it to be a protector of democracy. Things shift when we move down south. Leaders like PM Modi are well aware of dual speak. India was just waiting for the right moment and the G20 Presidency has provided it with that.
PM Modi on terror financing
India is organising the third edition of the 'No Money For Terror' Conference. 78 countries and multilateral organisations are participating in the conference. As you may have guessed from the name of the Conference, Pakistan has refused to participate in it. Nonetheless, since both Pakistan and terrorism are now synonymous, at least in Global South, it found mention here as well.
PM Modi himself took the onus of shaming it without naming it. He accused certain countries of providing political, ideological and financial support to terrorism. "State support" is the term he used for government providing financial support to the terrorists. Referring to India's historical struggle to control Pak-based insurgency in Kashmir, he added that long before the world knew the term, India was a victim of it.
US and China on the radar
PM Modi took the opportunity to float a new idea to curb terrorism. He has pitched for imposing costs on countries promoting it. "International organisations must not think that absence of war means peace. Proxy wars are also dangerous and violent. There must be a cost imposed on countries that support terrorism," said India's Prime Minister
If the idea comes into fruition, two power blocks of the modern world will be heavily fined. Currently, the United States and China are two of the biggest philanthropist and backers of terrorism. The only difference between them is that one is more subtle about it while the other has compulsion to be open about it.
American support to terrorism
America has been a historic supporter of Pakistan. Between 1948 and 2016, the US poured $78.3 billion into Pakistan. It needed Pakistan against its war on Communism.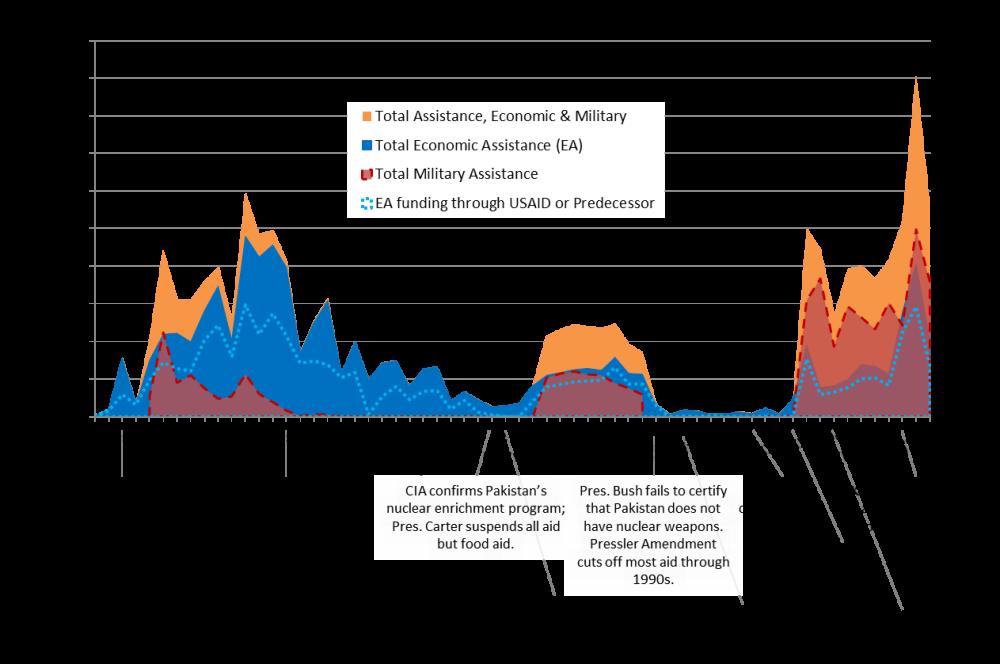 PC: cgdev
Pak provided men and mission while US provided money, arms and ammunitions. India repeatedly warned against it over decades, but the US didn't listen. The dawning realisation took a gruesome 9/11 strike. It is well documented in a 585 page long 9/11 commission report.
9/11 failed to educate deep state
After that, the USA got a bit serious, but not about Pakistan. Instead, the Bush and later Obama administration pressured countries like Saudi Arabia, Qatar, UAE, Australia, the EU to formulate anti-money laundering principles in their polity. On the other hand, Pakistan was given free hand in the name of fighting the Afghan war.
Pakistan used it to wage Jihadi war on India. From 2002 to 2010, American military assistance to the Pakistani setup was always well above $1 billion. In 2010, it was, in fact, $2.5 billion. It took Trump to stop it. But, by that time, Pakistan had found another supportive partner in China.
China and US are competing
Both countries consider India as a common enemy and so China keeps supporting Pakistan. China has gone way further by not supporting India's resolution on designated dreaded militants like Masood Azhar as terrorists. A large section of its $65 billion investment in CPEC is also being used for fostering terrorism.
As if, there is a race between both China and the US to promote terrorism. Recently, Biden administration also approved the F-16 fighter jet's fleet sustainment programme worth over $ 450 million for the terrorist nation. EAM S. Jaishankar had pointed out the foolishness of American defence of the deal.
Once is a mistake, twice is a coincidence, and three times is a pattern. India identifies this pattern. India is aware of it. With the presidency of 19 member G20 and power to invite 20-25 more countries, India has the opportunity to drive the real narrative. It has begun in grandiose fashion.
Support TFI:
Support us to strengthen the 'Right' ideology of cultural nationalism by purchasing the best quality garments from TFI-STORE.COM
Also Watch: