If provided with the right kind of support and nudge, India's indigenous bicycle manufacturing has the potential to crush Chinese hegemony in the sector. Our manufacturing potential coupled with the world's declining dependence on China could very well turn out to be a game-changer.
The current state of India's bicycle industry
In spite of being the second-largest bicycle manufacturing country in the world, India still lags behind China by more than 300 per cent when it comes to market share. Moreover, the individual components used to make bicycles in India are also being imported in huge numbers from countries like China, Vietnam, Japan, Singapore, Malaysia, France, Spain, and Italy; making India a net assembler of bicycles, rather than concentrating whole manufacturing process in India.
Currently, the saddle on which we sit while riding the bicycle, account for $201 million of India's import bills. Out of these $201 million, $100 million goes to China, $85 million goes to Italy, and $16 million goes to Spain.

The frame on which our bicycle holds firm provides more than $1billion to foreign countries. China exports $977 million worth of frames to India, while Vietnam and Italy send in a total of  $213 million worth of frames to India annually.

Similarly, India imports $524 million worth of brakes from three countries namely Japan, Singapore, and Malaysia.

The lower end of the bicycle i.e. wheels and paddle cranks end up chalking out more than $628 million from India's forex reserves. All of these go to China, Italy, France, Japan, and Singapore.


India has the world's second largest bicycle industry in terms of units produced (after China), but is not a participant in global supply chains for bicycle production. If there is a 'flying geese' effect for bicycle components, they don't seem to fly past China and Vietnam… pic.twitter.com/TdQV4n81QE

— Pseudoerasmus (@pseudoerasmus) November 12, 2021
Along with the above-imported products, nearly 3500-4000 small and medium enterprises also manufacture various components in India. In total India ends up producing more than 22 million units of bicycles every year. 50 per cent share is of black roadster bicycles, 24 per cent of fancy models, 21 per cent of kids bicycles and only 5 per cent are exported. It produces bicycles in four segments-standard, premium, kids, and exports. According to experts, demand for standard bicycles is highest and that too is mainly driven by the government. Various governments procure standard bicycles to distribute to children and other beneficiaries under welfare schemes.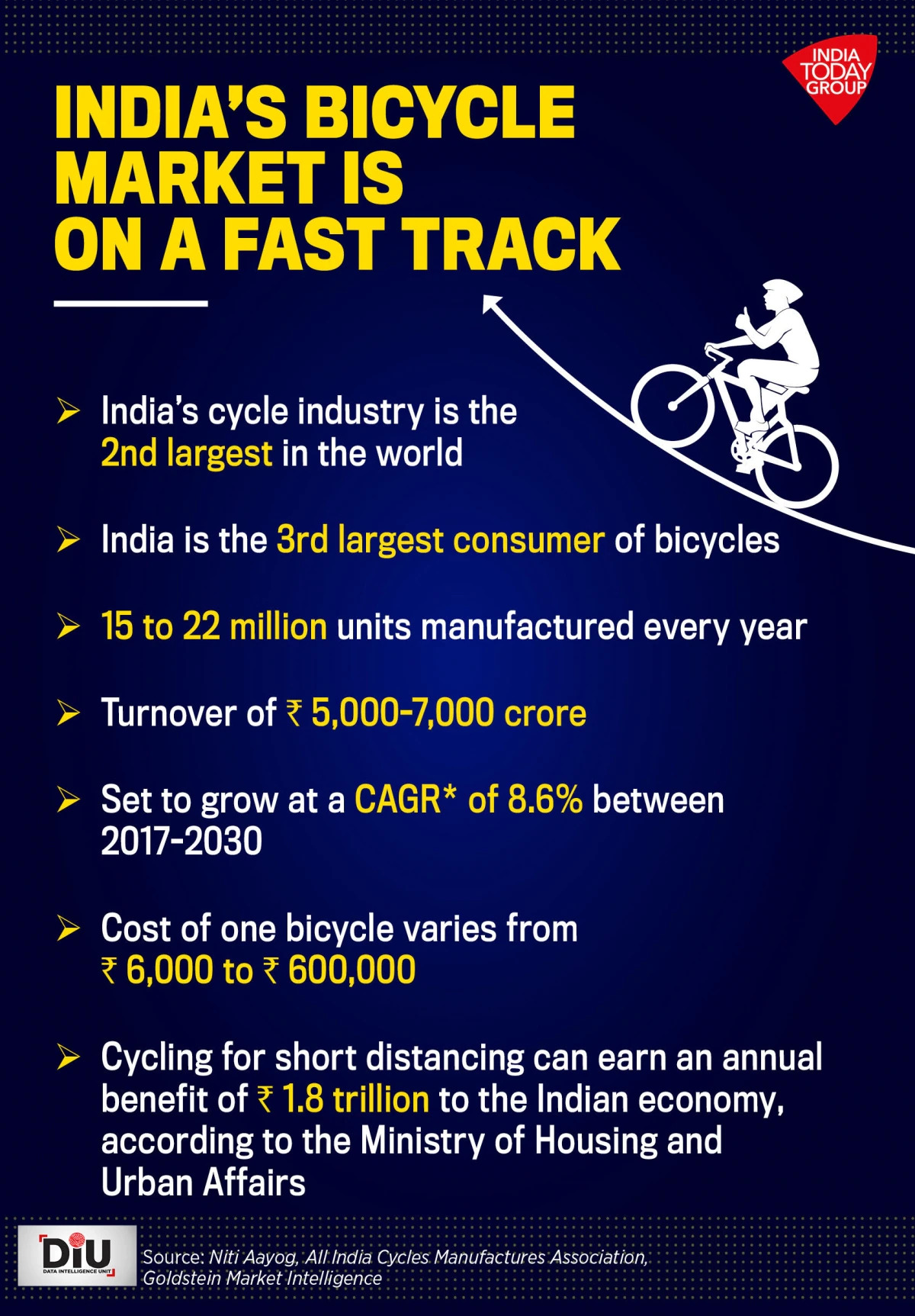 Import dependence on China hits us hard
While lower production is the biggest problem miring the industry, its direct or indirect dependence on China is also one of the biggest monsters which need taming. The import duty on bicycles in India is zero under the Agreement on South Asia Free Trade Area (SAFTA), which provides duty-free access to Bangladesh and Sri Lanka bicycle manufacturers in the Indian market. China is not a party to the pact but is still reaping its benefits by outsourcing its products to Bangladesh and Sri Lanka which in turn flood the Indian market.
Read more: China made cheap cycles and parts routed through Bangladesh and Sri Lanka are killing the Heroes and Atlases of India
Things India need to do to beat China
Currently, China produces more than 90 million units of bicycles every year, out of which, it exports nearly 60 million to countries, including India. 
Compared to China's 60 million exports, India's exports of $1.2 million give an insight into a poor state of regulatory and industrial collaboration in the sector. India needs to take a multi-pronged strategy to counter Chinese dominance in the international market.
India needs to streamline its import-duty regime when it comes to the import of bicycles and their components from China. However, It will be detrimental to India's consumers if there is a sudden halt in imports from China. So India should adopt a phase-wide import duty structuring which will diversify the portfolio of Indian imports and allow more bicycles to cheap in from European countries like the Netherlands, Spain, Italy, etc.

As India reduces its import from China, it should also embark on industry-government collaboration to diversify the production of bicycles and their components in the country. Currently, a major chunk i.e. 90 per cent of India's total 7,000 crore turnover of annual bicycle market is 

produced

 in a single city of Ludhiana. Moreover, a mammoth share of the Indian market is 

occupied

by the oligopoly of Hero, Atlas, Hercules, Firefox, and BSA. A diversified and decentralised distribution of cycle manufacturers in the country will only help in exponentially shooting up India's manufacturing capacity as well as export revenues.

To provide incentives to the companies looking to increase their market share and capacity in India, the Indian government needs to bring the bicycle Industry into the fold of schemes like Production linked Incentive(

PLI

). This will provide impetus to initiatives like 

Aatmanirbhar Bharat

 and 

make-in-India.
The

bicycle

industry can emerge as the leader when it comes to countering China's economic hegemony



As the world is fastly moving into a post-covid-world, the geopolitical and economic dynamics involving China is also witnessing a rapid change. India's initiatives for the multinational companies in the country have started to bear fruit. Recently, India has taken some huge strides in countering China's hegemony in sectors like pharmaceuticals, steel, and many others. Improving the state of affairs in the Bicycle industry should be the next target on India's economic battle with China.
Read more: India's Aatmanirbhar movement has left China with some serious burns. A GT meltdown is the latest example
The country is witnessing a surge in bicycle sales in India. As the Modi government focus on green energy as well as fit-India catches heat, India witnessed an increase of 20 per cent in the annual sale of bicycles in 2020. This is set to increase in leaps and bounds in upcoming decades and government needs to make sure that Chinese bicycles do not end up dominating the Indian roads.