The Chinese propaganda against the Quadrilateral security dialogue has been going on since the advent of QUAD-in 2007. It has been thrashed by different commentators and experts for its opposition to Quad. The pro-China media has been calling it Asian NATO from 2007 itself and even now this question is irrationally propping up in front of leaders of the QUAD. This time India's foreign minister Subrahmanyam Jaishankar is leading the charge in quashing any rumours about QUAD.
Asian NATO?- India categorically denies
India's foreign minister has finally decided to put an end to the Chinese- spread lie about QUAD being an Asian NATO. Responding to the question on China referring to QUAD as an Asian NATO, Jaishankar said that – "Quad (Quadrilateral Security Dialogue) is a platform where 4 countries have come to cooperate for their benefit and benefit of the world. I think a term like NATO (by China) is a Cold war term, looking back. The quad looks at the future. It reflects globalisation and compulsion of countries to work together,". Explaining how QUAD members have been cooperating in different areas, Jaishankar added- "If you look at the issues Quad has focused on today like vaccines, supply chains, I can't see any relation with NATO or any other organisation. I think it's important not to misrepresent what is the reality out there."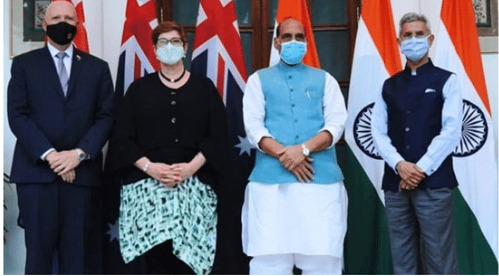 Shri Jaishankar was speaking at the inaugural 2+2 ministerial meeting between India and Australia in New Delhi. 2+2 ministerial dialogue is being conducted between defence and foreign ministers Of India and Australia respectively. S. Jaishankar and Rajnath Singh were present from the Indian side while Australia was being represented by Marise Payne and Peter Dutton. Agreeing with Jaishankar's view on the issue, Australian foreign minister Marise Payne stated – "Jaishankar has explained and articulated the response extremely well." 
NATO- a security alliance
NATO is an intergovernmental security alliance between 28 European and 2 North American countries. It implements the North Atlantic Treaty that was signed on 4 April 1949. It is fundamentally a collective defence friendship where if anyone member has a security threat, then all 30 members are supposed to be fighting a common enemy. Headquartered in Brussels, Belgium, it has been mainly an interventionist organisation primarily driven by the industry and military complex of the United States. In the name of defending its members, it has shown no respect for the sovereignty and integrity of the nations and has never refrained from intervening in the internal affairs of other countries. It has a history of interventions in the civil wars that emerged inside the territory of Libya, Kosovo as well as Bosnia and Herzegovina.
QUAD is a multi-sectorial initiative
History
QUAD is the Quadrilateral Security Dialogue of strategic between the United States, Japan, Australia, and India maintained by talks between member countries. The dialogue was initiated in 2007 by Japanese Prime Minister Shinzo Abe, with the support of U.S. Vice President Dick Cheney, Australian Prime Minister John Howard, and Indian Prime Minister Manmohan Singh. Building on the back of India-Us strong military relations, Trilateral security dialogues between India, the US, and Australia, QUAD was established in 2007 with India being invited as a multilateral partner between Australia, the US, and Japan. For some experts, it was a counter to China's increasing hegemony in the South China Sea, while some believed that the US was trying to softly contain China.
Meanwhile, Chinese illogical opposition led to the withdrawal of Australia in 2008. From 2009-17, all four countries kept a close military partnership with each other on mostly bilateral and sometimes on the trilateral level. Various exercises such as the Indian Malabar exercise, Exercise Talisman Saber (between US, Australia, Japan) kept China on the tenterhooks. Japan joined for the first time in the Australian Kakadu and Nichi Trou Trident naval exercises in 2008 and 2009 respectively. Japan's reorientation towards Indo-Pacific, US "Pivot to Asia" and India's Act East Policy under Prime minister Narendra Modi led to restarting of the Quadrilateral Security dialogue in 2017.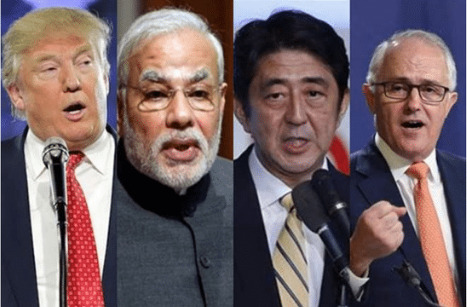 Identifying China as the main threat US President Donald Trump and Prime minister Modi reinvigorated the QUAD. The leaking of the Covid-19 virus from the Chinese lab has been one of the biggest catalysts in the emergence of QUAD as a powerful cooperating body. Expanding beyond the security and strategic issue, QUAD led to the formation of different high-level civil cooperation groups like senior-level QUAD Vaccine Experts Group, The QUAD Climate Working Group, and The QUAD Critical and Emerging Technology Working Group.
Way Forward
India, Japan, the USA, and Australia have been working on China-independent economic and strategic policies for their respective countries. Companies are leaving China at an exponential rate and China is making it worse by cracking down on domestic industries and it has also incurred heavy losses in the trade war with India, United States, and Australia. 
US and Japanese governments have been working on making a technology supply chain independent of China, there are various areas of cooperation like Green energy, medical tourism, strengthening the technology supply chain, where all four counties can easily assist each other.