Indian economic policy has always been mired by one peculiar problem: to strike a balance between rising GDP and employment rate, in the country. However, the PLI scheme is all set to change the job-market scenario in the country. With the emphasis on Aatmanirbhar Bharat, Make-In-India and PLI scheme, employment generation is going to reach astronomical heights in the upcoming decade.
Job creation along with growth
Recently, the Indian government approved the PLI scheme for the drone and automobile sectors. The incentive provided by the government to the drone sector is 120 crores, while to the auto sector, it is nearly 26,000 crores. These incentives will help domestic as well as foreign investors to expand their manufacturing capacity inside the country. Along with the expansion, it will help in creating lakhs of jobs in the economy.
The signs of the PLI scheme generating a huge upsurge in employment have started to show. On the back of a 40,000 crore incentive under the PLI scheme for smartphones, Apple alone ended up creating 20,000 jobs in 7 months. Two Apple contract manufacturers have hired 7,500 workers each after August 2020, when the smartphone PLI became operational. While vendors supplying inputs to these two companies, like Sunwoda, Foxlink, Salcomp and others, have also hired approximately 5,000 additional workforces to support the manufacturing of the two contract manufacturer firms.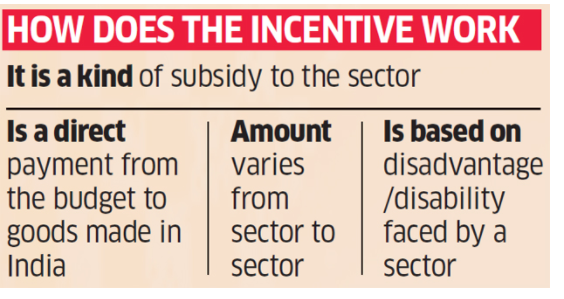 Need for PLI
The PLI scheme was launched in March 2020 to boost domestic manufacturing and cut down on import bills. Since 2014, the Modi government has been almost single-handedly doing investments in the country's various infrastructure segments without much help from private sectors. Since the government could not always continue making investments in these capital intensive sectors (as they needed longer times to start giving the returns), it decided to invite global companies with adequate capital to set up capacities in India. The scheme will incentivise 13 sectors with a total outlay of 1.97 lakh crores. The minimum production in the country is expected to be around Rs 37.50 lakh crores, and the minimum employment generation is expected to be one crore over five years.
Also read: India's exports hit record high riding on the success of the PLI schemes
Before the 1990s, India was facing a double whammy of low employment as well low GDP growth rates. As liberalisation in 1991 opened India for foreign investment, Indian GDP did improve, but minimal changes were observed in Indian employment scenarios. With the PLI scheme making inroads into the Indian economy, finally, Indian employment generation and GDP growth rates will, finally, be on parallel tracks in the upcoming decade.