Union minister Narayan Rane, on Tuesday, was detained by the Maharashtra Police for his remarks against the Maharashtra Chief Minister Uddhav Thackeray. In the statement, he said he wished to slap chief minister Uddhav Thackeray for forgetting the number of years since independence. This statement led to rage between Shiv Sena workers and Bharatiya Janata Party (BJP). Ironically, Uddhav Thackeray had made a controversial remark to hit Uttar Pradesh CM Yogi Adityanath with a slipper a few years back.
Thackeray, during his August 15 address had made confusing statements regarding the number of years since India got independence. Afterwards, Narayan Rane slammed Thackeray and said, "It is shameful that the chief minister does not know the year of independence. He leaned back to enquire [with his chief secretary] about the count of years of independence during his speech. Had I been there, I would have given him a slap under his ears?"
It is the first time in Maharashtra that a sitting central minister has been arrested in two decades by the State Police.  Rane, who holds the micro, small and medium enterprises portfolio, was arrested in Golavali in Ratnagiri district, where he was travelling as part of the Jan Ashirwad rallies. He was arrested during the lunch break and was handed over to Raigad police around 2:45 pm.
As reported by Hindustan Times, Former chief minister Devendra Fadnavis said the BJP did not support Rane's comments but stood behind him "100 per cent". "Action against Union minister Narayanrao Rane is absolute vendetta! We strongly condemn this gross misuse of police force & suppression."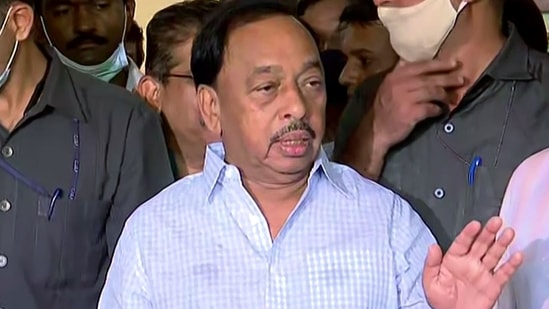 However, the court had granted him bail rejecting a seven-day police custody plea and he has been asked to furnish a bond of Rs 15,000. Aniket Nikam, Rane's counsel, said, "The bail has been granted on the ₹15,000 surety with four conditions. Rane will have to appear twice before Mahad police, he will have to ensure that the act will not be repeated. He will have to cooperate with the police for collection of voice samples. He will have to ensure that the evidence is not tampered with."
As per Rule 222A of the rules of procedure and conduct of business, when a member of Rajya Sabha is arrested on a criminal charge or a criminal offence, it has to be immediately intimated to the chairperson of the Upper House. Reasons also have to be provided for and the place of the arrest.
As per Rule 222B, when a member is arrested and after conviction released on bail or is otherwise released, it too has to be intimated to the chairperson of the Upper House.
As per constitutional expert Ulhas Bapat, the action will not stand judicial scrutiny. He said, "The action can be taken against any Union minister, but the sections slapped against Rane do not attract the arrest. The action will not stand judicial scrutiny."
Ironically, Uddhav Thackeray who seems to be offended with Rane's statement had once dreamt of hitting Yogi Adityanath with his footwear. Calling Adityanath a 'hypocrite CM', Uddhav had said, "He garlanded (photo of) Shivaji Maharaj while wearing chappals. I felt like taking the same chappals and hitting his face with it,"
Shiv Sena Chief Uddhav also stated, "He is no yogi, he is a bhogi. Had he been a yogi, he would have given up everything and gone and sat in a cave. But he has gone and sat in the CM's chair."
This new rift between Uddhav and Narayan Rane has set up another political face-off between the ruling three-party alliance and the Bharatiya Janata Party (BJP).