As the saying goes – ''When the going gets tough, the tough gets going''. Bhavina Hasmukh Bhai Patel, the Indian para-athlete and star table tennis player just showed to 7 billion people, what it actually means. Bhavina became the first-ever Indian Table tennis player to earn a podium position in the paralympic games. She won the silver medal for India.
The 34-year old brave heart who belongs to Mehsana in Gujarat was ranked 12 in the world rankings before entering the Tokyo Paralympics games. On her way to a silver medal, she beat 4 opponents who were higher in rank than her including world number 2 Borislava Peric-Rankovic and world number 3 ranked player Miao Zhang, whom she had not been able to beat in precious 11 encounters. The corridor of error at top rankings is very low, but Bhavina barged into them and barged successfully. However, she lost to Zhou Ying of China by 11-7, 11-5 & 11-6 in the finals.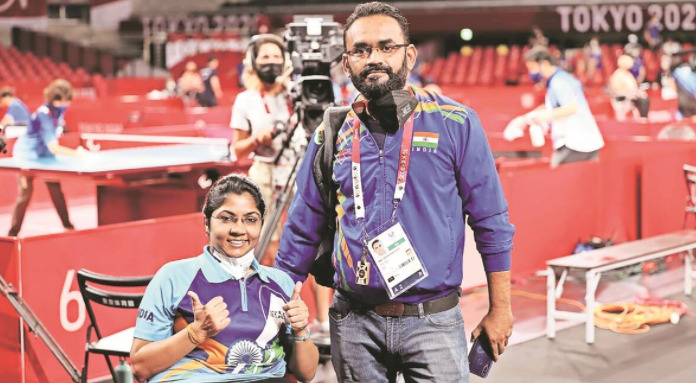 To her disappointment, she could only bring a silver medal for India, but Indians are proud of their daughters. In a thankful note to everyone around her, Bhavina said- "When a player doesn't get financial support, it becomes difficult to move ahead in sport because the expenses of playing tournaments are so huge and it is difficult to afford for a middle-class family but SAI, TOPS, PCI, government, OGQ, Blind People's Association, my family, all have supported me." Meanwhile, Gujarat Government has announced an encouragement reward amounting to 3-crore for Bhavina.
While Bhavina was born as a normal person, she was just 12 months old, when her family discovered that she was suffering from poliomyelitis. Her legs were damaged and in spite of spending a lot of money on surgery, she could not walk properly and has been using a wheelchair since then. She studied in normal schools and wanted to become a teacher, but could not complete that dream. Her father got her admitted to Blind People's Association in Ahmedabad in an ITI computer course. Here she met lalan Doshi, her coach who trained her and soon she went on a winning spree at the national as well as international level. She reached her highest ranking of world number 2 in 2011.
In 2020, she was chosen as one of the 8 paralympic athletes to be get chosen under PM Modi's flagship TOPS scheme for potential Olympic medalists. Commenting on her inclusion, Deepa Malik had said that – ''Every athlete who has been in the line-up for Tokyo or is hopeful is under some financial assistance scheme. Bhavina Hasmukhbhai Patel has qualified for Tokyo has got a custom-made wheelchair, especially for table tennis. She has got funding to get her own international standard table. Seven lakhs has been given to her for equipment alone. This is just one athlete, there are many other examples. We have seven-eight athletes under the watch list and once they come back from their international event, they might be included in the TOPs list."
PM Modi has held special emphasis on the development of para-sports athletes. In December 2020, the Paralympic Committee of India was awarded the 'Best National Sports Federation Award' at India sports award. Speaking at the occasion, chairman Deepa Malik said – "Be it the *Fit India campaign, Phir Khelega India or even Swachh Bharat* we have got ambassadors. The government has been super supportive. The TOPs scheme covers 38 of our athletes. We are their focal point. There is a lot of mainstream feeling that we are getting,". Besides TOPS, PM Modi has also launched the Sports and Games for Persons with Disabilities Scheme, under this scheme, the differently-abled sportspersons are trained in their field for conducting sports competitions and assisting schools and institutes having differently-abled sportspersons.
The government has also launched the Sports Talent search portal and made significant level committees to address the issues of sportspersons around the country. In Bhavina's state, Gujarat the first of its kind training centre for para-athletes is under construction inside SAI centre at Gandhinagar.
With the Government promoting para-athletes and athletes through their support, SKY is the limit for these athletes. The advent of these schemes and facilities will make sure that Bhavina Patel's dream of Gold in 2024 is not far away.