Remember the Colonelganj case? Yes, the one where Muslim miscreants forced non-Muslims to run away from their homes, writing 'This house is for sale' on their walls. Now it appears that the Yogi government has taken the miscreants to the task. The accused are currently on the run as of now and have been slapped with the Gangster's Act for their acts.
But what had happened? In Colonelganj of Kanpur, which is partly dominated by Muslims, ten Hindu families live near a railway track, opposite a large colony of Muslims.
To quote an excerpt from a report by Dainik Jagran-
"On a Saturday evening, as a Hindu girl was returning from a beauty parlor, some hardline Muslims passed lewd comments. When her brother protested, they beat him up, due to which both the communities clashed against each other. After a while, the radical Muslims attacked the young lady and her family and vandalized their home. Following that, the family was forced to leave the house."
Read More: 10 more families, this time in Kanpur, have spoken up against the conversion mafia trying to convert them and rape their daughters
However, the troubles were far from over. When the girl and her family members tried to file a complaint, the local Qazi threatened them with dire consequences. He told them to see what happened once their favourite party (BJP) was out of power. However, looks like these miscreants would finally not have their way.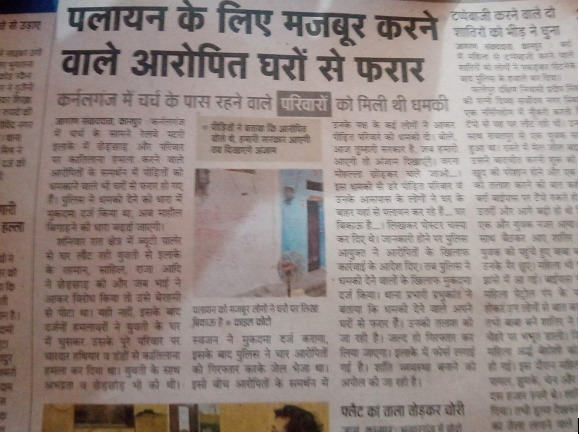 As per the news clipping seen above, the police have initiated the proceedings against the criminals. As per the reports by Dainik Jagran, Inspector Prabhukant has told that the criminals have been slapped with the Gangster's Act, and as of now, the accused are on the run.
Imagine, if it was Akhilesh Yadav instead of Yogi Adityanath, then? Forget Gangster's Act, it would have been the Hindus in question who would have been fighting to claim their innocence. As such, it would not be wrong to say that under Yogi's administration, every injustice against Hindus shall be accounted for.