Kanpur Mayor Pramila Pandey, also known as 'Revolver Chachi' has been on a crusade to free the old, dilapidated temples of the city that have been brazenly defiled, destroyed and captured by the minority community. According to a report by Amar Ujjala, Mayor Pramila Pandey recently embarked upon a surprise visit to find ancient temples in the city that had been long lost.
Whilst being on the round in the Muslim-dominated area of Chamanganj, the Mayor discovered that several of the old temples had been captured illegally by the Muslim community. In certain cases, illegal shops had been set up. According to the report, the mayor remarked that a Shiv temple near Baba Sweet House had been found in a dilapidated condition, captured by the locals with a Chicken Biryani shop operating from the platform of the temple.
Read More: KN Krishna Bhat – the priest who restored Hampi's Badavilinga Temple to its former glory after a series of Muslim invansions is no more
When Pramila asked the locals to open the temple, they refused to cooperate and denied giving the keys to the temple. As a result, the Mayor was forced to call Assistant Commissioner of Police Nishant Sharma who was directed to free the temple from occupation and remove the Biryani shop.
According to DCP Sanjeev Tyagi, a case has been registered against accused Mohammed Shiraz, Mohammad Noor Alam and Mohammad Farid in the section of inciting religious sentiments and damaging the holy site in Bajaria police station.
One of the other temples was being used as a garbage yard as the local minority community had stuffed their trash and locked up the temple. The report states that Pramila found several temples that had been demolished and only their debris was left as a sour reminder of an era gone by. The locals were seen occupying the temples and using the land for their private purposes.
Observing that a large number of temples had been occupied in the city, the Mayor ordered that such temples be discovered and freed from the illegal occupiers. Moreover, the freed temples should be cleaned, rebuilt and whitewashed to restore their old legacy. A survey of all the temples in the area will be conducted so that their status can be known.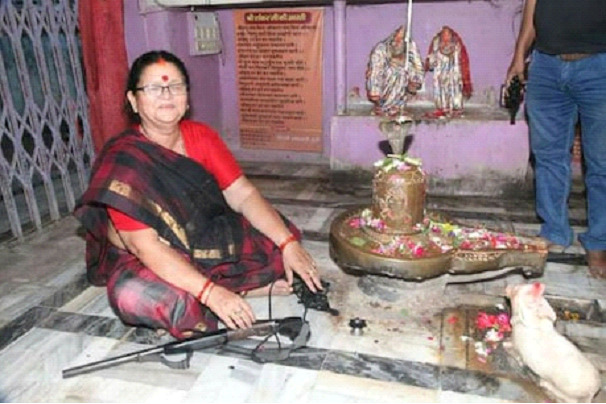 A few years ago Pramila Pandey's photos with a revolver and a gun had went viral on social media platforms and soon netizens started calling her "Revolver Chachi". She is a known hard taskmaster and prior to her election as the Mayor on BJP ticket, she has served as a two-time councillor and District President of Mahila Morcha.