China is trying to woo foreign investors by opening up its financial markets to them. This is being done not because of China being kind-hearted but because it is facing a serious US dollar crunch. Simply put, as China is losing investors it is making these changes in its policy to incentivize new investments so that it can get the dollar it so desperately needs.
The problem has been long in the making. There was a huge Chinese stock market crash in 2015 which was followed by an economic slowdown and at that time China had to use up to 1 trillion USD of its foreign USD reserves to keep up the Yuan value, which brought the value of foreign reserves down from around 4 trillion USD in 2014-15 to 3 trillion USD in 2016-17.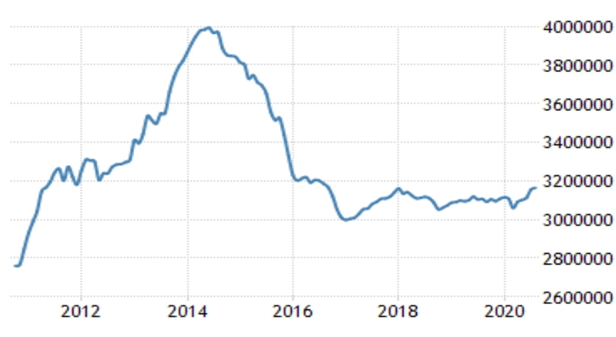 Beijing has not been able to fully recover since then, as the Trump administration's relentless blows and the trade war have left it in a defensive position. Add to that COVID-19 situation, its export economy has taken a hit, global supply chains have returned, and Xi Jinping's dream project, Belt and Road Initiative, has turned out to be a big NPA.
Its export economy is taking a hit as the markets are very less hospitable to Chinese exports and investments. India has banned multiple infrastructure projects which were licensed to Chinese companies. India, US, Canada, Japan, among others have started look for other alternatives to build 5G and 5G+ technologies in their respective countries, whamming the prospects of Huawei profitability to the dustbin.
The investments China has made overseas anyway are not turning profitable. As the assets which are building up to have no business prospects, turning them into the shell of the dreams and expectations which China sold these products to the recipient country. Examples are many, just take Papua New Guinea where the loans are so enormous that the country has given up even on the idea of returning the loan.
Read: Papua New Guinea is taking a violent turn against China, one hostile step at a time and we have Australia to thank
African countries are relooking at the ongoing and pipeline projects and trying to either shelve them or scrap them.China's Central Bank has covered failures and NPAs of other Chinese banks through currency swaps and off-balance sheet funding, basically pumping extra money while keeping their fingers crossed and expecting the situation miraculously improves itself. It is a godless country, it should at least not believe in magic.
At the heart of Chinese economic strength is the monopoly of Beijing in global supply chains, which is very meticulously and in a united manner being challenged by the QUAD and its member countries in their personal capacity, pointing out diversification of global supply chains and asking for mutual cooperation for the same. Be it India-Australia-Indonesia trilateral, India-Australia-Japan trilateral or the upcoming QUAD ministerial-level talks, the global supply chains have always been a centrepiece.
The Belt and Road Initiative is turning from a jewel of Chinese benevolence and foreign policy miracle into a blunder of gargantuan scale. The centrepiece of the project was CPEC, which instead of turning the region into a trade and commerce hub has turned it into a hub of humongous infrastructure with no utility and negative profitability.
All this is coupled with the outflow of manufacturing units from Mainland China to India and South-East Asian Countries, with Japan financially assisting companies which are moving their factories out of China.
Read: 'Pack up and get out of there,' Japan to spend $2.2 billion to get Japanese companies to exit China
As the investors are also moving out of China, and the possibility of a second Trump presidency increases with the global investors already sold Chinese stocks worth 3.6 billion USD in the previous financial quarter. It also increases the threat of possible sanctions on the People's Republic of China similar to those on Russia and Iran as Trump is not letting go of the Chinese responsibility for unleashing the virus into the world.
With Chinese companies failing one by one, financial situation worsening in the face of an exponential rise in NPAs and the foreign reserves depleting faster than China can think of a solution, the possibility of getting foreign investment seems a long shot.