The European Union is in the middle of a long-term crisis that could endanger the maritime security and territorial interests of Mediterranean countries like Italy and France. The man holding the EU by its neck is the wannabe Khalifa and the brand-ambassador of extremist political Islam, Turkish President Recep Tayyip Erdogan.
Erdogan has checkmated the EU with a single extortionist tool- the Syrian war refugees and the intergovernmental organisation is literally clueless on how to handle him. Erdogan is hurting European countries and the same time forcing them to cough up additional funds over the refugee threat.
Turkey is using the same strategy in the latest battlefield- Libya. Situated on the coast of the Mediterranean Sea, the North African country borders Europe and serves as a gatekeeper preventing migrants from all over Africa who try to enter the European Continent illegally.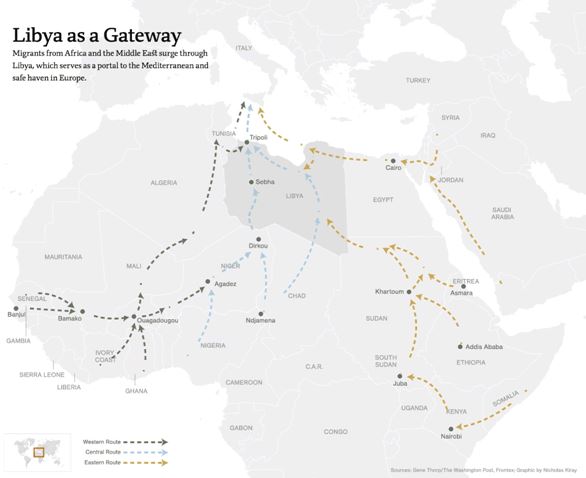 Erdogan is currently supporting the UN-backed Government of National Accord (GNA) in the country. With Turkish support, the GNA has been making deep inroads against the rival Libyan National Army (LNA) led by General Khalifa Haftar.
Haftar is being viewed as a better leader, while the GNA offers a highly Islamist regime. Countries like Italy that face the most imminent threat of a huge refugee inflow from different parts of Africa like the Maghreb region, the Sahel region, Western Africa and Eastern Africa via Libya see Haftar as crucial in stemming the flow of Arabic and African refugees.
To make matters worse, Erdogan has also decided to convert Hagia Sophia, the ancient-era Cathedral-turned-Mosque-turned-Museum into a Mosque all over again. This is a grave provocation to Christian countries with staunch Catholics and orthodox Christians like Greece, France, Spain, Italy and Russia. Under normal circumstances, the EU should have gone berserk against Turkey in Libya. But Erdogan has a strong grip over the geopolitical situation.
The Turkish President keeps exploiting the Syrian refugee situation. The Syrian Civil war had created millions of refugees. According to UN estimates, around 13.5 million Syrian and other middle eastern refugees required humanitarian assistance as of 2016. Of these, around 6 million were internally displaced, while 5 million were cross border refugees who sought asylum in other countries.
An overwhelming majority of these refugees, 3.6 million to be precise, reside in Turkey in refugee camps.  These 3.6 million refugees are holding the EU back. In 2016, Turkey reached an understanding with the EU wherein Ankara was bound to halt the flow of refugees in return of European aid. Erdogan has used them for blackmailing the EU for more aid, and for pursuing his territorial ambitions time and again.
Last year, when the Turkish forces and proxies went on a rampage during a military incursion into North-eastern Syria in Kurdish-held lands, and the European Union condemned its actions, Erdogan had threatened that he would open the floodgates of refugees towards Europe if the military action was described as an invasion.
Read: Trump, Putin, Assad and Erdogan – Here's a look at what's happening in Syria
He used this arm-twisting tactic again in March this year. This time around Turkey was engaged in skirmishes in Syria with the Russia-backed Syrian forces. Erdogan, being a NATO member wanted NATO allies to declare a no-fly zone in Syria. But the NATO did not come to his rescue. Erdogan went one step ahead and flooded thousands of refugees into the Greek and Bulgarian borders.
Read: Close to war with Russia, Turkey is blackmailing the EU by pumping thousands of migrants into Greece and Bulgaria
In the Libya battle, Erdogan is again using the same form of extortion. Europe fears that Erdogan would unleash hundreds of thousands of refugees on the EU if they try to counter him in Libya.
Countries like Italy and Germany are not playing any role in Libya. France is giving covert support to Haftar who has strongholds in Eastern Libya. However, Italy has turned against Paris over this reason. Officials in Rome claim that Macron's actions in Libya dash any hopes of a political situation.
The EU is yet again divided over a key issue. The organisation even tried to issue a statement condemning Haftar's Westward offensive. France however blocked such attempts.
Consequently, EU is giving more money to a radical Islamist who is trying to hurt them in every way possible. But Erdogan is using these Syrian migrants as mercenaries against the Hafter-led LNA in Libya. The possibility of Erdogan using the EU funds for his military campaign in Libya cannot be ruled out.
The Maghreb region of which Libya is a part is traditionally a region of competition between Italy and France which also helps them in exercising complete influence over the Mediterranean. But this balance of power is shifting with Erdogan's forays in the region. A puppet regime in Libya handled by Erdogan will become another powerful tool to take Europe by ransom.
Libya has always been a powerful tool to milk Europe. When Libyan leader Gaddafi was alive, he used to draw millions of US dollars out of Europe. In case EU tried to back out, he would warn, "Europe runs the risk of turning black from illegal immigration," and "it could turn into Africa."
Now, with Erdogan pacing his own regime in Libya, he will start asking Europe to release even greater funds in order to hold back African refugees. Turkey in charge of Libya also means a threat to Mediterranean security. Turkey is inherently expansionist and has invaded parts of other countries like Cyprus which it continues to occupy till now.
Erdogan's deep influence in Libya would mean that Turkey gets to control the Mediterranean and exercise influence over strategic assets like Suez Canal which are supposed to be European provinces. Europe once controlled the Seas of the world and today an Islamist is beating it in its own backyard.
Erdogan has caught the EU in an uncomfortable situation. He will blackmail the bloc and do whatever he likes. Ultimately, he is going to push political Islam into Europe, while the EU seems witless, leaderless and divided.